Ukrainian Genocide Posters, page 2 are for promoting awareness of the genocide of 7-10 million Ukrainians
These 9"x14" posters may be used freely for Ukrainian Famine-genocide publicity, but must include my name & copyright with each use. For more designs, go to posters page one.
INTERNATIONAL CAMPAIGN RECALLING GENOCIDAL GREAT FAMINE LAUNCHED
ended November 2009

An educational campaign recalling the Great Famine of 1932-1933 in Soviet Ukraine, known as the Holodomor, was launched today. Thousands of postcards are being sent to embassies and consulates internationally, urging governments to officially recognize that this famine was an act of genocide perpetrated by the Soviet regime of Joseph Stalin. Canada is one of the few countries that has already recognized the Holodomor as genocidal.
Drawing upon the writings of Dr. Raphael Lemkin, the "father of the [UN] Genocide Convention," who described the "destruction of the Ukrainian nation" as the "classic example of Soviet genocide," the Ukrainian Canadian Civil Liberties Foundation and partner groups around the world are mailing postcards featuring a pastel drawing of Lemkin and an excerpt from his 1953 speech "Soviet Genocide in the Ukraine," an effort timed to coincide with the annual day of mourning for the Holodomor's victims (28 November 2009). http://www.ucca.org
---
Famine33 organization in Ukraine: www.famine33.iatp.org.ua
ArtUkraine.com Genocide Gallery http://www.artukraine.com
Famine Pysanky http://www.artukraine.com
Famine Art by Lydia Bodnar-Balahutrak
---
Books: Roman Serbyn and Bohdan Krawchenko, Famine in Ukraine 1932-1933, 1986, ISBN 0-920862-43-8.
Roman Serbyn, Holod 1921-1923 I Ukrainska Presa V Kanadi (translation: The Famine of 1921-1923 and the Ukrainian Press in Canada), 1992, ISBN 0-9696301-0-7
Taras Hunczak & roman Serbyn, Famine in Ukraine 1932-1933: Genocide by Other Means,
This is a scientific study of Ukraine's genocide; examines many historical documents and provides statistics. Publication of the Shevchenko Scientific Society, Inc. 2007. If you are doing any research, paper or class lectures, you must have this book. Library control #: 2007936443
Catalog: http://shevchenko.re-invent.net
---
About Gareth Jones,
Gareth Jones was the Welsh journalist who first published the famine to the world in 1933 and stood up alone to the full might of Duranty and the Soviet regime, but sadly was murdered two years later by bandits in China. For further details visit: http://www.colley.co.uk/or for specific Soviet articles: http://www.colley.co.uk In 1931, he visited the Soviet Union and traveled extensively throughout Ukraine with Jack Heinz II (the then young heir to the massive US food corporation). In the early 1990s, I found in his old bedroom several rare Soviet political posters that he collected on this trip, relating to the collectivisation propaganda at the time. They can now be seen online at: http://www.colley.co.uk/
For a brief independent appraisal of his life: http://www.uanews.tv/
Kind regards, Nigel Colley
---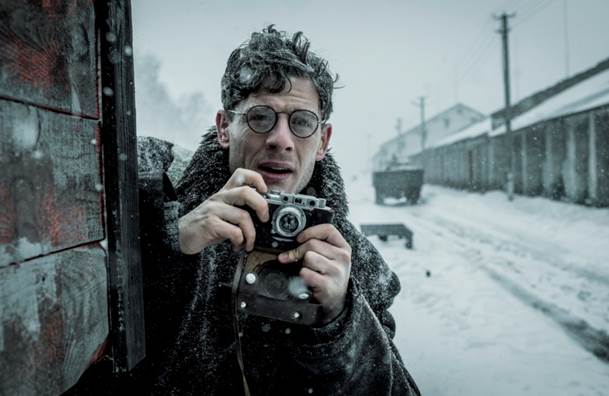 Mr. Jones (the movie) (2020):
https://www.youtube.com
A new film created as a co-production of Ukraine, Poland and the United Kingdom, "Mr.?Jones," puts a spotlight on the journalist's courageous coverage of the darkest page in Ukrainian history. Oscar-nominated Polish director Agnieszka Holland speaks about her new movie, "Mr. Jones," at a press conference on Nov. 27, 2019 in Kyiv.
When Welsh journalist Gareth Jones traveled to Soviet Ukraine in 1933, he casually ate an orange in a train at the beginning of his trip. Once he threw the peel away, to his surprise, fellow Ukrainian passengers grabbed and devoured it in an instant. He didn't yet know that many of them were desperate to get just a slice of that orange or, in fact, any food.
That was the time of Holodomor, Soviet dictator Josef Stalin's mass starvation of at least 3.9 million Ukrainians [correction 10 million per Nikita Khrushchev] in 1932–1933, part of the Kremlin's periodic drives to suppress Ukrainian independence and resistance to Soviet rule. Today, it is widely regarded as genocide.
The international community appears to be widely unaware of it, mainly because of Soviet and later Russian propaganda that denied its existence. "Mr.?Jones" has a chance to shed light on the tragedy.
The film follows 27-year-old Jones, a well-educated and ambitious journalist who has a sharp eye for political intrigue. By 1933, he had already proved himself as a distinguished professional after conducting an interview with Adolf Hitler. Jones predicted the horrors the Nazi tyrant would bring to the world. He was tempted to decode the secret of another dictator of the time, Stalin, and the formula behind the prosperous Soviet economy that was widely called a worker's paradise. So Jones traveled to Moscow, having received a visa partly because of the connections he had made as a foreign affairs advisor to former British Prime Minister David Lloyd George.
First determined to get an interview with Stalin, Jones shifts his focus upon arrival in Moscow when he finds out that the foreign journalists are restricted to the city and are kept away from Ukraine in particular. So Jones takes a risk and slips into the tabooed land to discover the man-made starvation that the Soviet authorities tried to keep a secret and that explained the economic growth.
Jones travels to Stalino, a town in eastern Ukraine now known as Donetsk, where his mother worked as a tutor at the turn of the 20th century. He heard from his mother that Ukraine was an agricultural land with very fertile black soil called chernozem. The Ukrainian peasants, however, couldn't make use of it because of the collectivization policy that Stalin implemented. The policy canceled private property, brought all land under state-controlled collective farms and set unrealistic grain harvest goals. Goals had been achieved by forcing people to give out all the grain they had and leaving them with nothing to eat.
"Grain is Stalin's gold," one of the characters says in the movie. Stalin's policy was ethnic cleansing aimed to destroy the especially rebellious and freedom-loving nation that posed risks for the unity of Soviet republics.
Author Andrea Chalupa, a U.S. journalist of Ukrainian origin, says that the evidence of the Holodomor is largely unknown.
Created as a co-production of three countries (Ukraine, Poland and the United Kingdom), the film "Mr. Jones" broadened the shooting locations to include Scotland, Poland and several cities and villages in Ukraine.
The movie's budget reached over $9 million with about 20 percent of it coming from Ukraine's State Film Agency.
Famine horror
The second chapter of the film portrays Jones' journey to Ukraine. By the time he arrives there in 1933, the famine has reached a frightening stage. Gaunt and desperate, people fight for a loaf of bread that the authorities "generously" give out once in a while. They eat cooked tree bark, while all the other plants remain dead after a frosty winter. Some drop dead right on the street, while their children become orphans. Others find themselves doing the unbelievable — eating fellow humans.
Some spine-chilling scenes get very tense and graphic, but that was the reality for Ukrainians at the time. Holland says that filming these scenes wasn't easy either.
The weather conditions in the villages of Zhytomyr and Chernihiv oblasts, where they were shooting, were also rough, with temperatures reaching 20 degrees below zero Celsius. But the picture's director, Polish Oscar-nominated filmmaker Agnieszka Holland, said it actually helped them.
"Somehow we didn't feel that we were pretending," she said. "We felt that this loneliness and silence in those abandoned villages is real."
Through his trip, Jones gets to experience the life of Ukrainians — he himself suffers from hunger, eats bark and freezes in the snowy frigid weather. In one of the episodes, a group of tiny children, hungry and cold, surround Jones to sing him a song about Stalin. Their thin and almost lifeless voices will be stuck in Jones' ears for a while.
In one scene, Jones joins the line to get bread and speaks to a woman, who reveals to him that millions have already died of famine. The family of the actress who played that role suffered from the Holodomor.
Journalists scared to be murdered
"Mr.?Jones" precisely reconstructs the features of the Soviet totalitarian regime with its surveillance, repressions and ubiquitous fear. It also shows the total absence of free speech or independent media and the limited conditions that foreign reporters had to work. Scared to be murdered, like some of their colleagues, foreigners compromised with their conscience and wrote pieces in favor of Stalin.
Well aware of the risks he faced, Jones issues a press release about his observations as soon as he left the Soviet Union. He later fights hard to publish his investigation about the Holodomor. At the time, the vast majority of correspondents reporting from Moscow, including respected Walter Duranty, contradicted Jones' claims. In addition, many media sympathized with the communist ideas, which made it no easier to get his story published.
Because of his persistence and true dedication, Jones became the first journalist to publicize the Holodomor as it was under his own name. Two years later, he paid the highest price for that, his life.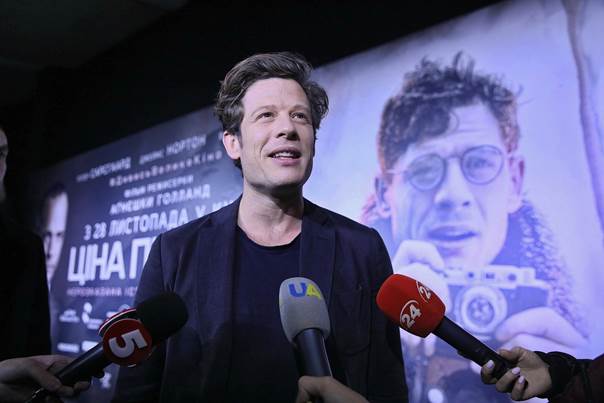 British actor James Norton speaks to the media at the Ukrainian premiere of his new film "Mr. Jones" on Nov. 27, 2019, in Kyiv. Norton says that after starring in the movie, his respect for media grew much greater.
For Gareth Jones' exceptional service to Ukraine, in 2008 the country posthumously presented the Ukrainian Order of Merit for Jim at a ceremony in Westminster Central Hall in London.
At the premiere screening of "Mr. ?Jones" on Nov. 27 in Kyiv, Ukraine presented another order for efforts to tell the truth about the Holodomor. This time, the country awarded Holland with the Order of Princess Olga.
---
Ukrainian Archives and News famine links http://www.uanews.tv/
---
James Mace: EXPOSING THE HIDDEN STALINIST CRIME OF THE FAMINE
"
James Mace
played a decisive role in exposing the hidden Stalinist crime of the famine of 1932-33 in Ukraine," noted Stanislav Kulchytsky, deputy director of the Institute of Ukrainian History at the National Academy of Sciences of Ukraine. "As the executive director of the US Commission on the Ukraine Famine, in 1988 he prepared and published the groundbreaking Report to the US Congress, which was followed in 1990 by three volumes of Holodomor eyewitness testimonies.
These publications forced the Soviet Ukrainian government to officially acknowledge the fact of the famine, which had been kept secret for 55 years.
"The activities of Mace's commission gave an impetus to research on the Ukrainian tragedy. The truth about the Holodomor turned into an effective means of freeing Ukrainian society from misleading Soviet propaganda stereotypes.
James Mace dedicated the last 10 years of his short life (1952- )to Ukraine. His scholarly and educational endeavors focused on amassing arguments that prove that the Holodomor was an act of genocide corresponding to the UN Convention on the Prevention and Punishment of the Crime of Genocide (Dec. 9, 1948).
We owe the ratification by the Verkhovna Rada of the Law of Ukraine "On the Holodomor" to a number of domestic and foreign scholars, but we must not forget that Mace was present at the early stages of this research.
The truth about the Holodomor is helping us revive our historical memory, rally the Ukrainian people, and direct the state-building process along national lines. This is precisely why James Mace became a Great Ukrainian." [To inquire about ordering this book, call (044) 414-6400 in Ukraine.]
FOOTNOTE: The artistic work on the cover of the book, a pencil on paper drawing, showing a grieving mother sitting on the ground with her child, is by famous Ukrainian graphic artist Volodymyr Kutin. The original of this artwork is held in the collection "Holodomor: Through The Eyes Of Ukrainian Artists," Morgan Williams, Founder and Trustee, Kyiv, Ukraine. LINK to article and photograph of book: http://www.day.kiev.ua/251220/.
provided by ACTION UKRAINE REPORT- morganw@patriot.net.
Photos from 1932-33 - all destroyed.
By James Marson, Contributor to The Christian Science Monitor
The Christian Science Monitor, Boston, MA, Tuesday, May 5, 2009
KIEV, Ukraine - In 1933, Mykola Bokan travelled across the Chernihiv Region of Ukraine taking photographs of his starving compatriots. These were the victims of Holodomor, the "death by starvation" unleashed by Stalin that killed millions across Ukraine. The same year, Mr. Bokan was arrested and sent to a prison camp for 10 years. He didn't survive his sentence.
As far as I, or anyone I know, is aware the photographs do not exist. One has to assume if they existed, they were destroyed.
I visit the SBU (state security service, the KGB's successor in Ukraine) in Kyiv often including with the top man and ask over and over about photographs of 1932-1933. They say they do not have any. In all my years of searching, I have never found one authentic photograph of 1932-1933.
Morgan Williams morganw@patriot.net.
---
HR 562 USA
November 16, 2005
The U.S. House of Representatives passed resolution H.R. 562 to authorize the Government of Ukraine to establish a memorial on Federal land in the District of Columbia to honor the victims of the manmade famine that occurred in Ukraine in 1932-1933.
More information and further details will be available on the UCCA's website!
www.ucca.org
---
RESOLUTION THAT WOULD DECLARE 1932-1933 FAMINE A GENOCIDE
The famine was kept secret by the Soviet authorities, and it was only in 2003 that Ukraine declassified more than 1,000 files documenting it. That same year, Ukraine's U.N. Ambassador Valery Kuchinsky presented a statement signed by 30 countries that condemned the actions of Stalin's regime but stopped short of calling the famine a genocide.
Ukraine will mark the 75th anniversary of the famine in 2008, and Foreign Minister Borys Tarasyuk said that would be an appropriate time for a United Nations General Assembly resolution to call it a genocide.
---
Pulitzer Prize
2003 / 2004 Campaign to rescind Pulitzer Prize - Pulitzer.html
2005 The United Ukrainian American Organizations of Greater New York, UCCA New York City Branch, is calling all Ukrainians to join them at a protest rally on Friday, November 18, 2005 at 12PM. The rally will be held opposite The NY Times Building located at 229 West 43rd Street in New York City to demand that Arthur Sulzberger Jr. SURRENDER DURANTY'S 1932 PULITZER TO THE UKRAINIAN NATION. For more information. http://www.ucca.org/
---
Fedir Moroziuk, Member, Ukrainian Association of Holodomor Researchers
The Council of People's Commissars of the USSR of Dec. 29, 1933 and addressed to the head of GULAG Berman: "The committee is sending you the report #38 on the resettlement to Ukraine as of Dec. 28, 1933.
...we inform you that the plan for the number of resettled persons has been fulfilled by 104.76 percent. In total, 21,856 peasant households have been resettled, including 117,149 persons, 14,879 horses, 21,898 cows and 38,705 pigs and sheep."
In 1932-1933, what is now the Kherson oblast was part of the Odesa oblast. In accordance with the document, 2,120 households from Russia's Gorky oblast and 4,630 from Belarus had been resettled to the Odesa oblast [1]. These are the figures for 1933 alone, while the resettlement to the south of Ukraine lasted till the last days of the Soviet Union [1991].
Along with voluntary resettlement, there was a forced resettlement of residents of Western Ukrainian oblasts after WWII. Here is an account of that event given by Maria Stefanyshyn:
"It was exactly on Peter's day [July 12 - AUR], soldiers surrounded our village, drove all of us out of our homes and set fire to them. We were taken under escort to Rozhnyativ, a raion town in the Stanislav area, shoved into cargo rail cars and taken to an unknown destination.
After 2 days they released us in Kherson. From there, we went on foot to the village of Mala Lepetykha. We found ourselves amid boundless steppe, with scorching sun and no water around. Could we, the natives of the free Carpathian region, feel comfortable in this hell? Of course, not. Hence, four attempts to flee back home. We were caught at home and dispatched again to Kherson - until we found a decent area to live - the village of Hladkivka, Hola Prystan raion. It all happened in 1950 through 1954."
You may counter that the story has nothing to do with the 1932-1933 famine-genocide. Yes, it has. Back in 1932-1933, they used famine to devastate Eastern Ukraine, later they used brutal force to destroy Western Ukraine.
In 1944, Beria [head of Stalin's secret police - AUR] and Zhukov [general in charge of Soviet army troops in the area - AUR] signed a special order, under which all Ukrainians residing in the areas under German occupation had to be resettled.
When I published this order in The Holoprystansky Herald, a raion newspaper, in September 1997 alongside with my comments, it caused a turmoil, the newspaper reported.
Veteran Communists dubbed the order a Goebbels-type fraud and me as a historian who spits on his country's history, past and achievements. The newspaper's editor was summoned for questioning by members of a raion council, I was threatened with a law-suit and punishment, while the editorial board had to admit that the document was not an authentic document but a fake.
However, according to Khrushchov's revelations [in 1956 - AUR], Stalin opted for large-scale resettlement to Ukraine.
Here is an excerpt from The Komsomolska Pravda: " Much to Stalin's chagrin, he could not resettle all Ukrainians as the areas for resettlement were scarce and there was the lack of transportation means." [3].
The famine-genocide of 1932-1933 has led not only to physical extermination of Ukrainians, it eroded their spiritual base, the national idea and national awareness of the people.
By Fedir Moroziuk, Member, Ukrainian Association of
Holodomor Researchers, Kherson Oblast (Written in 1997)
Posted on
http://www.Golodomor.com
website, Kyiv, Ukraine
---
We'll Meet Again in
Heaven
: Germans in the Soviet Union Write Their American Relatives: 1925--1937 In 1932-1933, in the section of the book titled "
Crucifixion by Hunger
" -- the period of Stalin's purposefully created "terror-famine" --- letter-writers describe themselves as "swelling up from hunger," eating slaughtered pets, grass, or anything else to keep at bay "the terrible hunger-death which stands black in front of us." That single event, the "terror-famine," according to a wide-range of sources cited by the author, was directly responsible for the deaths of at least six million people, and
up to ten million [per Khrushchev]
or more, including at least a hundred and fifty thousand Germans from Russia. It remains one of the world's least known but also the worst human rights tragedy of the past century - all of which is chronicled first-hand by the letters in this volume.
Ronald Julius Vossler, author, "We'll Meet Again in Heaven: Germans in the Soviet Union Write Their American Relatives: 1925--1937" Published by the Germans from Russia Heritage Collection, North Dakota State University Libraries, Fargo, ND, illustrations by Joshua Vossler, 2001, 268 pages, softcover.
---
Grappling With Holodomor - Excerpt from Timothy Snyder's
The Bloodlands
Survival was a moral as well as a physical struggle. A woman doctor wrote to a friend in June 1933 that she had not yet become a cannibal, but was "not sure that I shall not be one by the time my letter reaches you." The good people died first. Those who refused to steal or to prostitute themselves died. Those who gave food to others died. Those who refused to eat corpses died. Those who refused to kill their fellow man died. Parents who resisted cannibalism died before their children did.
For more see: http://www.theatlantic.com
---
May 19, 2008: Message of solidarity to the Ukrainian people due to events know today as HOLOMODOR
I wish to express my solidarity towards the Ukrainian people who suffered one of the most severe agressions known in the history of mankind. Unfortunatly and due to the nature of international relations (most of the times full of lies and hate) and also unfortunatly due the size of Ukraine as a economical power (when compared to Russia); this atrocity commited by the Stalinist regime has gone into the dark and is constantly and shamefully excluded from the educational system of most western countries. The Second World War seems more like an act towards a sole people and not a devastation that destroyed the people of Ukraine (many years before and after the war happened de facto).
It is outrageous and a shame on how it seems that history is being manipulated (to somehow justify today's acts) instead of being taught to explain the errors of intolerance. It is revolting to discover these events almost by accident. The Ukrainian people, even today, are fighting very hard just to make these events known. Seems that only the opposition to Russia's hegemony makes western powers capable of criticising this tragedy, transforming it in more one political weapon rather than the rembrance of something very wrong and deep inside the man's very being. Something is very rotten and wrong in this coward attitude to censor what it's wrong.
The message of reconciliation seems to find no echo in even a so called democratic Russia. Unlike other minorities who have not learned the excesses of genocide (they apply them to neighbors), the Ukranian people's struggles to get recognition as in respect of their collective ancestors. The fact that Ukraine doesn't launch any raids against it's neighbors doesn't seem to be worty of mention (neither what probably is the worst consciously-inflicted genocide in Europe). The message of reconciliation by a poisoned president seems to represent the only answer to reconciliation and the learning of the errors of the past.
I express my solidarity to this country which I know virtually nothing due to long distance, and very specially to their people who have suffered much at both factions during WWII, but still believe in cohabitation as the only way to self-preservation of Humanity. I express my solidarity and hope no such tragedy will ever happen. I also express my compassion to the victims families if it is of any good.
João Antunes from Cascais, Republic of Portugal correiodaratazana@gmail.com
---
Genocide Revealed - Award-winning documentary film
Genocide Revealed is a multi-award winning historical documentary focusing on the 1932-1933 forced famine in Soviet Ukraine engineered by Stalin. The film depicts a human tragedy of unparalleled proportions. Millions starved to death. Based on moving testimonies of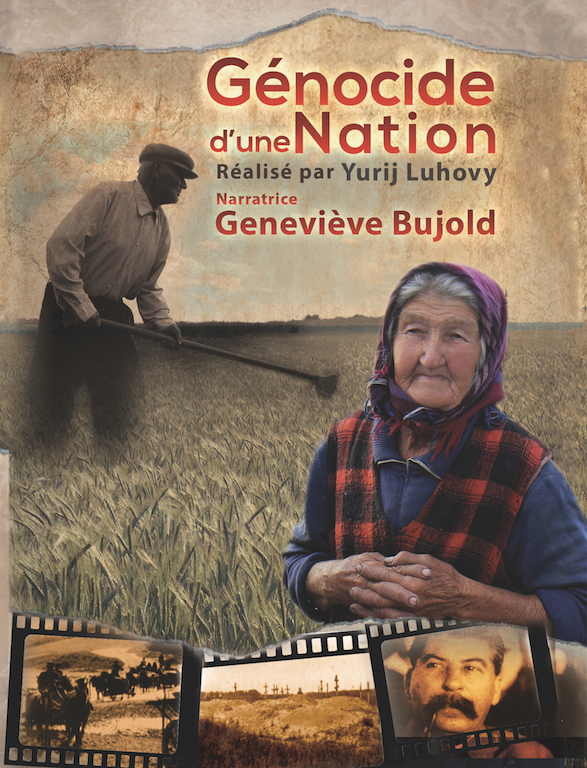 survivors; commentaries by historians and writers; rare historical film and photos of the period; Soviet archival documents. This feature documentary by award-winning filmmaker, Yurij Luhovy, examines the genocidal intent in the efforts to destroy Ukrainians as an independent nation.
Producers: Yurij Luhovy,Yurij@yluhovy.com, Zorianna Hrycenko
http://www.yluhovy.com
http://us5.campaign-archive2.com
Genocide Revealed 's international awards are well-deserved. Unlike other pieces on Holodomor, Genocide Revealed provides a complex approach and includes document analysis, expert opinions, and, most importantly, interviews with survivors to present solid grounds for the author's thesis. Vast selection of archival material intertwines with the voices of those who have either lived through or studied the Holodomor in one firm message that the famine was not God's doing.This documentary is one of exceptional value.... amazing, artful and very insightful documentary.
Tetiana Branitska (family members went through the Holodomor)
---
Anne Applebaum with Terry Gross on Fresh Air.
Anne Applebaum talks about her book and makes very powerful comparisons and connections between the two rulers - Stalin and Putin for whom an independent democratic Ukraine was and continues to pose a huge problem and challenge to their political system.
'Red Famine' Revisits Stalin's Brutal Campaign To Starve The Peasantry In Ukraine
http://one.npr.org
On Amazon.com: https://www.amazon.com