Sachsenhausen
(USSR zone)
Soviet Union: "Mass Graves containing the bodies of 12,500"
Source : The New York Times - September 24, 1992
Investigators digging at the site of a Soviet-run prison camp in the former East Germany have uncovered mass graves containing the bodies of 12,500 people, the Brandenburg state government said today.
The camp was at Sachsenhausen, north of Berlin, and was open from 1945 to 1950. Victims were said to have included real and supposed supporters of the defeated Third Reich, as well as citizens considered unfriendly to Communist authorities.
Until the Communist Government of East Germany collapsed in 1990, it was impossible to conduct research like that now under way at Sachsenhausen. Similar excavations are underway at other sites, and officials expect further discoveries like the one announced today.
The excavation around Sachsenhausen revealed 50 graves, each about 25 feet long and 13 feet wide. Under the earth, bodies were stacked in heaps as high as 15 feet and higher.
Pathologists have determined that most of the victims died of starvation, exposure or communicable diseases. Some had evidently been beaten. Most were children, adolescents and elderly people.
In the years after the end of World War II, occupying Soviet forces imprisoned thousands of Germans. Many were accused of war crimes, and their trials were perfunctory if they were held at all. Some were simply picked off the street, victims of Stalinist crackdowns.
The victims were taken to one of a network of prison camps. Some of them, like the one at Sachsenhausen and another at Buchenwald, were built on the sites of Nazi concentration camps.
The German Government estimated that 65,000 people died in those Soviet run camps or in transportation to them.
During the four decades of Communist rule in East Germany, memorials were built at places like Sachsenhausen and Buchenwald. But the memorials implied that the camps closed at the war's end. They did not mention that in the post-Nazi era, the camps became brutal Soviet-run military prisons.
Submitted by Alan Newark braveheart180203@yahoo.com
Salzgitter
, #2917, #2932, Land Niedersachsen (British zone) mostly Polish
Niedersächsische Landesarchiv
Am Archiv 1
D-30169 Hannover
Tel.: (+49) 5 11 120 66 01
Fax: (+49) 5 11 120 66 39
E-Mail: poststelle@nla.niedersachsen.de
---
Jan 31, 2016 Dear Olga,
My father was in a DP camp in Salzgitter Germany British Sector, til he was re-settled in Britain in 1947, but from what I read there are a few DP Camps in the Salzgitter region and I'm trying to locate the one he was in and also from where he was prior to going to the camp ie: slave labour camp etc. I have been trying for several years since his death to piece together his movements during the war, as you can appreciate he never much spoke of the war years as too painful for him. I know he could never return to his beloved yugoslavia due to persecution of the communist regime. The only information of his time in the DP camp is his identity number..... PWX/DP Reg identity card No 439484, this is the only reference I have. Does this give any identification as to where he was, plus what does the PWX stand for. Is there any records to people whom were in the camps. I look forward to your reply. Kind regards Tina Maria Ryan <tina.ryan66@hotmail.co.uk>http://trove.nla.gov.au
book: Shifting Memories: The Nazi Past in the New Germany
By Klaus Neuman, page 28
https://books.google.com
List of subcamps of Neuengamme
https://en.wikipedia.org
Sande
Sandplatz
By 1946, that camp, on a riverside location in or near naval dockyards was a largely Jewish DPs' repatriaton camp and c/o UNRRA...alan newark
Saouglinscheim in Augsburg, see inquiry page 1
Saulgau (French zone); Russian boy scout troops
Scheinfeld (U.S. zone) Lithuanian
Schieder (British zone)
Schleissheim (US zone); Russian boy scout troops - See Munich
Munchen - Schleissheim
2/20/2011 Dear Olga,
as I was passing on information of your great website I had a complaint that the DP Camp of Munich 'Schleissheim' was not mentioned. I am attaching a Schleissheim document to whomever is interested, but unfortunately it is in Ukrainian which I am ashamed to confess that I cannot understand.
Yours,
Anthony Schlega schlega.a@kabelmail.de
http://www.cossacks-lienz.net
---
Jan 24, 2015 Dear Olga,
Thank you for this wonderful site which I recently discovered! Like many children of DP's I know virtually nothing about this period in the lives of my parents. This is a phenomenon of not only DP's. It has been often reported that American GI's also rarely spoke about their experiences during the war.
I am seeking anyone who may have had contact with my parents in the postwar DP camps from 1945 - 1949 when they were able to immigrate to the USA (Gonzales, Louisiana). My father Alexander Kuzichev and mother Nadejda (maiden name = Smoliak - DOB=1929) were married in 1949 and came to the USA via special DC-4 flight to New York in 1949 and then on to work on their sponsor's cattle/tobacco farm in Gonzales, Louisiana. Their last residence in Germany was the Schleissheim DP camp. My parents were actively involved with the Baptist group in Schleissheim which her uncle Georgg Winogradski led.
Prior to the war, my mother had been living with the Winogradski's (Georg & Maria)in Kramatorsk (Donbass area of USSR) when they were taken to work in Munich by the retreating German army ARO 1944. Georgg Winogradski was an electrical engineer and the Germans had him running the Munich power plant? My father was born in Stavropol, USSR in 1924 but I have no information on how he came to be in Munich at the end of the war. Initially he was in the Russian army and I believe ended up in the German army toward the end of the war defending Berlin against the approaching Russian army.
Between 1945 - 1949 my parents would often visit friends and Churches as well as other Baptist groups in Munich, Stuttgart, Minden, Hanover and presumably they met at one of the Churches on such a trip. My father later attended a Bible Institute in Frille in 1948.
I am also seeking information about my parent's sponsor - a Louisiana farmer. I found one note from Donna Morris (Ingolstadt DP camp) referencing a Louisiana farmer who sponsored her family so perhaps there were other families who ended up in Louisiana. So far I have been unable to connect with Donna or anyone else who came to be in Louisiana. Also so far I have not been able to get any other information from public archives in Gonzales, Louisiana. I have also written to the ITS requesting any information they might have on my parents and her uncle and aunt and am still awaiting a reply.
Best regards,
George Kuzichev gkuzi@mindspring.com
Schleswig-Holstein; #1205, Latvians, Poles, (British zone)
English site 1, http://www.rootsweb.com
map http://feefhs.org
German site index D entry http://www.geschichte.schleswig-holstein.de/
archives http://www.genealogienetz.de
forced labor German site 1 http://www.zwangsarbeiter-schleswig-holstein.de/
forced labor German site 2 http://www.vvn-bda.de
more forced labor searches http://search.yahoo.com
Book by Dölger, Karsten, "Polenlager Jägerslust". Polnische "Displaced Persons" Schleswig-Holstein 1945-1949," 15,5 x 23,5 cm, 404 Seiten, 2000, broschiert, ISBN:3-529-02210-1, 31 Euro
---
Hi Olga, I am trying to trace Olga Buczko or Bernard Leslie who were engaged in 1945 / 1946 . Olga was in the DP camp Schleswig-Holstein. Are there any records of which British soldiers or regiments were at the English Unit, and where the displaced persons went from there? Olga may have travelled on the Castell Bianco to Australia. Thank you - Tanya Richards
Schloss, Germany
Schloss Gottorf (British zone)
photos and history http://www.missunde.hhm.de
museum and city archives http://www.specki.de
museen in Hessen http://www.rp8.de

Schloss Langenzelle
Good morning:
I am looking for anyone who may have come in contact with Canadians who worked for UNRRA:
Ethel Ostry was the principla welfare worker in Camp Glasenbach and the Director of Camp at Schloss Langenzelle. Her final assignment was in Camp Fohrenwald; Mrs J Henshaw was with Ethel a Camp Camp Fohrenwald and later Director of the International Children's centre on Chiemsee. Giske Miss Francis. Thank you for any assistance you could provide. Susan Armstrong-Reid
Schloss Neuhaus (British Zone):
State archives: Staatsarchiv für Schwaben:
D 8858 Neuburg a.d. Germany
Schongau (U.S. zone)
Stadt Schongau (City of Schongau)
Address letters to: Postfach 1348 86953 Schongau
Street location / Hausanschift :
Münzstrasse 1-3
86956 Schongau, Germany
city museum and archives address:
Stadtmuseum / Stadtarchiv Schongau
Galerie im Stadtmuseum Schongau
Christophstr. 3-57, 86956 Schongau
e-mail: museum-archiv@schongau.de
Tel: 08861-20602
Fax: 08861-2597670
Schoningen, Northeim;
Schöningen (Schoeningen / Schoningen), city ... Helmstedt
Olga:
My father, his parents, one brother, and two sisters are WWII survivors (non-Jewish) who were taken from Poland and put to work on farms in Germany. I am trying to track their history (my father was young and can't recall names of places they were at, other than Fliegerhorst). Two of my aunts were born in Schoningen, in 1943 and 1945. Can you tell me the names of DP camps in/around Schoningen during that time? Thank you for any help. Hope Zulisky
http://www.1911encyclopedia.org
http://www.schoningen.de/
Schopfloch
, Landkreis Ansbach,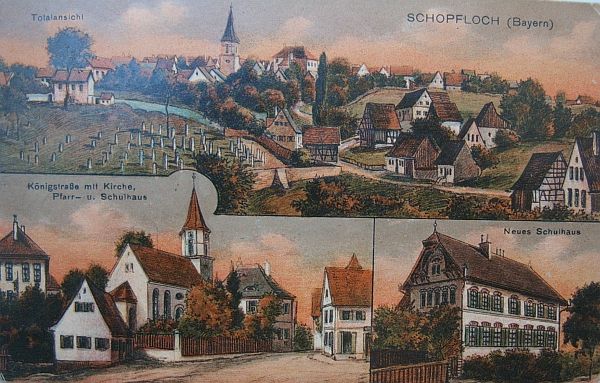 Jewish cemetary project website in German
Juden in Schopfloch website in German, photos of gravestones, now has English pages.
Schötmar / Schoetmar (British zone)
Camp Schulenburg
Sep 25, 2013 Hello Olga,
I have just come across your great site and was wondering if you or someone out there may be able to help me with information on my wife's father who was in 2 camps between 1938 and 1948, Camp Burgdorf and Camp Schulenburg, before coming to Australia. His name was Michael Kurylko born in Jaslo Poland or Ukraine as he said he was Ukranian but we are not sure....if you can point me in the right direction to follow up that would be so helpful.
thanking you, David Gibson gibbosjananddave@hotmail.com
Schwaben
Since about 1990, this Archive (for Schwaben/Suabia, i.e. southwestern part of Bavaria) is located in Augsburg, not in Neuburg any more:
Staatsarchiv Augsburg
Salomon-Idler-Str. 2
D-86159 Augsburg
Tel. 0821/599 63-30
Fax 0821/599 63-333
E-Mail: poststelle@staau.bayern.de
Schwäbisch Gmünd / Schwaebisch Gmuend (US zone) Lithuanians, Poles
*Rems River, at the northern foot of the Swabian Jura mts. It has long been known as a gold-working and silver-working center. Founded by the mid-12th cent., Schwebisch Gmund was a free imperial city from 1268 until 1803, when it passed to Württemberg.
*Noteworthy buildings include the city hall (1783-85) and the St. Johanniskirche (1210-30), a late Romanesque church.
See more: http://www.mv.com
http://search.yahoo.com
9/21/09
My father Cass Garason was born in Belz, Poland and mother Christine Wojcicki born in Boiska, Poland, were taken by the Germans to forced Labor Camps. They were in their teens. I do not know the names of the forced Labor Camps they were in. I was born in Heilbronn, Germany (UNRRA camp) in 1948. After the war they remained in DP camps in Germany until 1949, when they finally immigrated to the US from Bremen, Germany.

My father talked about the driving school he attended in Germany (Schwabisch Gemund). He drove trucks for the US Army until coming to the US. The photo shows him right under the tail of the Polish Eagle. I also sent along the book (permit) he had from the driving school. Maybe some one on your site will read and know about the school.
Thanks again for all your help in my journey to discover my roots.
Barb barbpelon@yahoo.com

Polska Szkola Kierowcow Samochodowych in Prezydenta George Washingtona in Schwäbisch Gmuünd (Wurttembergia)
(Email to Barb for large file of this photo if you suspect your relatives are in this photo.)
Schwäbisch (Schaebisch) Hall, Jews,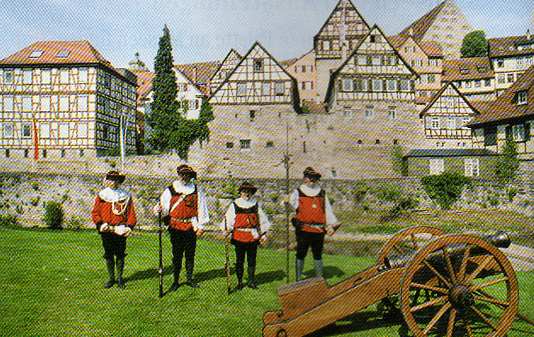 The correct spelling is Schwäbisch Hall / Schwaebisch Hall instead of Schwabisch Hall or Schwebisch Hall. Submitted by: Wolfgang Strobel, author of Post der befreiten
Zwangsarbeiter - Displaced Persons Mail Paid in Deutschland 1945 - 1949.
City archives: Stadt-und Hospitalarchiv Schwäbisch Hall
Am Markt 5
74523 Schwäbisch Hall
Phone: 49-791-751-429
Fax: 49-791-751-485
Email: Andreas.Maisch@schwaebischhall.de
A documentary on the concentration camps in Schwebisch Hall. Koziol, Michael Sylvester. Library Stacks Rustung, Krieg und Sklaverei: der Fliegerhorst Schwabisch Hall-Hessental und das Konzentrationslager: eine Dokumentation. Sigmaringen: J. Thorbecke, 1989. UG635.G32 F556 1989
1/24/06 Hi there,
I'm hoping you can help me.
My father (Richard Hufft) was stationed in Germany during WW2 at Schwaebisch Hall. He was 2nd in Command. He befriended a German artist by the name of Diebitsch. I am trying to find Diebitsch's family to let them know what an impact he had on my family. What I know about Diebitsch:
. His first initial is C or L. I have found a Carl Diebitsch and a Karl Diebitsch
. He was official artist of Hitler's government
. He designed the currency for the Third Reich
. He painted Eva Braun's portrait
After the war was over and my father came home he recieved a large box filled with paintings and furniture that Diebitsch made for him. This is such a big part of my family's lore that I'd like to know more about the man. My Father died in 1979 and my Mother is 82 so she doesn't remember a lot about the man. Any help you can give me would be wonderful! Thank you, Mari Hufft-Gifford, email: prismmgc2@sbcglobal.net
Schwandorf
Schwandorf was a transit camp in Bavaria in the US. zone of Germany housing mainly DPs from Poland. The. ORT school in Schwandorf had by the end of 1947 ..http://dpcamps.ort.org
---
Series I: Central Committee of Liberated Jews in the American zone, 1945-1950
http://findingaids.cjh.org
Folder Reel... Title Date
49 ....5.387 ..Correspondence with Jewish communities 1948 - 1950
Ampfing, Aschau, Attel, Augsburg, Bad Kissingen, Bad Worishofen, Bamberg, Berchtesgaden, Bindlach, Bodenhausen, Bonn, Breslau, Foehrenwald, Feldafing, Frankfurt, Furstenfeldbruck, Hamburg, Hengersberg, Hockel, Landsberg, Leipheim, Lubeck, Marburg, Nordheim, Passau, Regensburg, Rendsburg, Rosenheim, Schwandorf, Straubing, Stuttgart, Tirschenreuth-Opf., Ulm-Hindenburg.
---
http://collections.yadvashem.org
Schwebda;
Schwebda and Schwäbisch Hall are two different places: Schwebda near Eschwege is today named Meinhard bei Eschwege. Submitted by: Wolfgang Strobel, author of Post der befreiten Zwangsarbeiter - Displaced Persons Mail Paid in Deutschland 1945 - 1949.
Schweinfurt, Latvian
City archives: Stadtarchiv Schweinfurt
Martin-Luther-Platz 20
97421 Schweinfurt
Tel: 0 97 21 - 5 13 82
Fax: 0 97 21 - 5 17 28
Schwerin
City archives: Landeshauptstadt Schwerin Stadtarchiv
19053 Schwerin
Tel.: (03 85) 56 29 70
Ansprechpartner:
Benutzerdienst:
Jens-Uwe Rost
Tel.: 5 93 62 44
Rainer Blumenthal
Tel.: 59 80 10 61
Archivleiter: Dr. Bernd Kasten
E-Mail: Stadtarchiv @schwerin.de
http://www.schwerin.de
Dear Olga
I was delighted to find the site dp camps and I have looked through with great interest. Both my Lithuanian parents were in dp camps. My mother was in Luebeck and she says she saw my father in Scwerin dp camp after the war. I would appreciate any help that you could give me. Thanks Birute Davies
---
10/15/04
Thank you for presenting such a history of ordinary people caught in terrible circumstances.
Perhaps you can help or point me in the right direction, My father was Latvian who I believe was transported to Germany as a forced laborer, his age at the time was 13 years being picked up by the Germans and placed on a cattle truck. This was the last time time he ever visited the country of his birth--primarily because of the Russian take over after the war. I am simply trying to discover if there any ways in which I can search out back ground details as to his life prior to being sent to Britain as a displaced person. It was a period in his life that he spoke little of. With stories only really beginning with his liberation by American troops.
His documents recently discovered by my mother point towards Schwerin - Meckienburg but after that , but i can find know real reference to where or what this place was or served as. His only comments was that he worked on servicing railways track and engines. Thanks for any help Tony Jakubovskis
Schwerte
Schwertmuhle
I am looking for a DP camp that was in Esslingen, right by the Neckar River. My uncle called this place the Schwertmuhle, or Sword Mill. He wrote a paper and here are a few places he spoke of:
The Esslingen Burg
Stadt Halle (with a massive clock with figures)
There's a train station with a station pub or stube
There's a large industrial complex there now.

If you have any info on it or pictures, that would be fabulous. My family, the Kurz family, was there from 1949 - 1956. Thank you so much! Cheryln Kurz
Sehberg - Polish POW soldiers held by Germans. Soviets had control over Poland. Polish POWs didn't want to go home.
This story tells of extreme food shortage in the camp, POW refusal to go to their Soviet-occupied Poland home. (Computer translation:) In camp Sehberg, the British expressed sensitively to documents issued by the camp line, which showed that one tried tried to express own authority anzumassen and thereby also British instruction power to entziehen.[3 ] with this procedure those Poland their discontent over it that the right of self-determination seemed no longer ensured to them. Probably for these reasons the British had already decided in July 1946 to concentrate on the remaining 9500 Polish soldiers in few camps of their zone of occupation, in Schleswig-Holstein. Thus also the camp Sehberg was vacated on 28 July 1946 and the Polish soldiers into the large camp after whom peat with Hamburg was shifted. In response for it 430 Polish civilians, "Displaced were sent person", on the Sehberg. These with end of war did not free forced laborers, forced laborer inside and concentration camp prisoners, who came on 8 August 1946 at 14.20 o'clock to the station from Melsdorf.[4 ] thereby were however by any means solved for the British the problems, because in the July of the following year the competent British authority, the director of the camp Sehberg, Lewandowski, was requested by the mission of the new (Soviet-) Polish government in Warsaw, to remove the Polish minister Mieczyslaw Filipowicz and another inhabitant responsible for the camp from the camp. All three were accused of anti-propaganda. They themselves had expressed refusal to return to communist Poland and concomitantly different camp inhabitants beeinflusst.[5 ]. Whether the British obeyed this request, obviously, only the minister can answer. Filipowicz, who was accommodated in the neighbour camp remained and emigrated in 1950 to Baltimore, MD, USA.
A further problem was the criminality outgoing from the camp. It concerned the typical offenses of the post-war period: Theft of food, Blackmarket, Black brennerei in addition, force crimes. Clearly in camp Sehberg there was an act of violence with connection to the black market business. In November 1946 in a field a corpse had been found, parts of the Polish NCO Garbatzki from the camp Sehberg. This murder could never get completely resolved.[6 ] because also the identity of the victim only weeks could be clarified after the grausigen find, has Garbatzki contrary to the deceased of the camp Sehberg specified above a gravestone on the cemetery of Flemhude. A total evaluation of the criminality cannot be made for the camp Sehberg in view of the unsatisfactory living conditions. In the case of an evaluation from historical perspective however the general lack situation is after the war to consider the suppression that Poland during the German crew of Poland and the humiliating and hunger during the time of the hard labour and in the concentration camps in Germany. To never exclude completely it is also that the accusations should mask own offences against the laborers deprived of food by the German population.
The arguments around the DP criminality in the summer 1947 contributed then also to the locking of the camp. Both the kreistag of the district Rendsburg and the federal state parliament had substantial pressure for the British to react more strongly to the problem. Own historical responsibilities in these debates ausgeblendet.[7 ] the locking Sehbergs can as a concession of the British in view of the enormous public pressure be interpreted. Since the numbers let the political development in Poland sink however, was not to be thought of a complete locking of the Polish "DP" camps. From 477 inhabitants in 1946 only 14 camp inhabitants let themselves be repatriated in November; 52 and in December; still 13 in October. In the extremely hard frozen winter of 1946/1947, the travels became complete over the Baltic Sea between Luebeck and Stettin with the "Isar" for many months eingestellt.[8
If anyone wants to do an accurate translation of this article, the link to the German site is:
http://www.zwangsarbeiter-schleswig-holstein.de
Seligenstadt, (US zone) Lithuanians
Seligenthal
Selm (British zone)
Senden (British zone)
Sendenhorst (2 camps - British zone)
Sengwarden (formerly Wilhelmshaven) #212, Land Niedersachsen (British Zone), mostly Balts
Sennelager (2 camps - British zone) Poles
Seppenrade (British zone)
Siedlung - There are 3 choices, all three are civilian work camps; Siedlung means settlement:
Siedlung Hilperdingen Walsrode - Krs. Fallingbostel - British Zone
100 persons, civilian work camp
archives located on this page
http://www.dpcamps.org/Fallingbostel.html
Siedlung Neuweiler -Alsdorf - Krs. Aachen - British Zone - 600 persons
Siedlung Zopp in Alsdorf - British Zone - 1000 persons
Look under searching the British zone
http://www.dpcamps.org/britishzone.html
Alsdorf (See Aachen)
http://www.alsdorf-online.de
http://www.kreis-aachen.de
List of slave laborers: http://www.zweitausendeins.de
Aachen archives on this page:
http://www.dpcamps.org
Sieen (British zone) 5,700 Poles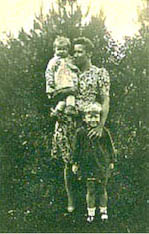 Forwarding a picture of Helana Wolf and daughters, Rita (4 years) and Wanda (1 year) from Siegen. Rita Robinson, Ontario, Canada
Sigmaringen
http://www.akademie-rs.de
opens two documents: You can find an interesting book on Zwangsarbeit (forced workers) in the church, and a documentation on the files on "Zwangsarbeit" in the area of Sigmaringen.
Sindelfingen
http://www.sindelfingen.de
Archive: Tel.: 07031/94-394 oder 07031/94-212
Fax: 07031/94-676
E-Mail Archiv@Sindelfingen.de
City hall: Stadt Sindelfingen
Rathausplatz 1
71063 Sindelfingen
Tel: 07031-94-0
E-Mail: stadt@sindelfingen.de
postal address: Stadt Sindelfingen
Postfach 180
1043 Sindelfingen
website:http://www.sindelfingen.de
9/26/04 Kudos! It is great to find your website and your work is appreciated. Can you tell me where I would find the D.P. camp my father was born in after the war? I was told it was in Stingelfingen, Germany. I don't know if I have spelled that correctly! I cannot find this camp on your website but would appreciate being directed anywhere where this camp is mentioned. Would records exist that can be accessed online of the births in this D. P. camp?
I was also told that the Poles draped a Polish flag at the head of the bed and told themselves that this meant the baby was born in Poland!~ Curious Canadian
Soest (British zone) Yugoslavs
Solingen, #3179, #41/179, Land N. Rhine-Westphalia, (British zone), 2,400 Poles, some Balts &amp Yugoslavs;
photos of Solingen today
City archives:
http://www.solingen.de
http://www2.solingen.de
Gasstrasse 22b
42657 Solingen
Tel: 02 12 - 2 90 36 30
Fax: 02 12 - 2 90 36 48
My dad is a survivor of Solingen. I would love to see war time pictures. Eric
Dear Olga
You have a most interesting website. I am trying to find a friend I had in Solingen, Germany, a Polish DP camp. Her name was Zofia Murawska, Her Father's name Wladyslaw and her mother Maria. She would be about 60-ish. How would I go about finding her whereabouts? Or for that matter any of the friends I had while living in that dp camp? Thanks. Lydia Caine
2/18/06 Dear Olga,
I have been hunting for more info about DP camp Soligen. I have papers such as IRO processing cards, wage papers, and immunization records for my parents that state Soligen, North Rhine Westphalia, Land Niedersachsen, and Schleswig-Holstein, also Wentorf (resettlement processing center). I can not find any sites online in English where I can look into further info about this dp camp in Soligen. If possible, could you be of any assistance in this search for more info.. Thank you,
Julianna Francowiak (nee Kopczynski)
Soltau
DPAC (Displaced Persons Assembly Center) 252 in December 1945.