Seedorf, #249, (British zone); mostly Poles, Balts, Yugoslavs, Lithuanian, Ukrainians; Russian boy scout troops
The DP camp with the DPAC number 249 was in Seedorf bei (near) Zeven, zip code 27404. Submitted by: Wolfgang Strobel, author of Post der befreiten Zwangsarbeiter - Displaced Persons Mail Paid in Deutschland 1945 - 1949.
City offices: Rathaus
Samtgemeinde Zeven
Am Markt 4
27404 Zeven
Tel: 04281/716-0
Fax: 04281/716-125
Email: samtgemeinde@zeven.de
http://www.zeven.de/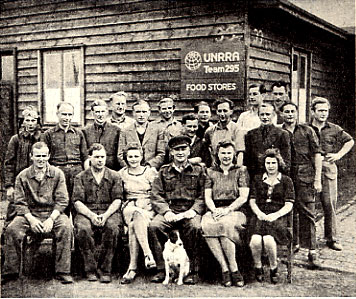 UNRRA Food Stores employees at the Lithuanian DP camp in Seedorf.
Hi Olga,
Like your website.
In August 1949 my wife's parents were moved to the Seedorf camp near Hamburg prior to emigrating to Australia.
We will be visiting Germany in September, and want to visit some of these locations, including Seedorf. However there are a number of towns called Seedorf in that part of Germany. Do you know how we can find an address of the camp?
Also, we're looking for someone based in or around Lubeck who could act as a guide for us. This person must have English language skills, and preferably would also be knowledgeable about the locations we want to visit. Can you direct us to some one who may be able to help us? Thank you. John Lindsay /Australia
---
4/5/ 05 Hello Olga, I have just found your site; it is remarkable! My wife's father was Milivoje Acimovic, a Bosnian Serb from the former Yugoslavia. We know from a document that we have that at sometime he was in Camp 66, Seedorf Lager, Nr Bremeuorde (could this be Bremen today?). Because he was a Royalist it was unsafe for him to be repatriated after the war because Tito was in power, so he chose to come to Britain. I was wondering if there is any more information about this camp and its occupants. Regards John Dyke /UK
In Camp Seedorf was the Ukrainian Elementary School June 1948.
---
1/27/08 Hello Olga,
Like so many others, I just stumbled across your fantastic website when researching my dad's background. I was wondering where it is possible to find some more information about his history as a displaced person in Germany. I have found his IRO card from 1948 (copy attached) which shows the following detail:

International Refugee Organization
Regional Processing Centre
Fallingbostel - this seems to be where had his X ray and medical
The front of the form is as follows:

IRO Processing Centre
North Rhine Westphalia
Land Niedersachsen
Schleswig Holstein

Name: Ilyk Mikolaj
DP No: 116108
Date of Arrival: 7 Oct 1948
From: 66 DPACS: Seedorf (??) Camp
Area team: 905
Group: Australian AF86 - 1713
Block No: 27
Room no: can't work this out - 23 is crossed out and replaced with either 14, 11 or 19??
He was a Ukrainian (from Drohobych) but was in the Polish army and taken as a prisoner of war and worked as a slave labourer in Germany. He met my mother there in about 1945 at Kapellen after the Americans arrived and they were all taken to a camp in Ratingen. They finally emigrated to Australia in may 1949 on the Fairsea.
Is it possible to get any more information about my parent's stay in Germany. Thanks for any help you can provide.
Peter Ilyk ilyk@grapevine.com.au
---
On 7/6/12 Dear Olga
I am researching my parents who were displaced persons during WW2. Their records indicate they were born in Luka, Ukraine and ended up at Seedorf. They have both passed away and I am now trying to trace their lives.
In the documents held at the National Archives in Australia include this one. It is unusual because when I check files of other people of the same period they do not seem to have this one. He arrived in the DP camps in 1942 which would suggest he wasn't a member of the Partisan Army. I can find little information about him as he died when I was very young. I have also included documents which give background that is available.
The question I ask, as well as any information about him or where I could find it, is was it normal for all DP's to have a military check and why would they be selective?
Any help would do.
Regards, Michael Slobodniuk michaelslobodniuk@bigpond.com