Kabel / Hagen, N. Rhine / Westphalia (British zone), mostly Poles
Kapellen
Jan 27, 2008 Hello Olga,
My mother, Anna Dunec, was taken from her home in Orihivka, Ukraine in 1943 to work as a slave labourer (Ostarbeiter) in Germany when she was 17. She worked in Homberg (near Duisburg) but escaped after that city was bombed by the Americans in 1944. She made her way with two friends to Kapellen (near Moers) where she found work on a farm with a very good German family who looked after her. (after mum escaped from Duisburg she changed her name to Eugenia Majewska.) She met dad, Mikolaj Ilyk, at Kapellen after the Americans arrived and they were all taken to a camp in Ratingen. They finally emigrated to Australia in 1949 on the Fairsea. Is it possible to get any more information about parent's stay in Germany? Thanks for any help you can provide. Peter Ilyk ilyk@grapevine.com.au
Karlsfeld, some Ukrainian documentation at Shevchenko Scientific Society Library
Karlsruhe, Ukrainians
film: http://www.ihffilm.com
wars end: http://www.grochowiak.de
City archive: http://www.hbg.ka.bw.schule.de
Researching forced labor in the city archives: Zwangsarbeit in der Kirche text in German
Generallandesarchiv Karlsruhe
Nördliche Hildapromenade 2
76133 Karlsruhe
Telefon: 0721/926-2201 (Lesesaal -2251)
Telefax: 0721/926-2231
Email: Generallandesarchiv@glaka.lad-bw.de
Stadtarchiv Karlsruhe
Markgrafenstrasse 29 76124
Karlsruhe
Tel: 07 21 - 1 33 42 25
Fax: 07 21 - 1 33 42 99
http://www.karlsruhe.de/Stadt/Ver/archiv.htm
Kassel (US zone) Lithuanians, Estonians - has its own page
Kastel Subject: Photos at United Nations archives:
We have photo # UN22340: Ukrainiens DPs in Mainz-Kastel IRO Camp, US zone of Germany
Please let me know if you would be interested in obtaining hi-res scans ($3 each) or prints ($ 7 each) of them. Best regards,
Clara Gouy photolibr@un.org
Photo Librarian, United Nations
Archive: www.studienkreis-widerstand-1933-45.de
Forced labor: www.steffes-eschborn.de
"25 Ukrainians assaulted two Soviet representatives, pelting them with potatoes and stones, when they came to Kastel camp to repatriate the Ukrainians to Russia. A Ukrainian 24-year old man hanged himself, leaving a note, explaining his family had been deported to Siberia and he preferred death to falling under Soviet control." (Wyman, page 83)
Kaufering
4/24/05 Dear Olga,
The records at NARA state that my uncle Heinrich MALZ was freed at Kaufering, which I believe was a sub-camp of Dachau. How can I find any record of him in a DP-Camp? Can I find what happened to him after he left the camp? Regards, Doug Mason, Melbourne dmason@alphalink.com.au Kaunitz (British zone) archive: http://www-user.tu-chemnitz.de Kempten, Lithuanians, City website with photos: http://www.kempten.de/
Dear Olga: In looking through my files, I found I had Xeroxed the cover of a Lithuanian DP camp magazine, "Dypukas" dated August 10, 1946 from the Kempten, Germany camp. In Lithuanian they add different endings to nouns depending upon how the word is used. Most have an -as ending; which turns into an -o ending as used at the top. This is the type of stuff the Balzekas Museum has lots of: DP camp books, magazines and publications. I've seen lists of names, too there. Frank, Passic
Stadarchiv Kempten
Rathausplatz 3-5
87435 Kempten (Allgäu)
Tel: 08 31 - 2 52 53 15
Fax: 08 31 - 2 52 54 24
7/11/05
I am posting this on behalf of the Sketeris family. I am seeking any imformation anyone may have on the Sketeris' who were in Kempten displaced persons camp in the 1940's? Gayle on behalf of Algis Sketeris Gayle Schlissel Riley
7/2/07 My father lived in the Kempten DP camp from 1945 to May, 1949. I would like to ask any readers who knew or knew of Jonas Girdziunas during those years to send a brief story, recollection, memory to me at svictoria@earthlink.net. My mother, Sofija Druskis nee Ivaskeviciute, lived in the Uhte, Germany displaced persons camp during the same time period. Thanks for any information on either parent. Victoria Girdziunas, svictoria@earthlink.net
Kevelaer, North Rhine, see Reseaching the British Zone britishZone.html
translated by computer: Liberation? This may be the feeling of those who have been traveling through Kevelaer's camp for former prisoners of war and foreign workers since March 1945 - up to two million people from 58 countries. The Displaced Persons Camp at Feldstraße provides the return of the displaced persons to their home countries, including many Poles. The 26-year-old Pole Karol Wojtyla is ordained in Cracow on the day when the DP camp is disbanded after a year and a half (1.11.1946). Almost 41 years later, he will visit as Pope John Paul II Kevelaer.
http://www.blattus.de
The hospital in Kevelaer was already occupied by an R.A.M.C. unit; a German surgeon and thirty-six nuns, together with a handful of patients, were still taking refuge in its cellars. To them the F.A.U. explained that the section had come to help re-establish the hospital, and that everyone's help would be needed to restore, as quickly as possible, the essential services of the town. The surgeon recommended the use of a small hotel as an emergency hospital; the section took over this building and put up appropriate sign-boards. The Burgermeister was asked to provide local helpers for cleaning the building; and soon one room was available as a ward. F.A.U. transport brought in beds and bedding from abandoned premises, surgical equipment was transferred from a hopelessly damaged hospital in another town, and a chemist's stock was protected and partly transferred. Other members of the section arranged for Military Government passes to be issued to essential German medical personnel, so that they could circulate more freely; and living accommodation was found for them.
"In the course of a fortnight, further buildings were taken over, additional stores of drugs and equipment were located and transported, and regular deliveries of food ensured. After consultation with the Mother Superior, more members of her Order were brought into Kevelaer from the villages, until a staff of fifty-five had been assembled and a good number of patients could be accommodated in the various hospitals."
Three further F.A.U. sections in turn followed the original one into Kevelaer. On 23rd March British troops forced a crossing of the Rhine in this sector. Two days later Stanley Hancock's section moved across and helped to establish a Transit Centre for Displaced Persons in Bislich on the eastern bank of the river. Apart from Section 4, under George Greenwood, which was busy with refugees on the Dutch front during the final stages of Holland's liberation, all the Unit sections moved across the Rhine during the following three weeks. The D.P. work, which was to be the chief occupation of the next few months, began.
The care of all Displaced Persons in Germany was to be U.N.R.R.A.'s responsibility, but for a variety of reasons U.N.R.R.A. was not ready to take the field. And the job was urgent. Not only were transit camps necessary at every short stage of the advance, but it was also important to establish a complete barrier of camps along the Rhine and the Ijssel, so that every west-bound D.P. would have to pass through a system of medical and security examinations before being repatriated. The military framework of the plan was there. Transport, food stocks and anti-louse powder were all produced. But the U.NR.R.A. teams were not there, and the provision of staff for setting up and controlling camps was an acute problem. To supplement the few Refugee Detachments of Military Government (as Civil Affairs had become), small groups of Army officers were formed up as Displaced Persons Assembly Centre Staffs ; and the six F.A.U. sections, often split into smaller groups, were used to the full. Each, following its own Corps, helped to set up dozens of camps between the Rhine and the Baltic.
"Superficially, the task of registration, de-lousing, catering and camp management resembled the refugee work. But instead of the frightened and dispirited families which had filled the refugee centres, D.P. camps were thronged with newly liberated forced workers, mostly young, many of them heeding nobody in their determination to secure what spoils there were, and to avenge themselves on the German population. There was also a mixture of innumerable nationalities; and the work was complicated by the administrative necessity of segregating east-bound from west-bound people, and by the practical necessity of separating Poles from Russians, and Italians from both. Military Government usually did its best to suppress looting and vagabondage; but it was almost impossible to abolish the main excuse for lawlessness, which was the unattractiveness of the camps. Built by the Germans as prisoner-of-war compounds, concentration camps, or quarters for the forced workers themselves, most of them, when thoroughly overcrowded, offered only the bare essentials of life ; for instance, no matter how high the calorific value of the diet, the fact that almost everything had to be served as soup or stew, no other form of cooking being possible on the German camp stoves, gave constant ground for bitter complaint. And the D.P. resented having to live in the same sort of camp as he had been placed in by the Germans."
http://www.ourstory.info
---
DP Camp Inventory
Ort -Kevelaer (Kreis Kleve)
Region- DP British Distrikt- 1 N
Name/ Funktion/ Gebäude Adresse des Camps
DP-Camp
Eröffnung/Ersterwähnung
Schließung/ Letztmalige Erwähnung
Belegstärke Kapazität Nationalitäten
Assembly Center AC 41/188 Assembly Center (ab 09.1948)
DPACS Nummer 46 Military Government Detachment
UNRRA Assembly-Center-Team
Team-Direktor
E. A. Wheatman Field Supervisor (mit Standort)
Area Team 01.05.1947 AT 913 Düsseldorf Area
Aktenlage ITS und andere Archive
Bemerkungen
---
Kiel, #1218, Schleswig Holstein (British zone), Poles, Balts Kiel Institute for World Economics
http://www.uni-kiel.de
The clippings collected amounted to 800,000 by the end of 1933. They were moved to another location during the Second World War and thus survived the war. The War Archive, which was left in the Institute, was not so fortunate - it was destroyed during the bombing of Kiel.
Service:
Elisabeth Flieger
Phone: +49+431-8814-321
Email: elisabeth.flieger@ifw.uni-kiel.de
Christa Seeck
Phone: +49+431-8814-303
Email: christa.seeck@ifw.uni-kiel.de
---
Oct 28, 2013 Good evening Olga,
I am writing to you as I lost hope to find my grandma. I know only her first name Zofia. She was in Schleswig-Holstein.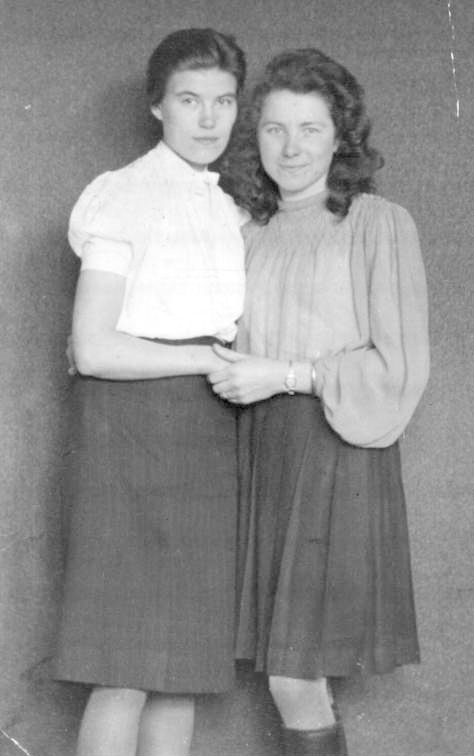 Dear Olga, is there any point to hold on in this case, any trace I should follow? How can I find the list of woman who lived in Kiel-Wellsee camp especially in the pavillon nr 8? I have no idea how to look for her, as even the ITS in Bad Arolsen said they cannot help.
I attached the photo of my grandma - Zofia (on the right) and Josephine/Franciszka Grabowska (taller on left). How should I look for her?
Also, I would also share with you a helpful website http://straty.pl/index.php/szukaj-w-bazie
You may write a missing person name, and if some documents about him/her as a victims of a war was enetered into database it will show up. The data comes all the time and the project is not final yet, still a lot of information may be find.
With warmest regards, Urszula ula_badaruk@yahoo.com Warszawa Poland
Kirdorf
Dear Olga,
There was a DP camp located in
Kirdorf
next to Bad Homburg v.d.H. This was a relatively small camp populated mostly with Russians who were connected to the Solidatisten political party and its publication Possev. The camp was disbanded in 1954 or 1955.
Nicholas Burlakoff
Thank you for this information. I was not aware of forced labor history in Kirdorf. The barracks of the DP camp were referred to by locals as "Hitler's barracks." They may have been the forced labor camp originally, since they were located at the edge of town near the forest and the cemetery. The Kirdorf website does have reminiscences of French wartime workers among he farmers. Nicholas Burlakoff
Kleinheubach,
on the Main River, about 75 kilometers southeast of Frankfurt;
interview
and
current photos of Kleinheubach
and
Castle of Löwenstein,
evangelic Baroque church (1706), city hall (1732).
For DP camp photos, see Katherine Hulme collection at the Beineke Library, Yale University: Box 44 folder 656 Kleinheubach and Aschaffenburg camps 1945-47
Klingsberg, #1235, Schleswig Holstein (British zone) There was a children's home.
Kloster Indersdorf
https://mjhnyc.org
https://fcit.usf.edu
http://www.dpcamps.org
http://kloster-indersdorf-1945-48.blogspot.com
Kloster / Kneck, Poles
Kloster Reute, French zone, see Jordanbad
Knechtsteden, N. Rhine, (British zone), Poles
Koblenz
City archives - Stadtarchiv (Amt 47) Alte Burg
PO Box / Postfach: 201551
56015 Koblenz
street address: Burgstrasse 1
Altstadt 56068 Koblenz
Tel: (0261) 129 2641
Fax: (0261) 129 2640
E-Mail: stadtarchiv.koblenz@rz-online.de
http://www.koblenz.de
http://www.koblenz.de
Landeshauptarchiv Koblenz Karmeliterstr. 1/3
56068 Koblenz
Tel.: 0261.9129 - 0
E-mail: post@landeshauptarchiv.de
http://www.landeshauptarchiv.de/
Dear Olga,
Heard from the stadtarchiv.koblenz@rz-online.de and they said there were 4 DP camps at Koblenz between 1945-1950 and lists only of people who married, died or had children while there. Another list of forced labourers from 1939-45 did not show my father in law........he was there 1945-46, so I missed out again.........I'm getting used to this ! LOL
Regards Debbie Brejniak Australia.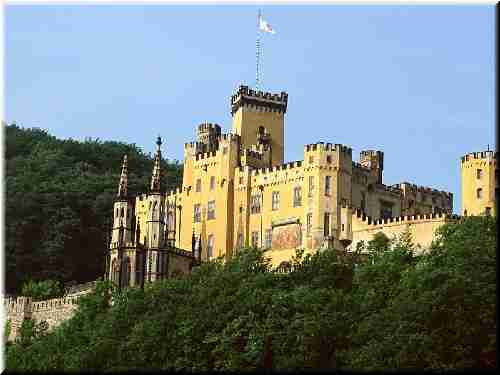 Right: Stolzenfels Castle in Koblenz
Kochstedt
Jul 15, 2013
Subject: DP-camp Kochstedt
Dear Olga Kaczmar and Alan Newark,
Thank you for the website on the DP camps!
In your index you mention several UNNRA and IRO camps in Germany, but as far as I can see no *SHAEF DP-camps, SHAEF that was the first to erect such camps beginning in April-June 1945.
I am doing research on such a DP camp in de vicinity of the German town Dessau – a camp named Kochstedt (Dessau-Kochstedt, Kochstedt-Dessau).
The camp existed from end April 1945 upto 2 July 1945. After one year of research and contacting several institutions in the US, Germany and elsewhere, I did find almost nothing on the history and the inmates of this camp, while the famous French photographer Henri Cartier-Bresson made there several photos and a filmed documentary. These and other photos made by Henri Cartier-Bresson are the ones I am doing research on. http://www.magnumphotos.com
Kochstedt was not a nazi camp, it was a former Flak-Kazerne of the Germans, transformed by the Americans in a DP-camp. The camp was liquidated on July, 2nd, 1945 when the region went over to the sovietzone.
Thank you! Sincerely yours,
Guy van den Berghe, (prof in history and ethics)
gieberg@skynet.be
Belgium
Olga's note:
*About Shaef: had its headquarters in London
https://en.wikipedia.org
Supreme Headquarters Allied Expeditionary Force (SHAEF; /ˈʃeɪf/ shayf), was the headquarters of the Commander of Allied forces in north west Europe, from late 1943 until the end of World War II. U.S. General Dwight D. Eisenhower was in command of SHAEF throughout its existence. The position itself shares a common lineage withSupreme Allied Commander Europe and Atlantic, but they are different titles.
Eisenhower transferred from command of the Mediterranean Theater of Operations to command SHAEF, which was formed in Camp Griffiss, Bushy Park, Teddington, London, from December 1943; an adjacent street named Shaef Way remains to this day.
http://de.wikipedia.org mentions former community of Kochstedt 1 July 1950
Kolheimann (British zone)
König Ludwig (British zone)
Konigsberg (now Kaliningrad) Dear Olga,
We have been looking through the many pages on the net for information as to the possibility of tracing immediate relatives of my surviving father, who left on the last kindertransport from Konigsberg (now Kaliningrad) Germany.
The family name is Lacks von Blaustein. Our grandmothers maiden name was Charlotte Rosinski and grandfather Moritz Lacks they lived at General Litzman Strasse, Konigsberg, East Prussia. We know our grandmother had a sister, and it is the sisters children, and grandchildren, who we would like to trace.
Undoubtedly, you have many such requests, and should you not be able to offer any direct help, would appreciate guidance in seeking this quest.
Most sincerely yours, Suzanne and Karen (nee Lacks) / London, UK.
Kohlward (British zone)
Köln Koeln - Junkersdorf / Kohln - Junkersdorf, suburb of Cologne / Küln (British zone), Poles
Junkersdorf city & history
site in German
Forced labor: Zwangsarbeiter in kirchlichen Einrichtungen
Königstein Koenigstein In Land Sachsen, Latvians Photo of Entrance: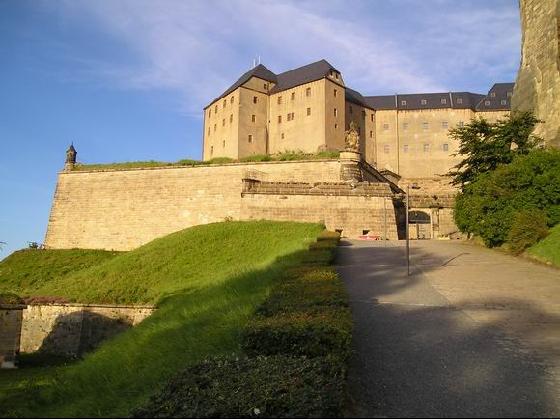 Oflag IV-B Koenigstein was a Nazi POW camp for Allied officers during World War II. It was located in a German 18th century fortress built by king Augustus II of Poland in the town of Koenigstein in Saxony.
Initially, after the Polish Defensive War of 1939 most Polish high-ranking officers were imprisoned there. The staff officers were imprisoned in the casemates and the generals in one of the forts. The lower-ranking officers were imprisoned in the lower levels of the fortress. Despite harsh conditions in the living chambers, the officers were granted with relative freedom and had a part of the fortress gardens at their disposal. Apart from Antoni Szylling and Tadeusz Piskor, who were imprisoned in Murnau, all Polish army commanders taken by the Germans in 1939 were held there.
After the Fall of France in 1940 most of Polish officers were transferred to either Oflag VIIA Murnau or Oflag VIII E Johannisbrunn, while their place was occupied by French officers. The camp was surrendered to the Red Army May 9 1945.
In 1945 the Basilica Wechselburg property was confiscated by the Soviet Army and later turned into a hospital. In 2000 five monks from the Benedictine convent Ettal/Bavaria came to Wechselburg and since then it is a monastery again.
12/25/06
Thank you for providing this web site! I spent Christmas Eve with some (distant) relatives, all from Latvia, and over the course of the evening shared our experiences in the camps. I was too young to remember anything, but I'm interested in finding out more about the camp where I was born. It was in Koenigstein, Germany. I don't see it listed in your web site; I think mostly Latvians were there, but I'm not sure. If you have any information you can point me to, I'd appreciate it.Thanks, and happy Christmas! Anita Legsdin, legsdin@earthlink.net
Korbach today City archives - Stadtarchiv Kirchstr. 7
34497 Korbach
Olga, I'm looking for information on Feldafing, Bad Reichenhall, Korbach and Ludwigsfeld. Thanks. S.Bycko Korrygin 4/4/05 Hi Olga,
WHAT A WONDERFUL SERVICE you're giving to people. I'm looking for a camp called Korrygin which my mother says was part of Mittenwald. Would you have any information on thie. Thank you so much. Halyna Mordowanec Regenbogen / Canada Kreis, Bentheim and Ahaus
Following excerpt from: http://www.9thrtr.com
"On April 14 the whole of 34 Armoured Brigade moved into Germany and 9 RTR became responsible for part of Kreis Bentheim and Ahaus, with the same responsibilities of battlefield clearance, route reconnaissance, and security. The move took us just inside Germany, some thirty miles north east of our previous locations. RHQ established itself in the fifty year old castle at Bentheim, A at Emsburen, B at Gronau, C at Schuttdorf. As the days passed the squadron ammunition dumps became larger and the maps more heavily marked with chinagraph. Patrols roamed the area in an attempt to control Displaced Persons (formerly German slave labour of many nationalities). These had become the vagabonds of Germany, eating, sleeping, and taking revenge as they wished. In an attempt to control this gypsy life the Ems River was made a stop line where all D.P's attempting to cross were diverted to proper reception camps and preparations were made to seal off Germany by closing the Dutch/German frontier."
Submitted by: Alan Newark Scotland
Kurhessenkaserne
in Münden (see
Hannover page
). Dear Olga,
I have spent a great deal of time looking at your website and find it heart breaking and interesting. I have looked everywhere for a reference to a United Nations Refugee Camp by the name of
Kurhessenkaserne
in Germany. Have you ever heard of it? I look forward to hearing from you. Thank you
Mary Toma
- Polish / Australia
Landeskirc Evangelist Church archives: