Falkenberg
City archives:
Hufen 21 a
04895 Falkenberg/Elster
Tel: (035365) 41170
Fax: (035365) 41170
E-Mail: stadtarchiv@falkenberg-elster.de
website: http://www.falkenberg-elster.de
8/11/09 Letter from Nathan:
I was going through some very old papers today and came across the following facts that were written in Latin in 1949 (I think it was testimony from a priest who may have presided over their marriage- based on the timing it was probably paperwork they had to have in place to migrate to America – we arrived in America just 4 months later in 1950 (either on or a day before your grandmother's birthday)).
"Your grandfather, Basilium WOLANYK was the son of Ioannis (Ivan) and Annae nee Wysznycka and was born in 1901 in Koniuszkiw distr. Brody as a Greek Catholic. Your grandmother, Anna SLIPEC , was the daughter of Mariae nee Zileniewycz born in 1905 also in Koniuszkiw distr Brody as a Greek Catholic.
Basil and Anna were married by the Rev. Nikolaus Kulyckyj in1927 also in Koniuszkiw distr Brody."
We lived in DP Camp Falkenberg under the control of HQ 129 DPACCS and 521 HQ CCG (BE) BAOR where I was born.
Got an eyewitness account of the exit story from the Ukraine today from Olga. My dad's diary (I am getting a copy) says at its first entry:
"10 March 1944 the Bolsheviks arrived. (My dad was a man of few words).
The Bolsheviks quickly learned that my dad was the town secretary (or had been) and that he knew the town's inhabitants on the tips of his fingers. That same day the Bolsheviks came to him and told him that our house would be the Red Army Headquarters and that they had to vacate within a few days. Another Bolshevik with a lot of badges on his chest came to my dad and told him that they needed him to produce a list of the names of all the men in the village ages 18-45 for conscription purposes. A man in the village who was learning to be a cantor from my dad (he was shadowing my dad) told him that he would be killed by the townspeople if he produced the list and if he didn't the Bolsheviks would kill him (and the family). My dad wondered what he should do. The person simply said to him 'the forest is large'.
My dad went home and told Olga to wake up my mom and Myrosia and they started to set out to the German held village about 3 miles away with another couple. That couple decided to return to their house to get boots (my mom said it was to get bandages) and they were never seen again. In 1992, after visiting the Ukraine, Olga wrote to an acquaintance there and asked what happened to that couple. The lady wrote back that upon coming back to their home the Bolsheviks were already there and immediately shipped the man, Stepan, to Siberia and he never returned (this was not an unusual event).
About half way to the German-held village my mom and dad and sister saw their house go up in flames (Myrosia was three at that time and did not utter a sound the entire way – my mom told me that when they reached the German-held village, they had to pry Myrosia from my mom's arms because her arms had stiffened as she held Myrosia tightly in place hoping she would not make a noise and give away their position). They continued on following the direction of the tracer bullets they could see during the continuing battle between the Nazis and the Bolsheviks until they came upon a creek with a German soldier on the other side. They waved a white piece of cloth and said in German 'Russians not good'. The soldier understood. They found a footbridge (maybe a plank) and crossed over and the soldier let them pass safely.
Any information you can garner or even direct me to would be greatly appreciated!
Sincerely, Nathan Wolanyk nathan.wolanyk@gmail.com

Fallingbostel, #2515, has its own page
Farge, Educational workcamp Farge, part of Bremen camp
Feldafing (US zone) Bavaria, near Starnberg;
3 ,700 Jews United Nations Relief and Rehabilitation Administration Archives Record Group: PAG 4 Box 18-22: District 5: Mittenwald, Feldafing, Munich, Leipheim
Submitted by Wolfgang Strobel, author of Post der befreiten Zwangsarbeiter - Displaced Persons Mail Paid in Deutschland 1945 - 1949:
Community: Gemeindeverwaltung Feldafing
Possenhofener Str. 5
82340 Feldafing
Phone: 49-8157-93110
Fax: 49-8157-1052
Email: info@sta5.de
web: http://www.feldafing.de
County: Landratsamt Starnberg
Strandbadstrasse 2
Postfach 1460
82317 Starnberg
Germany
Phone: 49-8151-148-0
Fax : 49-8151-148-292
E-Mail: Info@LRA-Starnberg.de
web: http://www.landkreis-starnberg.de Located 30 kilometers southwest of Munich, the Feldafing Jewish DP Camp issued money bearing the inscription "Series of 1946." Notes were circulated in denominations of 25 and 50 cents, $1, $5 and $10. From Displaced Persons Camp Money by Frank Passic and Steven A. Feller.
Kosher food in camp: http://www.tzemachdovid.org
http://www.wettersaeulen-in-europa.de
Feldafing cemetary: A fence divides the Christian part from the Jewish cemetery with a memorial plus many tombstones, some of them decorated according to East European tradition. Source: Schwierz.
---
Olga, I'm looking for information on Feldafing, Bad Reichenhall, Korbach and Ludwigsfeld. Thanks. S. Bycko
---
My father born in Przemysel, Poland and have another 4 brothers and sisters. Is it possible to find the family name of Saba? My grandfather name is Zvi Sonnenreich and my grandmother's maiden name is Regina (Garten).
I found that there is one Sonnenreich from Hungary, Budapest (1939) who survived, and born in Przemysel as well. I know that my father was in Feldafing and in kibbutz Zerubavel. Thanks Sonnenreich, Beni
---
Felden
12/20/04 Good afternoon Olga:I
have learned so much from your information. Thank you so very much for your website. A friend of mine was born in Germany in 1946, lived in an abandoned house which served as a dp camp. At about 2 or 3 yrs. of age, she became incapable of walking. She was placed in a dp hospital. When the U. S. Army came into town, an army doctor told her father that he must take his daughter out of this hopital or she will die. The father replied that he had tried but the dp hospital doctor in charge would not allow him to take his daughter out. These two doctors had a verbal battle and the army doctor won. My friend was then placed in a German hospital, where, three months later, she was able to walk out. My friend is now much older with severe back problems and it would help her doctors to know what happened to her when she was unable to walk to better diagnosis what to do for her now. There are probably no records for the dp camp, but there should be for the German Hospital. Sure do hope you can help her. She does not know the name of the hospital, but she was born in Felden. Her doctors have wondered if it might have been polio but nothing definite. Have a wonderful and blessed HOLIDAY. Tonia Fandycz
Feldgrau - http://www.feldgrau.com
Feuerbach, Poles
Olga,
My wife came across your page on DP Camps, and I noticed that you have no mention of Feuerbach. This was a camp north of Stuttgart, in wahta had been - depending on who you listened to - former SS, Signals or AckAck barracks. Located on a ridge overlooking Feuerbach to the west and the Neckar to the east, it was a bit isolated. We were moved there after the food riots in Oct/Nov. 1945 in the Artillery barracks in Ludwigsburg. Most of the people were ex-Buchenwald inmates, fairly tough types. My mother and I left there in mid -1946, when she joined the Polish Red Cross as a Social Worker.
Can't recall now much about the camp, except that it was modern barracks, not like the 18th Century Artillery Barracks we had been in in Ludwigsburg. There was an extensive area that had been use for training, and was full of unexploded ordinance. I can assure you that six Tellermines (German anti-personal mines) stuck into a large cooking pot with a screw-down lid, and with a fire lit under it, will dig a very nice 25m crater, and remove most of the windows in the barracks buildings about 300m away. As it was mid January, with snow on the ground, we were not popular, except of course, that no-one ever found out!
Another story from that time. Food was desperately short - the food riots I mentioned above were sparked off by lousy food in the camp, when our complaints were finally investigated, it was found that the Camp Commandant, an US Army officer, and several mates had been flogging the food on the Black Market. I believe he was sent back to the States in disgrace - probably for being caught.
One evening I was asked by one of the men to come and stand at the camp's edge and keep a lookout down the road, towards the guard house. Considering that the guards - again US Army - rarely moved out of their warm quarters during the day, the chances of them coming out at night were negligible, however ...
as a reward, our family ate meat the next few days. Of course, the perpetrators were, somehow, caught, and brought before the local American Court. At that time, my mother worked as a court interpreter, and she was on that case. To cut a long story short, the evidence was not enough to convict the accused. Very briefly, there were clear footprints in the snow (this was January 1946) going from the camp, to a field some distance away where a German farmer had a few cows. There was evidence of a cow being led up to the fence - and that's where the cow prints stopped. From the fence back to the camp there were quite obvious human (boots!) prints, but no sign that the people who had made the prints carried anything heavy.
After the accused had been discharged - having not been proved guilty, my mother asked one of them how it was done. I recall she recounted that story with some relish some time later, and was most annoyed when I stole her punch line - they put boots onto the cow and led it that way back to the camp.
Hope these odd recollections help!
Cheers, George Carrington
Finssen, some Ukrainian documentation at Shevchenko Scientific Society Library
Fischbeck camp, see Hamburg page
Fissau, #1235, Schleswig Holstein (British zone)
Flanderskaserne, Ulm
Submitted by: Wolfgang Strobel, author of Post der befreiten Zwangsarbeiter - Displaced Persons Mail Paid in Deutschland 1945 - 1949:
City archives: Stadtarchiv Ulm, Schwörhaus
Weinhof 12
89073 Ulm
Tel.: 49-731-1614200
Fax: 49-731-1611633
Email:info@stadtarchiv.ulm.de
Web: http://www.stadtarchiv.ulm.de
Looking for my mother
Dear Olga, I am still searching for the DP camp where I was born and possibly lived. My mother was living in Flanderskaserne when I was born but I can't find it anywhere in the DP site. I have since gotten some information indicating that she emigrated to Canada but I do not know when. I was sent from Munich resettlement center in 1952. It seems I really find dead ends continually. I wonder if I just don't know where to look. Do you have any suggestions? Thank you for the wonderful site.
Follow up: I was able to find the site for Flanderskaserne, it was in Ulm, whatever that is, but I think it was an area that included Stuttgart. My problem is trying to figure out which DP camp I might have been sent to from there. I don't even know if my mother went with me. I have been told I lived in Oberlenningen but I don't know for how long or when. It is like a needle in a haystack. I do have a lead that my mother might be in Canada but so far, no luck in making contact. Thank you for the help. Your site is fascinating and I can't imagine the work you and others have gone to for the assembling of the site, and the pictures included really bring it to life. Rita Miller
Olga's follow-up: Rita has reported that she has found her mother. Isn't that great!
Flensburg, #1203, #1237; Schleswig Holstein (British zone; Ukrainians, Balts, Yugoslavs, Lithuanians, Poles, Photos at United Nations archives:
We have photo # UN22336: Teacher and student in IRO DP Navigation and Sea-Engineering School in Flensburg, British Zone of Germany
Please let me know if you would be interested in obtaining hi-res scans ($3 each) or prints ($ 7 each). Best regards,
Clara Gouy, Photo Librarian, United Nations, photolibr@un.org photolibr@un.org
City archive - Stadtarchiv
http://www.schleswig-holstein.de
Rathausplatz 1
24937 Flensburg
Tel: 04 61 - 85 25 35
Fax: 04 61 - 85 23 72
Forced repatriation: Aug.'45 refugees left were largely those who did not wish to return home. British soldiers surrounded 500 Ukrainians at Flensburg, dragged them off, aided by Soviet NKVD agents. (Wyman p.66).
Hi Olga.
I am doing research on my family and we have letters that were sent from my great aunt to her sister (my great grandmother) in the US. My great aunt passed away in 1948 but we have no idea of what happened to her husband. His name was Franz Warsanys and her name was Rosel. They lived at the end of her life in Flensburg Lager Kilsenk, Lager Baracks 10, Room 8, British Zone. Do you have any suggestions to find out anything about them? Thank you so very much, Mark Truty
---
Fliegerhorst
Olga:
My father, his parents, one brother, and two sisters are WWII survivors (non-Jewish) who were taken from Poland and put to work on farms in Germany. I am trying to track their history (my father was young and can't recall names of places they were at, other than Fliegerhorst). Two of my aunts were born in Schoningen, in 1943 and 1945. Can you tell me the names of DP camps in/around Schoningen during that time? Thank you for any help. Hope Zulisky
Reply: Fliegerhorst is the German word for air-base or airfield. One needs the name of the town or place where the Fliegerhorst was situated. Wolfgang Strobel, author of Post der befreiten Zwangsarbeiter - Displaced Persons Mail Paid in Deutschland 1945 - 1949.
---
Flossenbuerg city recorder's office, http://www.flossenbuerg.de/gemeinde/ra/st.htm in German;
Archives: Gedenkstütte in der Gedüchtnisallee 5-7
92696 Flossenbürg Germany;
Email: information@gedenkstaette-flossenbuerg.de
Konzentrationslager Flossenbürg was a Nazi German concentration camp built in May 1938 by the Schutzstaffel Economic-Administrative Main Office at Flossenbürg, in the Upper Palatinate region of Bavaria, Germany, near the border with Czechoslovakia. [Wikipedia]
---
May 6, 2020, Dear Olga,
I am reaseaching on the DP Camp Freiberg in Flossenbürg als known as "Camp Sikorski" or just DP Camp Flossenbürg on the ground of the former concentration camp Flossenbürg. I would like to come into contact with people interested or connected to the DP camp in Flossenbürg. Before coming to Flossenbürg the 2,100 DPs stayed in camps in Austria, mainly in Braunau, Ebensee, Ems, Frankenmarkt, Ranshofen, Wegscheid and Wels-Lichtenegg. Therefore I am happy to share information with researches on this camps, too. Furthermore there was a Jewish DP-Community in Tirschenreuth in Germany, close by Flossenbürg.
As I'd like to focus on the relationship between (mostly) Polish DPs in Flossenbürg und surrounding Jewish DPs, I'd like to get to know more about Tirschenreuth, too.
Best, Sarah Grandke SarahGrandke@gmx.de
On 20, Jan 2010,
The photo to the left was kept by my stepfather
Ivan Mykytiuk
who passed away in 1967. My mother was Leokadia Grygorczyk but the father was never identified on record. Judging by this photo, there is a strong resemblance between us. I was conceived at the Flossenburg DP Camp and was wondering if anyone can identify this Russian soldier?
Thank you so much.
Danuta Grygorczyk
mykyd1948@gmail.com
Healdsburg, CA 95448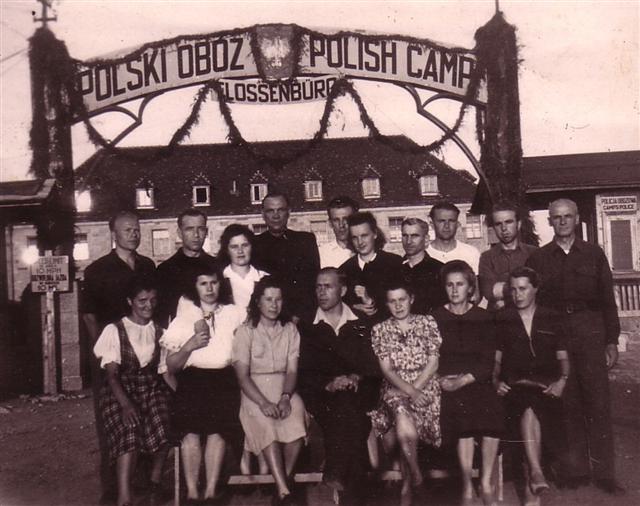 12/8/09 Photo compliments of Danuta mykyd1948@gmail.com
My brother's birth document shows Tirschenreuth and has Flossenburg. I know we were at Altenstadt, Schongau (US Zone) Germany. I have a report card with dates of 11 July 1950 to 1 May 1951. On my medical record it has Munich, Germany, Funk Caserne dated Sept 1951. We were on the move all the time. We immigrated to the US in Oct 1951 E. Hutchins
Dear Olga,
I would like to trace the IRO Children's Village - Bad Aibling. Rosalia Kiszka, Roman Catholic, resided at Flossenburg, UNRRA lager.Do you know the Roman Catholic Parish for Flossenburg? Anyone know about the Kiszka family in Stryj - Galizien (Galicia); 1846-1912. Death certificate shows Greek Catholic.Any suggestions or information you provide would be greatly appreciated. Thanks Bruce B. Miller
May 6, 2020
I am reaseaching on the DP Camp Freiberg in Flossenbürg als known as "Camp Sikorski" or just DP Camp Flossenbürg on the ground of the former concentration camp Flossenbürg. I would like to come into contact with people interested or connected to the DP camp in Flossenbürg. Before coming to Flossenbürg the 2.100 DPs stayed in camps in Austria, mainly in Braunau, Ebensee, Ems, Frankenmarkt, Ranshofen, Wegscheid and Wels-Lichtenegg. Therefore I am happy to share information with researches on this camps, too. Furthermore there was a Jewish DP-Community in Tirschenreuth. As I'd like to focus on the relationship between (mostly) Polish DPs in Flossenbürg und surrounding Jewish DPs, I'd like to get to know more about Tirschenreuth, too.
SarahGrandke@gmx.de
Foehrenwald
, Föhrenwald, near Wolfratshausen; 5,000 Jews,
http://www.ushmm.org
12/22/04 Hello,
I would like to give you some help or make some annotations about the dp camp Foehrenwald (or Föhrenwald, which is the German spelling with an umlaut). Built in the 1930s as a forced-labour camp for the company, IG Farben, Föhrenwald became a settlement for displaced persons in 1945, which included survivors from the Dachau concentration camp. (source:
http://www.kulturstiftung-des-bundes.de
).
Only a few original buildings exist today and the settlement is called Waldram and is part of the town Wolfratshausen. The camp near Wolfratshausen, was called "Föhrenwald" (i.e, there weren't two camps). So perhaps the Einwohnermeldeamt (Residents' registration office) in Wolfratshausen has also birth certificates of this camp.
City archive: in Wolfratshausen telephone number (0049) 8171/214-140:
Stadtarchiv Wolfratshausen
Loisach Ufer 1
82515 Wolfratshausen
Tel. and Fax 08171-76650
http://www.stadtarchiv-wolfratshausen.de/
Some other sites: http://www.swc-archives.com
http://www.ushmm.org
www.eastrenfrewshire.gov.uk
I want to thank you for the interesting website and wish you a Happy New Year Bertold Scharf / Germany
---
Hi Olga,
My name is David Lustbader, my mother who survived the Warsaw ghetto has been receiving reparations for herself from the German Government. After the war, my parents ended up in a German DP camp (Foehrenwald) where my sister and I were born. Regards, David Lustbader
---
Photo of camp: http://fcit.coedu.usf.edu
Henry Cohen was the Director of Camp Foehrenwald, the second largest Jewish displaced persons center in the American Zone of Germany in 1946.
http://www.remember.org
http://edf3.gallaudet.edu/diversity/
---
Good morning:
I am looking for anyone who may have come in contact with Canadians who worked for UNRRA.
Ethel Ostry was the principla welfare worker in
Camp Glasenbach
and the Director of Camp at
Schloss Langenzelle
. Her final assignment was in Camp
Fohrenwald
; Mrs J Henshaw was with Ethel at
Camp Fohrenwald
and later Director of the International Children's centre on Chiemsee. Giske Miss Francis.
Thank you for any assistance you could provide. Susan Armstrong-Reid
---
Hi Olga
I was born in Foehrenwald DP camp in 1949, and I have never had a birth certificate. I travelled on my parents travel papers. Would you tell me how I can obtain a birth certificate? Thank You Shifra
Olga's note: Write to the city recorder, in English or German. They will translate and forward to the correct person. Ask for one in English and German since there may be transcription errors in English. See bottom of Aschaffenburg page for sample letter.
---
Forchheim - is a town in Upper Franconia in northern Bavaria, and also the seat of the administrative district of Forchheim. See Erlangen for archives.
---
Fuenfeichen (80 miles north of East Berlin)
"East Germany – NKVD Mass graves of thousands" Source: New York Times, March 25, 1990
An East German newspaper today reported the discovery of mass graves of thousands of people, including civilians, who died at a former Soviet prison camp set up after World War II. The dead included Nazi war prisoners, including members of the paramilitary [sic] SS, officials of the Nazi Party and soldiers in Hitler's army, the paper, Berliner Zeitung, said. But among the victims were "many innocent people," including children, the paper reported. The youngest victims was 12 years old, it quoted a surviving inmate as saying. There was no word on how the victims died.
A local historian discovered the remains this month at the site of the camp, which was in Fuenfeichen, 80 miles north of East Berlin. It was run by the N.K.V.D. state security force, a forerunner of the K.G.B., the report said. The camp was in operation from April 1945 until October 1948. Many inmates were taken to the Soviet Union when the Soviet Army closed the camp and were never heard from again, the report said.
Jan 18, 2012
Submitted by Alan Newark braveheart180203@yahoo.com