Fallingbostel, #2515, Land Niedersachsen (British zone), mostly Poles, Balts, Yugoslavs, Others
County archives: Kreisarchiv Landkreis Soltau-Fallingbostel
Vogteistr. 19
29683 Fallingbostel
Tel.: 49-5162-41253
City archives: Stadtarchiv Fallingbostel, Stadtverwaltung
Vogteistr. 1
29683 Fallingbostel
Tel.: 49-5162-40118
Fax: 49-5162-40166
Bad Fallingbostel Railway Station Walk:
It follows in the footsteps of countless prisoners of war of various nationalities, who were incarcerated in three large POW camps around Oerbke during World War II. It continues through the former farming village of Oerbke, skirting St Barbara Barracks, and ending at the Displaced Persons Cemetery, on Hartemer Weg.
The memorial shows a man behind two parallel strands of barbed wire. The inscription recounts that: "From this railway station, from July 1941, often after enduring forced marches for weeks on end, 10,000 Soviet (probably Ukrainians instead of Russians, since Ukrainians were erroneously labled Russian*) prisoners of war were transported into cattle trucks to Camp Oerbke (Stalag XID/321). Around 30,000 died from hunger, exposure, or disease." *In their count, their records don't list Ukrainians individually.
http://www.bfgnet.de
---
Dear Olga:
I wondering if you can help; my mother was in a camp. On her papers it says Fallingbostel camp Marx. I can't find this camp Marx or is it part of a camp there is no other name on the paper. It has Oldenburg British zone also on it. Can you tell me where to look? Many thanks Regards Di, Australia
Reply submitted by: Wolfgang Strobel, author of Post der befreiten Zwangsarbeiter - Displaced Persons Mail Paid in Deutschland 1945 - 1949: Fallingbostel, Marx and Oldenburg were three different camps located in three different regions:
Fallingbostel had the Assembly Center number 2515 from August 1945 to May 1949, and the DPACS (Displaced Persons Assembly Center Staff) number 9 from July 1947 to May 1949. Between May 1948 and May 1949 also the DPACS-number 9/68/72/107 has been used. From February 1948 onward Fallingbostel was Emigration Centre or Transit Centre or Resettlement Centre (which means all the same) for DPs about to emigrate.
The Marx camp near Wittmund in the District Aurich existed already in August 1945 with the Assembly Centre number 221. There were mostly Poles. From January 1949 to July 1950 the camp had the Assembly Centre number 262 A and the DPACS number 81; the International Refugees Organisation area teams 600 and 704 were active there. The Polish DP Camp Marx/Wittmund existed still at the beginning of the 1960s.
For camps in Oldenburg see page O - Oldenburg.
---
3/13/0 Dear Olga,
I am looking for info about my father: Alex Krulow, who was in the Fallingbostel camp in Germany in approx 1945. Garry Sheedy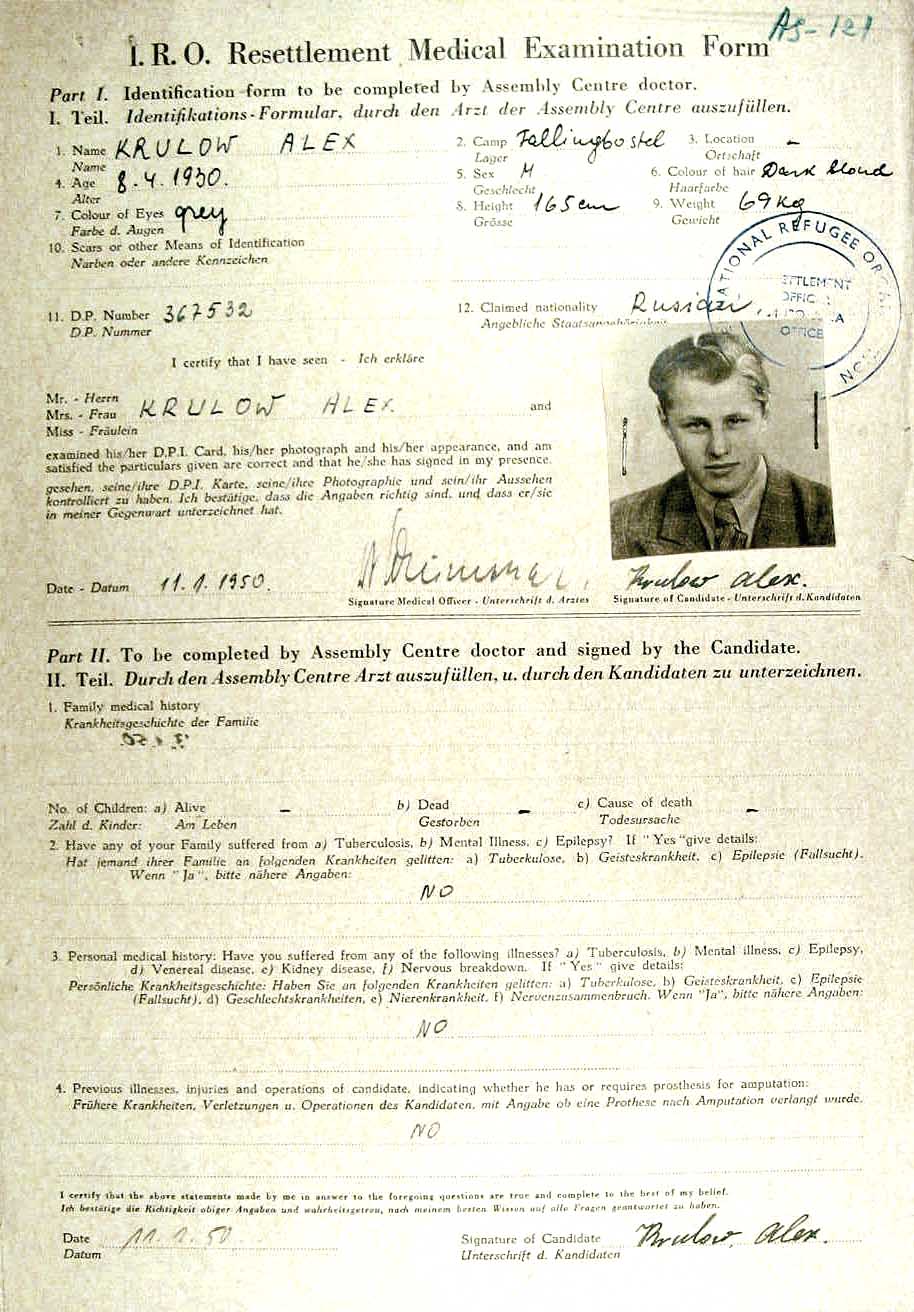 ---
5/16/05 Olga,
I am searching for information about my father, Szymon Szwaluk. I think he was in Fallingbostel around the time it was liberated. We have a feeling that he may have assumed this identity. He spoke fluent Russian, German, Polish and English, was very well educated (university) and mentioned Kharkov. He bears scars from flogging and tattoos on both forearms. Christa, thornfield@bigpond.com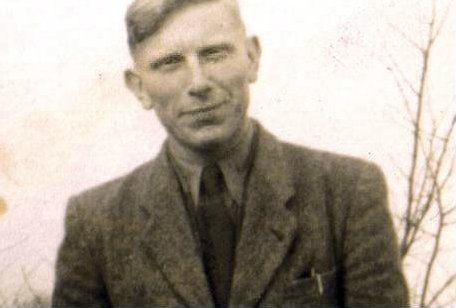 ---
On 4/13/08 Dear Olga;
I am just searching for information on the camps my father was in. He was a clerk/translator and I just recently found in his posessions a journal of people's names. their ailments and what was prescribed. The entries are dated Aug 14-23 1945. One document reads UNRRA team 232 Fallingbostel camp; the next is UNRRA team 58 Hesslingen transit camp. I would be happy to share if it is needed. J Daniels jotoad@sympatico.ca
---
March 27, 2010
I am searching for anyone who might know of Piotr Bryksa at DP Camp Fallingbostel. My mother, Julia ZABA, was at this DP Camp as well. See LebenstedtThank you kindly.
Best regards,
Donna Zacharczuk donna.wright6367@gmail.com
---
5/11/12
Hello Olga,
Please would you post a query on the Camp Fallingsbotel site that I would be interested to hear from anyone with information on Ly Lilienthal, of Estonia, who went to Fallingsbostel with her mother after being in Camp Burgdorf during WW II. Please email Daria at dariadv@yahoo.ca
Thank you.
Sincerely, Daria
---
10/10/11 Submitted by: Alan Newark
From website: www.worcestershireregiment.com
Excerpts ref DP control duties in Mellendorf, Dushorn - Fallingbostel, May - August 1945
The 8th of May saw the Regiment come out of action and move to their first occupational area at Sudeburg. There, until the 18th May, they were occupied in searching their area for arms and installations as well as collecting in the remnants of the Wehrmacht who were all trying to make their way home and demobilise themselves. It was here; too, that Displaced Persons were met for the first time, who in the months to come were to play such a large part in the Regiments occupational duties.
On the 19th May 1945 the Regiment left Sudeburg, spent a few days in transit in the area of Rebbelah and on to Mellendorf, arriving on the 26th. The whole of June and July were spent on occupational duties such as the searching of the area, enforcement of Military Government orders, collecting of D.P.'s into special camps, and the general maintenance of law and order. The Regiments guns were taken from them in June as they were unable to maintain them in addition to our other duties, and they became, to all intents and purposes, infantry.
As well as occupational duties, during this time the Regiment was able to find a lot of time for recreation in the beautiful summer weather. They were very well off for swimming pools, and other sports enjoyed were cricket, football and basket ball. Hockey, too, came into its own and, under the excellent leadership of Capt. G. C. Robinson, was, soon very popular as well as successful.
On the 1st August 1945 the men of the Regiment were all very sorry to leave Mellendorf, to which we had become very attached, and move to Dushorn to take, over the unpleasant job of the Divisional Artillery, which was the policing of the area of the large D.P. Camp at Fallingbostel, which contained 28,000 persons of all nationalities, mostly Poles. Many of these D.P.'s were law-abiding, but many also were not; those who had no respect for the law caused us a lot of trouble. Their motives were twofold: first, to increase their ration of food by stealing from nearby German farmers, and, secondly, revenging themselves on the Germans for the bad treatment that had been meted out to them in the past when they had been employed as slave labour.
Nearly every night there was an "incident" of some sort at one of the lonely farms within 5 to 10 miles of the Camp. One night a pig would be stolen from a farmer, another night would find an old German couple murdered in their bed. To stop this sort of thing was the job of the Regiment for the months of August and September. The method was to patrol the area thoroughly by night, to establish posts at likely points in the area, and in exceptional cases to station pairs of British soldiers in particularly lonely farms. It was in one of the latter situations that Bombardier Altimas was shot dead by a raiding Pole, who in turn was killed by Gunner Entwistle. Gunner Entwistle was awarded a Commander-in-Chief's Certificate for Gallantry for this action.
As a direct result of this murder, on the 27th September 1945, 3000 British troops carried out a full search of all the rooms, Poles, and their baggage in the camp. The object was to find loot, bicycles and particularly weapons, and to bring the offenders to book. The haul of weapons was very encouraging, and there was a very quiet period just after the search. On November 17th another similar search was carried out, and after that D.P. 's gave the men very little further trouble.
---
---
Mar 28, 2015
Subject: Polish Military Centre Fallingbostel 1945
Hello Olga
I have attached 2 documents about my father, Polish POW Zygmunt Frackiewicz; a reference letter from 504 IRO Resettlement Center - Gluckstadt and a Polish Red Cross document detailing his Stalag and work camp timelines.
I am trying to correlate dates of the last Stalag K in Senne, and the dates of Stalag K liberation and the start of service in the Polish Military Center, as they seem to overlap. Also the difference between the Polish Military Centre, the D.P. camp and the R.P.C and the 504 IRO Resettlement Centre.
If anyone has any information, I would appreciate you contacting me directly.
Thanks, Roman Frackiewicz RFrack8610@aol.com