Download the 2011 Excel spreadsheet (in German) of camps and camp info: AustriaCampsV7.xls provided by Klaus.
Austrian archives - https://www.oesta.gv.at
---
Saalfelden, L. Salzburg; US Zone Team 321; Jews, Givat Avoda, Wallnerkaserne, Farmach District; Barackenlager 36 Barrack camp; See Salzburg archives.
Municipal office: Stadtgemeinde Saalfelden
Mittergasse 5
A 5760 Saalfelden am Steinernen Meer
Tel: 0043 797 - 0
Fax: 0043 797 - 50
Email: tpost@saalfelden.at
Photos of
Givat Avodo
submitted by
Klaus Fohringe
r:
Photo source: Saalfelden Municipality
http://www.saalfelden.at/
Saint Johann / St. Johann, Pomgau
Aug 6, 2020 petra simne wrote:
Hello Olga, my name is Petra Simic Jelisic, I have information that indicates that my father Gvozden Simic and my mother Angelina Simic were from 1944 to 1948 at
D. P. Camp. St. Johann and Camp Asten.
Could you give me a few leads on how to reseach more information on Asten DP camp and St. Johann camp?
Can I request copies of status sheets, medical info, indentity papers, or any other info relating to their stay in these Camps, in Austria?
My sister Maria Mara Simic Jelisic was born in St. Johann, Pongau, Austria in 1947. She was born to Angelina Jelisic and Gvozden Simic.
Please, any information you can find for me will be greatly appreciated.
Thank you, Petra Simic petrasimne@gmail.com
Saint Marein / St. Marein
Saint Martin's Villach / St. Martin's Villach, Land Kaernten (British Zone) - See also Graz camp
City Archive: Stadtarchiv Villach
Widmanngasse 38
A-9500 Villach
Telephone: 43 (4242) 205 349
10/13/04 Hi Olga;
I was born in ST. MARTIN, VILLACH in 1953. My father's name is GEORGE RUDOLPH MEZEI. My two older brothers were born in Hungary. We came to the United States in 1956. I also lost my birth certificate, Can help me by telling me how I may obtain one. Greatly Appreciated. MARIA HELENA MEZEI

Saint Veit an der Glan / St. Veit an der Glas - See Graz camp
Salzburg has it's own page - on the Salzach River in Haupstadt ; 15 camps, DP Hosp. Kajetaner Platz . Bundesland Province; Jews and Ukrainians; DP Hospital BHB; Kajetaner Platz 1; Alpenstrasse; District Salzburg-Süd; Anahof (V3++ Guggenmoosstrasse); Alt-Maxglan; US zone; In the town of Salzburg were five DP camps:
Riedenburg (Machne Yehuda) on the "Neutorstrasse, Ecke Moosstrasse."
Camp Herzl (Franz-Josefs-Kaserne) between Schrannengasse and Paris-London-Strasse.
Camp Mülln 6 DP in Müllner Hauptstrasse 38.
Beth Bialik in the part of Salzburg, called Maxglan. transit camp for Jews
Beth Trumpeldor in the part of Salzburg, called Gnigl, and
New Palestine (called later Parsch) in the Wiesbauerstrasse 9 in Salzburg-Parsch (Parsch is also the part of Salzburg)
Other DP camps in the country (province) of Salzburg, outside the city of Salzburg were called:
• Puch bei Hallein Team 324
• Lager GIVAT AVODA (in the Wallnerkaserne*) opened in summer 1946 in the small vollage called "Saalfelden" am Steinernen Meer.
*Kaserne means barracks
---
Searching:
It is important to me to find my displaced- person friend of nearly 60 years ago--- He was a 12-14 years old and was a Czechoslovakian and living in Salzburg Austria in 1946. I would like to get us a roster of Czech. displaced persons living in Salzburg in 1946. I have found that there might have been 600 or so there but there should not be too many named Joseph and about 14 years old; I would like to locate him since I am in a position to help him if he needs help----and I would very much like to go see him under any circumstance. Patronize an old 78 year old sentimenal ex G I. How about the Embassy in Prague? From: Floyd Carroll floydcarroll@sbcglobal.net
Salzverg - See Salzburg.
1/31/05
Thank you for responding---I will send the photos in the next few days. By the way, do you know if there was more than one DP camp in Salzverg? The Gilner family know they were in Salzverg from 1945-1948. Karen Salver
Sankt Marein - (St. Marein) - in Mürztal; St. Graschnitz, Kapfenberg; Linz, State of Styria; St. Lorenzen, Wolfsberg; on Lavant river; Hofendorf; British zone;
Sauerbrunnstrasse - Stainz, British zone;
Säuglingsheim - Wels; LInz; auch Wohnlager; US zone;
Schacht 88 - Fohnsdorf; British zone; Jews, Team 335?;
Schåchterstrasse - Kärnten; British zone;
Schaflos - Rosenthal;British zone;
Schagfeld - see Trofaiach /Gai; British zone;
Scheifling - on Mur River; British zone;
Schirmitzbühel - Kapfenberg; British zone;
Schladming - Maistatt; British zone;
Schmiedgasse - British zone;
Schubertstrasse - Leibnitz; British zone;
Schwabenlager Groedig
4/10/05 Hi,
I lived for 5 years in a DP camp on the outskirts of Salzburg. The camp was located in Groedig, Austria. It housed hundreds of Donauschwaben refugees, mostly from Yugoslavia. It was called Schwabenlager Groedig. I have a photograph that I can share with anyone who is interested. Thank You Franz Bohn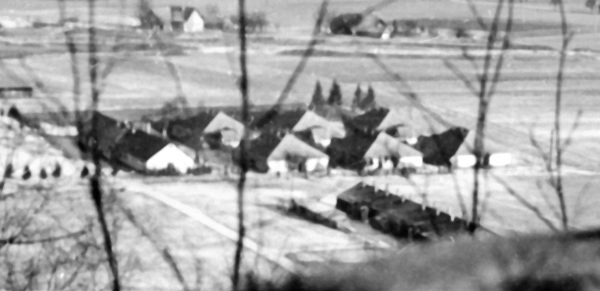 Schurer, St Margareton
3/20/05 Olga,
You may be of assistance but I'm looking for information on a camp called Schurer, location is St. Margareton. Have you heard of this camp? Regards, Adam Bradley
Reply from a reader: Near Knittelfeld, in Styria, is a place called St. Margareton, in Burgenland is a place called St. Margarethen. In Oststyria their is also a place called St. Margareten and it is also a place where there were Jews.
Schmetz - Bez. Judenburg British zone;
Seebach DP Hosp., Land Kaernten (British zone) in Seeboden
11/14/04: "Seebach was a DP-Heilsätte (cure) in near Millstättersee in Kärnten," writes Herta. She provided us with the addresses of many of these city offices.
Seeboden in the state of Karnten; British zone; Lake Millståttersee, Ortsteil (village quarter) , Team 332
There is the museum of medieval legal history: The history of torture (in German).
Market Municipality:
Marktgemeinde Seeboden, Hauptplatz 1, A 9871 Seeboden Tel: 0043 4762 81255 - 0
Fax: 0043 4762 82834
Email: seeboden@ktn.gde.at
This is a transcript of a wartime log kept by Sgt. Thomas Horace Hawksworth: "I saw the commandant and requested to go up to Marlag (a marine POW camp) and he promised that several marines already in Stalag were to be sent up as soon as transport was available. This was quite obviously an empty promise for on May 2nd 1943 I was sent with other N.C.O.s to Spittal-an-der-Drau in the Tyrol. Now I could really get enthusiastic about this place as I've never seen such beautiful scenery and as the camp was quite small, discipline was easier and we were allowed to go for walks under a guard, of course. I was able to go swimming, sometimes four times a week in a lake called Millstätter See at Seeboden, about 3 km by 1 km. The swimming, scenery and a good commandant combined to make this the best camp I've been in. Often as I sat by this lake looking at the beautiful scenery, it crossed my mind what an ideal place to bring Bunchie and Maureen to for a holiday after the war. I don't believe there was an unfit man among all the British there. I myself was tiptop. Must have been to go three rounds with Jock Sanderson in the two boxing tournaments we held there. The Russians, however, were not so well treated having no Red Cross and insufficient food, with apparently no constitution to withstand this life, they simply died off like flies. There must be millions of mass graves throughout Germany." For more of Hawksworth's story, see: http://www.btinternet.com/
Seefeld - in Tirol; camps: Haus of: Schöneck & Sonneck
Selzthal - lager 1, lager 2; British zone
Semriach - Graz; British zone;
Siebeneicheng. 17 - Wien, XV
Siezenheim - Salzburg
Siezenheim I - Salzburg
Siglanger - in Inssbruck, French zone;
Solbad Hall - US zone;
Spallenghof - Linz; 55; district ; barracks
Speckbacherg. 48 - Wien, XVI;
Spielberg - Knittelfeld; >British zone;
Spital am Pyhm - camp 306; municipality in district of Kirchdorf an der Krems River in Upper Austria; US zone;
Spittal, has sits own page, an der Drau river, Kärnten, Austria , Land Kaernten; British zone; Slovenians, Lithuanians, Ukrainians
Spittal d. Barmnh. Brüder - DP hospital; Kajetaner Platz 1; Salzburg; US zone; 1946-1950
Sportgasse - See Judenburg; British zone;
St. Andrå - Wolfsberg UNRRA team 329; Kärnten; British zone
St. Georgen am Lånsee - Kärnten; British zone;
St. Gertraud - Wolfsberg; UNRRA team 329, British zone;
St. Johann/Pongau - Markt Pongau, Pongau district; US zone;
St. Lambrech - Wohnsiedlung Heiligenstadt;
St. Lorenz (am Mondesee lake) - Camps 534/536; village; US zone;
St. Marein - Kapfenberg; British zone; St.Graschnitz;
St. Margarethen - French zone;
St. Martin - camp 59; Villach; Linz; British zone; Traun;
St. Martinstrasse - Villach; British zone;
St. Michael - British zone;
St. Peter / Kammersberg; Wohnlager; British zone;
St. Peter am Bichi -Kärnten; British zone;
St. Thomas/Zeiselberg - Pischeldorf; >Kärnten; British zone;
St. Veit an der Glan River, British zone; had multiple camps:
St. Veit
Martin Lutherstrasse
Parkgasse
Schliess-stattallee
Glangasse
Bahnweg [Railroad Way]
Mühlgasse
St. Wolfgang - US zone team 342, Bürglgut - Jews
St. Wolfgang - children's camps; Bürglgut , Strobl am Wolfgangs Orsteil; Lake Wolfgangnees, 2 Kindergardens, Jews, US zone team 342,
Stadl-Paura -
located in the district Wels-Land in Upper Austria; 1010/1012; Lambach; US zone;
Official website: http://www.stadl-paura.at
E-Mail-address: gemeinde@stadl-paura.ooe.gv.a
http://en.wikipedia.org/wiki/Stadl-Paur
Stallhofen - Kärnten; British zone;
Steiermark exkl. Ausseerland, US zone; Ost[east]steiermark until Aug.1945;
Archive: Steiermärkisches Landesarchiv
Karmeliterplatz 3
A 8010 Graz
(zuständig Mr. Dr. Obersteiner, he is a very nice man, really)
email: fa1d@stmk.gv.at or general email: post@stla.stmk.gv.at
Tel: +43 (316) 877 4028
Fax: +43 (316) 877 2934
Forced workers in Steiermark website in German
travel to Steiermark
UNRRA-Teams / Steiermark; British zone:
Team 314 Kobenz, Bad Schallerbach children center (US ?), Admont (?)
Team 327 Leoben
...responsible for camps: Trofaiach (?),
Team 328 Kapfenberg
Team 333 Graz
...responsible for camps: Leibnitz (?),
Team 334 Admont (10/45: Director Novarine)
Team 335 Judenbur
Steinfeld - Graz; Wetzelsdorferstrasse /Alte Poststrasse. XV., Wetselsdorf; Bereich israelit. Frie; British zone;
Steinfeld Ehefeld - Kärnten; British zone;
Steinfeld Ost [east] -Kärnten; British zone;
Steinkogel - Ebensee; camp # 403; Offenseestrasse; US zone;
Steyr (Oberösterreich) (Stoyr, Land Upper Austria) - Has its own page; US zone team 342, Enns river;
Stiftergasse - Villach; Kärnten; British zone;
Studentenheim - Graz; British zone;
Südtiroleplatz - Salzburg; barracks 1952; US zone
Südtirolerstrasse - see Judenburg; British zone
---
Lots more information on Austria T-Z
---