Spittal an der Drau
in Kärnten, Land Kaernten, Austria, (British zone); held Slovenians, Lithuanians, Ukrainians dp campers Peter Solomon of Sweden, shares some of his photos with us:
Very best fellows from DP camp In Spittal an der Drau My name is Peter Solomon, now living in Sweden. I was born in a DP camp in Spittal, a place that no longer exist. It is strange having a heritage from a place that is no more. I believe that more people than I have the same feeling. For a long time I've been searching into my past and a lot have appeared for me about the days in the camp. I was only three years old when my mother and my three brothers left for Sweden in 1960, so I don't really have any memories of my own from then. I've been talking to some other people who also lived in the camp but there is a wall of silence around those days, I can only guess why. I'd really would like to learn more about the life in the camp, about the people who unvoluntarily came and stayed there for longer or shorter time, with their fears and hopes and dramas about the future. The life in the DP camps is seldom told, not by us, not by others and in this way it has becomed a denied part of our and by public history. But we, the people who experienced life there are real and we need our heritage and we have the need to tell about it. This lovely web site is an fantastic tool for us to become what we are.
My mother, Ruza Dujmovic, born in Travnik/Bosnia, came as most of the Croatian refugees to Austria in 1945. My father, Ivan Skrlec, born in Sveti Zelina/Croatia, remained the rest of his life in Spittal. Our adress then was: D.P. Lager Baracke 17/20.Spittal an de Drau.
Some other people that lived in the camp were: Ramiz Kallaba, Pero Dujmovic, Ilja and Viktoria Cuzic, Galic, Grgo, Bozo, Frau Meyerica, Mario Leko. Does anyone know anything of these people?
Some of the photos that my mother gave me are here to be looked at. Maybe someone will recognize them, maybe not, but please get in touch with me because I have more information and I'm hungry to get some stories from you.
Olga, Thank you so very much for keeping this site alive.
Peter Solomon mailto:petersolomon57@hotmail.com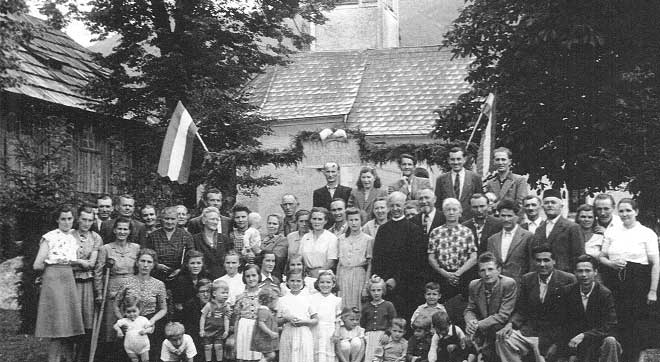 If you can identify yourself or your family in these photos, contact us.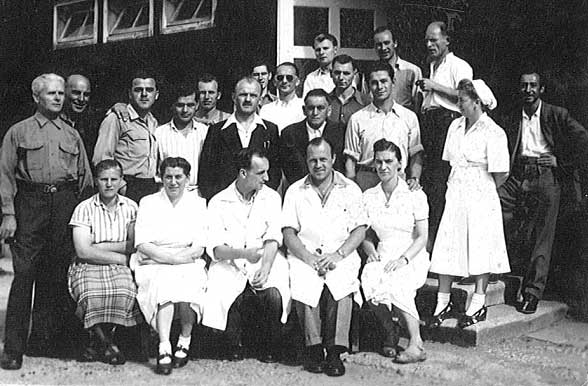 Staff
Growing vegetables
If you can identify yourself or your family in these photos, contact us.
Earlier email: 12/1/07 Dear friend

What a fantastic page that are working with DP camps. I'm born in a DP camp, Spittal an der Drau. It's hardely mentioned among all the others, how come? Maybe people from that camp just didn't find it??? Well together with my mother and three brother, we left the camp in 1960 for Sweden. I was the youngest and only three years old. I heard some stories from those days but most of them where never told. I'm eager for knowing more. I have some photos from the camp and if there is someone intrested I wouldn't mind sending them. Of course, I'd love to see photos from the camp. If anyone is interested, I really would like to know more and tell what I know.
Peter Solomon
peter.solomon@leksand.se
---
The following photos supplied by Klaus Fohringer:
*UN High Commisioner for Refugees
---
Jan. 16, 2014 Hi Olga,
My parents were born in Slovenia, they flight with my grandparents in May 1945 through the Loibltunnel to Carinthia and stayed with 20.000 Slovenians on the fields in Viktring, when the British military promised to bring them to Italy. But the trucks go back to Yugoslavia and more than 12.000 Slovenian were murdered.
On June 29th, 1945, all refugees came from Viktring to DP camps in Spittal, St. Veit and Lienz/Peggetz. My father (12 years old) came with the first train to Spittal, my mother (8 years) came to Lienz and in November 1946 with all the other refugges from Lienz to Spittal.
My parents are still living in Spittal and are helping everybody, who wants to know something about the living in the DP camps near Spittal. There were camps in Treffling/Seeboden, in Seebach/Seeboden für TBC patients, in Feffernitz (german-speaking refugees), Kellerberg (Hungarian), Villach/St. Martin and specially in Spittal and Lienz/Peggetz. They help to get birth documents, to find the grave of grandparents, to show the locations.
On your website the DP camp Peggetz/Lienz is named for Slovenian, but all informations and fotos are from the Cossacks, the Cossacks cemetery and their meetings every year.
This camp was built in 1938 and was a camp for POW. In the days 5 – 8th May 1945 there came the Cossacks from Italy (Tolmezzo – Timau – Plöckenpass – Lienz), maybe there were more than 40,000 Cossacks in the Drau valley, soldiers with wives, children and horses.
On June 1st, 1945 and the next days, the British military force them to get in the train – to send them back to the Russian cone at the bridge in Judenburg. The camp got empty.
On June 29th, trains stopped again near Peggetz. They brought more than 2000 Slovenians to stay in this camp for more than 16 months. Than they were brought to the DP camp in Spittal an der Drau.
Now this area is an industry area. The Cossacks were here only 4 weeks, and the people in Lienz know the story of the massacre. But it is hard to find somebody who nothing about Slovenian in Lienz/Peggetz.
This are only the essential information. We will be glad to get reactions from all over the world, especially from Slovenian refugees and there descendants. We also organized
sightseeing
tours in Carinthia and PowerPoint presentations about living in the DP camps.
Sincerly
Johanna Kronawetter, born Starman johanna.kronawetter@aon.at www.nakul.biz