Wentorf Displaced Persons Camp
Wentorf, #1231, Schleswig Holstein (British zone after WWII), housed Poles, Balts, Jews, Yugoslavs
State archives in Hamburg: http://fhh.hamburg.de
Staatsarchiv, Hamburg Kattunbleiche 19, 22041 Hamburg
Tel.: (040) 42831 - 3200
Fax: (040) 42831 - 3201
email contact form:
http://fhh.hamburg.de/stadt/Aktuell/behoerden/
staatsarchiv/kontakt/kontaktformular/
poststelle_40staatsarchiv.hamburg.de.htm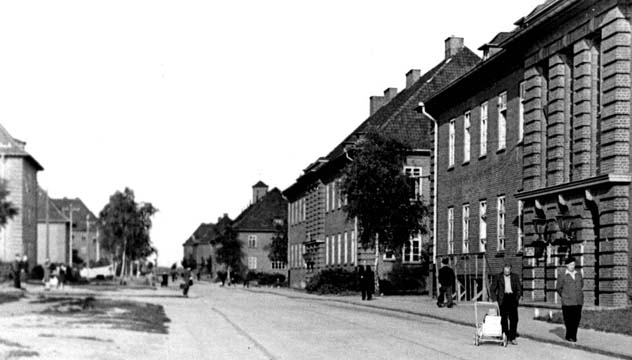 Photos provided by
Bogdan Karasek, bkarasek@videotron.ca
1948, this is where I was born. Both my parents are Polish, so why were in Displaced Persons camp in Wentorf, 20 miles east of Hamburg in Germany?
My parents were Monika (nee Kujawiak) and Edward Karasek. My father was originally from Natalin, a farming community on the outskirts of Lublin, Poland and my mother was from Zdunska Wola, a small industrial town near Lodz in Poland. With the outbreak of WW II, my father was in the Polish Army and was taken prisoner by the Germans in 1939 and spent the rest of the war as a POW in Lager XI B, outside of Neuebrandenburg, not far from Berlin. My mother was taken from her home in 1943 at sixteen and sent as slave labour to an underground munitions factory, also near Neuebrandenburg where she spent the duration of the war. Edward met Monika on Christmas Eve in 1944, the war ended, love blossomed, Edward and Monika got married in 1946.
In 1946, they are allocated a room in a barrack in a former German Army (Wermacht) base that was turned into a holding camp for the millions of people displaced by the war. Scattered across Europe, there are hundreds of such camps, established to house that new category of human being, a Displaced Person. In 1948, I came into the world, a DP. As luck would have it, our stay at the camp was relatively short compared to others, who could not leave until 1951 or later. In 1949, Edward, Monika and little Bogdan sailed on the SS Samaria to the promised land, Canada, where the streets were paved in gold, or so they said.
So why am I telling you this? Because like many others, I have reached a point where my own mortality is now an accepted inevitable condition of my life. For most of us, our parents have passed on and we are the orphan children of one of the great tragedies of the 20th century. So who are we? Where do we come from? We claim a lineage that is Polish, Ukrainian, Lithuanian, Latvian, Russian and so on, but we were not born in Poland, Ukraine, or Russia. We were all born far from the lands of our ancestors. What we have in common is that we were all born in a DP camp.We are the casualties of war, collateral damage, as they say in polite circles. But we remember.
I have read the stories from other camps so I can imagine what life in a DP camp was like. My first memories are of riding on a tricycle on Molson St. in Montreal, Quebec, Canada, but if I do not have my own memories of camp, I do have paper memories: photographs. My father was a pack rat, saved every little piece of document and among those documents is a cache of photographs showing where I was born, where I took my first steps, photographs of me, in a white cape, walking to my baptism. I have photographs of me playing in the dirt, in a baby carriage, pictures of the buildings where we were billeted along with hundreds and thousands of other DP's. In that sense, I consider myself fortunate because I can look at the pictures and imagine myself playing, walking with my parents or my godparents. Wentorf really did exist.
The first ten photographs are general views of the buildings and streets in the camp, taken between 1946-49. One can see people strolling along the streets. The first photograph is of what I believe is the main entrance to the camp with a large sign identifying it for what it is. This is were we were housed. My parents were there from 1946 to July 1949 when we emigrated to Canada.
Contrary to other DP camps, some of which are very well documented, either in personal memoirs or written up as a result of research, very little is known about the Wendorf DP camp. In my own personal research, I have come across others who have questions about Wentorf, what did it look like, how was it run, what was the population makeup, what were the schools like. I don't have the answers to most of those questions but I can show you what Wentorf looked like back then when you were maybe just a little kid playing in the mud. Maybe we even played together, maybe my parents lived next door to your parents…
I have a treasure trove of photographs that I want share with others who have questions about Wentorf, especially, those like me, who were born there. Except for photographs, I don't have any other information about Wentorf. But photographs can be very powerful. The photographs are at the disposal of those who are searching. The photos aren't exactly of the best quality but they will have to do.
---
Other Important Links: City map:
http://www.mapsofworld.com/
Here are pictures of me at the age of one. I am being held by my godmother and my godfather and on the right are both my parents. I am being held by my parents, Monika (nee Kujawiak) and Edward Karasek.
If anybody wants more information about the photos, or higher resolution photos, you can reach me at bkarasek@videotron.ca If you have any kind of information, if your parents knew my parents, etc, then please forward the information to me. I am especially looking for information about the camp, population, size, how it was run, etc. I will add to this page and with time, maybe have a self sustaining web site devoted to our place of birth. Maybe there are photographs, letters, documents, stashed away in an old suitcase, in the closet, etc. Maybe your relatives remember something about Wentorf. Are there anecdotes that you remember that were told around the kitchen table? If you're old enough, maybe you have childhood memories that you would like to share. Bogdan Karasek, Quebec, Canada, E-mail: bkarasek@videotron.ca
---
Szkola Radio Elektryczna in Wentorf (School of Radio Electronics)
It was important to prepare the DPs for civilian life in whatever country they emigrated to. The Polish Association in Germany created a Central Committee for Polish Education. In the DP camp in Lubeck, there was a Mechanics' School (Polska Skola Mechaniczna). In Wentorf Camp, a technical school was created, named the Radio-Electrical School; their objective was to give the former soldiers a basic technical training so that they could work as electricians. My father's graduating class had 41 students.
Identification of graduates in above photo:
C1 Kumor, Kulesza, Fiala, Kaczmarek, Romanik, Karlikowski
C2 Placek, Paciorkiewicz, Ziolkowski, Adamnik
C3 Olszewski, Roter, Kabaniuk, Tomczak, Zakrzewski
C4 Torpeda, Wnuk, Kasprzyk, Romaniuk
C5 Garbicz, Sikora, Slachowicz, Kowalczuk
C6 Kulwicki, Balas, hrebicki, Koncewicz, Dubas
C7 Debicki, Liedel, Kanas, Dawidowciz
C8 Lewinski, Dziedziczak, Karasek, Bartkowiak
C9 Pawlikowski, Podawca, Pacynko, Kwiatkowski C10 Maciejwski, Dyba, Dyba, Kalinowski, Bilasik
C11 Koziol, Kusznierz, Dragowski, Urban, Targonski, Korytowski
The irony is that when we arrived in Canada, my father applied for a job at Bell Canada. Although he was qualified to work for them, he didn't get the job because my parents didn't have a telephone. Three days off the boat, in a foreign country and they expected him to have a telephone. Here are some photographs of the students in the classrooms, in their military uniforms and doing some work on high tension wires.
If anybody knows if there were other such classes, I would welcome the information. Or for that matter, if there were other schools, for the women and children. I do know that there was a Lyceum and High school (Liceum i Gimnazjum im. Gen. Wl. Sikorskiego) in Wentorf. Concerning the widespread establishment of various trade and technical schools, grammar, highschools and lyceums in the various Polish DP camps, there is a list available in the archives of the Josef Pilsudski Institute of America. http://www.pilsudski.org
Dear Olga,
My name is Janina Kik (nee Lukaszewski) and I have just discovered your wonderful site. I have started compiling information about my family's migration to Australia. We came out on the M.V. Nelly* in 1950. I have no other information about this journey so I was wondering if you or any of your readers know more about this ship. I have repeatedly tried to find out more about it on the web but have been unsuccessful. I know that we landed in Sydney and were then sent to Bathurst Migrant Camp and later to Greta Camp where we stayed for 4 years. I was born in Wentorf near Hamburg, Germany. My mother was Stefania Polowa and she was born in Demenka, Lwow I would love to connect with anyone who can help me.
Many thanks, Janina, janina@hotkey.net.au
Hello again Olga,
Just to let you know that I was able to find out about the M.V. Nelly. Tom Stiglmayer has been extremely helpful and I was even able to get a full passenger list from him. His excellent site is "http://members.iinet.net.au" T Stiglmayer, Australian Immigration research (includes immigration database, deportation database, Civil Aliens Corps, POW and internees, passenger list, passenger ships, deaths in Western Australia). Thanks for your assistance, Janina
1/23/08 Hi Olga,
I am on the quest to find my family history and found your site. Both my mother and father came over as young children (to Australia 1950).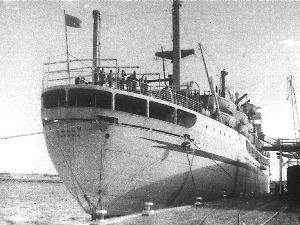 I have responded to Janina Kik from your site as I found that her parents and my grandparents & parents travelled on the MS Nelly in 1950 – I have supplied passenger lists, images etc to Janina.

It is possible to find the passenger list of the MS Nelly at the http://naa12.naa.gov.au – it is free to search the database – but you must register as a user. If you use the following text - A434, 1950/3/45007 in the reference number search filed under the research search after you log in – it will display 87 pages of the Nelly's passenger list in digital format.

I am early in my search of my grandparents/parents history – family names of Czubara and Pijanka, as all my grandparents have died – I am now on a quest to gather as much information as I can.
My father and his parents were in DP Camp Wentorf 05/1945 - 05/1946
I am finding your site were interesting and if I can help anyone else fill in the gaps it would be a pleasure. Have a nice day.
Regards, Anne-Marie Pijanka apijanka@internode.on.net

1/30/05 Dear Olga,
Just today I discovered that my Grandmother's family stayed at Wentorf DP camp near Hamburg. The family name was Henc, which they changed to Hintz when the immigrated to America in 1949. I believe they spent at least 3 years at Wentorf. Everyone is gone except Roman who remembers attending school at Wentorf. He also remembers that his father Marian Peter was drafted into the Polish army in 1940ish and I am wondering if anyone has any information about the Polish army and I believe he may have been possibly captured by the Germans during the war. I also know the family lived in Warsaw before the war. Marian was a Seventh-day Adventist pastor. Immigrated from Bremerhaven on the USAT General Stewart; arrival to Ellis Island, NY. If anyone has any information about this family please let me know. Thank you so very much! Heather Demaree, hdemaree@southern.edu
12/5/06 Dear Olga
I discovered you web address because I am intrested in the Wentorf Displaced Persons Camp. I found papers of my father that says 59 DPACC. Could this be 59 Displaced Person Assembly Center? Wentorf Camp? (Wentorf , belived to be East of Hamburg) Also one paper says Hamburg- Bergdof International Refugees Origination 502 Sub Office.
My father came from Bremen, Germany to Boston, Mass. in 1950. He can on the USAT General Stuart Heintzelman AP 159 I I am very surprised that so many displaced people that went all over the world on different ships. Differenct types of ships.You can post this message on Wentorf Camp.
*I like to hear from Mrs. Jannina Kik. She said that she came on a ship called the M V Nelly. Well it took me less then two hours to find out. First I think M V is not the Initials of a person name. It was a type of a ship Motor Vessel Nelly. Was she thinking like all British ships H M S stand for Harry Martin Scott? The M V Nelly was probably a converted Passage ship from a old Air plane Carrier USS Long Island. AVG 1, ACV 1 CVE -1. This ship Nelly had a long but a short 38 year history it was built in 1939 as the Mormacmail latter sold to the United States Navy and converted in to a Air Craft Carrier. It did had south World War II combat in the Pacific Theater in the Midways This ship was sold and converted to a passenger ship by a Company name Caribbean Land and Shipping Company. I don't know whether this shipping Company exist today. I got no ideas wgo to write too. I think a Germany shipping Company. Running from Germany to Austrial it was renamed Nelly and it was renamed Seven Seas and sold to The University of Rotterdam in the Netherlands and served as a floating Dormatory from 1966 to 1977 until it was scrapped. My suggestion to Mrs Kik is to write to the United States Embassy in Australia and ask of the History of the USS Long Island AVG 1, ACV 1, CVE 1. Then ask if it was renamed M V Nelly. Bruno BRUNOSURVEY@aol.com
---
5/3/10 Hello Olga
I am doing some family research after recently reconnecting with some relatives in America. My grandfather was Talivaldis Brezinskis, a Latvian refugee originally from Baldone near Riga. He never spoke about his experiences during and after the war and so now I am trying to piece a few things together.


I was looking at your website when I realised that I recognised one of the places. (Click to enlarge.) I My grandfather is second from the left on the back row. He appears to be at Wentorf DP camp. The photo is not dated but from other photos and documents, I think it was taken around April or May 1947 which would be just before he came to the UK. I His brother was also in Germany (Lubeck) but stayed a while longer and then went to America a couple of years later. They lost touch in the 1950s. We recently had a contact from my dad's cousin who lives in Chicago and we are now busy swapping photos and trying to piece together what happened as their father (my grandfather's brother) also never spoke about his experiences. I Thanks for your website which is really useful and interesting. I Sarah-Jane Watkinson, Birmingham, UK sj@outercircle.demon.co.uk
---
Sept. 6, 2014 Hello Olga,
I am trying to find the father of a once little boy Jerzy, whose birth certificate says born at Wentorf to Genowefa Grzeda on 26 January 1946. The DP Registration Record Source is 27 dPACs Luebeck. Maybe someone knew these persons as nothing is known of the father and very little of the mother. also wondering if any records of the persons living at Wentorf exist. I know it is a long shot but very important to the boy concerned.
Thank you.
Lillian McGrath mclily1951@gmail.com