Back to slave camps
Intro
Alphabetical List of camps firmen_lager.xls
---
Dachau concentration camp and memorial site and museum http://www.kz-gedenkstaette-dachau.de
CC kdo of Dachau: Kdo "Augsburg" was established on 4/24/1942, 4 prisons, closed on 7/28/1942
CC Kdo of Dachau: Michelwerke, first mention on 11/6/44 average 450 women prisonsers, last mention 4/14/45 Probably situated near Haunnstetten
CC Kdo of Dachau: Messerschmitt l- Augsburg , seel Pfersee
Civil workers camps:
Schober, Windenfabrik
Central Molkerei
Bleicherei & Faerberei AG
Spinnerei & Weberei, Pfersee
Baumwollspinnerei am Stadtpark
Neue Augsburger Kattun-Fabrik
Martin Schmitter
Spinnerei & Eberei, Sparrenb
Josef Sailer
Mech. Baumwollspinnerei & Weberei
Kleindienst & Cie
Apollo Theater
Filser
Messerschmitt AG, Augsburg
Stadtwerke
Keller & Knappich
Frisch
Eberle & Cie
Deuter
Alpine
Renk
MAN Werke, Augsburg
KZ-Gedenkstaette Dachau
Alte Roemerstrasse 75
D - 85221 Dachau
Phone: +49 (0) 8131 - 669970
Fax: +49 (0) 8131 - 2235
E-Mail: info@kz-gedenkstaette-dachau.de
Internet: http://www.cc-memorial-site-dachau.org
http://www.shoa.de/kz_dachau.html
City archives - Stadtarchiv http://www.dachau.de/
---
Kdo. (Kommando) Dachau, Zivilarbeiterlager (Civil work camp); US zone
2 miles S of Gelting, 3 miles east of Neufahrn
Lager Buchberg, worked with armament industry*, from 1940-45 600 workers, partly POW, partly civilian; write to mayor in Gelting
*Probably the armament plant, DSC, was situated in the fir forest of Foehrenwald, within the triangle of Wolfrathausen, Gelting, and Neufahrn;
CC Kdo Dachau had a smaller Kommando in the factory named SS Arbeiterlager (work camp) Neufarn
---
http://www.scrapbookpages.com
Nadia, a Ukrainian, writes"
The camp they called "Dachau" was ten kilometres from Munich. It was the one where medical experiments were conducted on human beings. I heard this from people who were from other labour camps. The horror stories made my skin crawl when I heard them. The word of these experiments got around so that all of Germany knew about them, including us. The Gestapo were boasting that from human flesh, they made lamp shades, gloves, purses. From human hair they made stuffing for pillows. I couldn't believe that they actually boasted that they were sleeping on pillows made of human hair. Nothing was wasted there from the human body. Once they took the skin off of a person, they put ever part of their body to some use for medical experiments. The bodies were burned and after that, they put the ashes in soil to use as fertilizer. The remainder of bones were then thrown into trenches and covered with lime, making the soil very fine and moist. There were thousands of people who were exterminated at this camp.
For more, read "A Life of Hope, Memoirs of Nadia the Survivor" by Peter Anton, ISBN 0-9736966-0-5
---
Eisenhower in Dachau
It is a matter of history that when Supreme Commander of the Allied Forces, General Dwight Eisenhower, found the victims of the death camps, he ordered all possible photographs to be taken, and for the German people from surrounding villages to be ushered through the camps and even made to bury the dead.
He did this because he said in words to this effect: 'Get it all on record now - get the films - get the witnesses - because somewhere down the track of history some ( Axxxxxx) will get up and say that this never happened.
"All that is necessary for the triumph of evil is for good men to do nothing. " - Edmund Burke, In Memorial
Recently, the University of Kentucky removed The Holocaust from its school curriculum because it 'offended' the Muslim population which claims it never occurred.

This is a frightening portent of the fear that is gripping the world and how easily each country is giving into it. It is now more than 60 years after the Second World War in Europe ended.
This is in memory of the 10 million Ukrainians, 10 million Russians, 10 million Christians, 6 million Jews, and 1,900 Catholic priests who were murdered, massacred, raped, burned, starved and humiliated with the German and Russian peoples looking the other way!;
Now, more than ever, with Iran, among others, claiming the Holocaust to be 'a myth,' it is imperative to make sure the world never forgets.
---
1/16/05
I am researching Stefan Krupa, a Polish Slave Laborer at Dachau "His parents were Jozef Krupa and Katarzyna Sternal. They were originally from Czaslaw, Karakow, Poland. Stefan survived the war and was a member of the Polish Guard Detachment. He was able to immigrate to New London, Ct. after the war, where he settled. I am trying to find anything about him and his family while in Poland and in Dachau. Any help would be greatly appreciated. Thanks alot, Kitti Durham
---
2/15/09
Dear Olga,
I am looking for information on my grandfather. Sandor Varga born in 1889 in Budapest, Hungary.We were told by the Red Cross after WWII, he was taken to Dachau. They have no record of him being there. It is my mother's idea he was shot in one those mass graves along the way. I would still like to search some more to completely illuminate the possibilities of him been taken to any camps. Can you help me in any way? If you could, I would be very grateful.
My father is alive at the age of 83. He is a survivor. Sincerely, Alicia (Varga) Iovino Bthnybeach@aol.com

---
8/21/06 Ms. Kaczmar,
I have recently discovered your very impressive website as part of my search for information about the DP camp at Dachau and in particular an UNRRA team that was stationed there as the camp was being established in May of 1945.
I am co-authoring a memoir with a Holocaust Survivor who, following liberation during a Death March in the vicinity of Bad Nauheim, joined up with an UNRRA team based there and shortly thereafter accompanied them to their new assignment at Dachau, where he served as a driver and general assistant for several months. We are seeking to locate the number of this UNRRA team and the name of its leader, a British woman. She was extraordinarily kind to him and was instrumental in helping him recover from 4 years of deprivation. With her assistance, he was able to avoid being assigned to a DP camp himself. Yet, with the passage of time, he can no longer remember her name, those of other team members or the Team #.
In addition to our continuing efforts to locate this information from various sources, including the UNRRA archives in New York and the Gedenkstatte & Museum at Dachau, I wonder if you have any knowledge or resources that could be of help? Thank you for any assistance, and for your extraordinary efforts to document DP camp history. Daniel Kadden, Ph.D, Olympia, WA, email:dkadden@comcast.net
UNRRA Team 546 Director was A.H. Sutton
See: http://www.crommelin.org
Regards, Miff Crommelin

---
Aug. 9, 2019 Hi Olga,
Thank you very much for all of the info that you sent me! I didn't know that a search [International Tracing Service -https://arolsen-archives.org/en/ ] was available for me to look into my father's locations!

My father, Andrew(Andrij) Wenger Born 1924, was wrongly convicted of belonging to UPA and was placed into forced labour from 1943-1945.

He spent that time in 4 concentration camps, witnessing "Hell on earth". They were Buchenwald, Dachau, Flossenberg and Gross-Rosen.
Thank you again for developing this website.
I sincerely Thank You!,
Mary Wenger marywenger@mymts.net
---
Darmstadt
Kdo. Zivilarbeiterlager (civilian work campO)
Regierungsbezirk
Stadtkreis
Strafgef. Arbeitskolonne
Kdo. Sachsenhausen
Kdo Natzweiler, gefaengnis (prison), Strafgef. Arbeitskolonne (Rodg.Diebg.)
Arbeitserziehungslager (worker camp)
---
Dehnamühlw - www.walpersberg.de/lager-2-2/
---
Delmenhorst Diary of Elfie Walter
Prison -Gefaengnis,
Zivilarbeiterlager Civilian work camp
Lager an der Cramerstrasse, 300 persons
Lager an der Hasberger strasse, 300 persons
---
Diebach - is a municipality in the district of Ansbach in Bavaria.
---
Dillingen - Dillingen/Donau is a Krs. (administrative district)/
town in Krs is Lauingen (US zone)
CC Kdo of Dachau " birksackerhof metallbau
Lauingen II, working for Messerachmitt Augsburg, first mention Nov. 6, 1944, strength increasing from 200 in Nov. '44 to 720 in Dec.; 760 in Jan. 1945; 980 in March; 900 in April 1945. See Dachau.
---
Dinkelsbühl
From 1941 to 1944, the towns (where slave workers were) had to report yearly how many they got to their Regierungspräsidium Ansbach. The statistics are in the archive and can be read at
Erfassung ausländischer Zivilarbeiter
HEADQUARTERS MILITARY GOVERNMENT DETACHMENT I8A3 APO 658 US ARMY from 15 May 1945 reads:
SUBJECT: Report on Displaced Persons ( Kreis Dinkelsbühl)
To : Commanding General, 12th Armored Division.
1. Number of Displaced Persons by Nationality: Russians (*) - 2500
French - 800
Italians - 50
Slovakians - 300
Poles (1) - 2000
Serbs - 300
Lithuanians - 50
Latvians - 60
Swiss - 4
Dutch - 10
Belgians - 2
Spaniards - 5
TOTAL - 6081 (*) It seems they had problems to define the Ukrainish people, sometimes 'Russian Ukrainians' or as 'Polish Ukrainians'.

There are some reports of stealing bicycles and threatening Germans to give them food or clothing (the DPs were preferred to to live better in camps so). Soon a big number were brought to Ansbach and Bamberg. But a great number remained there, not only in the town of Dinkelsbühl but some at their assigned farms or in many small places in the small communities nearby. The mayors of the communities had to take care of them, i.e., required to get the same food as the Germans. A thousand refugees from Sudetenland were taken from Dinkelsbühl. Another 1000 'Poles' (*), Serbs and Croats were transported to Ansbach.
On 3 Oct. 1945 were 391 DPs in Dinkelsbühl District. On 10 Nov. 1945 there were 500 DPs in Dinkelsbühl District.
---
Dinslaken Nordrhein-Westfalen - British zone, civilian work camp
Bandeisenwalzwerke AG, 980 persons
Schachtanlage 1/2, Gelsenkirchener Bergwerke AG , 575 persons
F.Meyer, 100 persons
Deutsche Roehrenwerke AG, 100 persons
---
Dippoldsau Concentration camp
FL Weyer Dippoldsau (photo: GehProject, submitted by Klaus Fohringer)
http://www.geheimprojekte.at
http://de.wikipedia.org
Dippoldsau is in a list of subcamps of Mauthausen-Gusen complex of Nazi concentration camps. The slave labour of the inmates was also used by a variety of companies and farms that accommodated a small number of inmates on their own. http://en.wikipedia.org
---
Dora - CC K.do -
starting Oct 28, 1944 with 514- 648 prisoners; On April 8, 1945 the brigade arrived at Plattling on their way from Chemitz and continued railroad repair work in Ittling,where it was liberated in May 4, 1945; (See Buchenwald. Also worked in Guenzerod. became so large that it became an independent main camp located at Sollstedt 100,000 prisoners ended Dec 10 1944 when the prisoners were transferred to Sachsenshausen; kepts its assignment and headquarters at Walkenried until liberation. type of work: engineering and railroad repair Salza / Thueringen
---
Dormick
the second under "nachbargemeinden":
http://de.wikipedia.org archive should be in the Kreisstadt - district city Kleve
http://www.kleve.de
---
Dornum - Dornum is a village and a munipality in the East Frisian district of Aurich, in Lower Saxony, Germany, near the North Sea coast.
www.dornum.de
https://www.gemeinde-dornum.de
---
Dortmund
Nordrhein-Westfalen - prison and civilian work camp; see Buchenwald
---
Dragahn-Dannenberg,
Latvians Here is research in German about forced labour camps; and it says in the area Dragahn, Danneberg were forced labour camps.
http://www.zwangsarbeit-forschung.de
---
Dreieich is a town in the Offenbach district in the Regierungsbezirk of Darmstadt in Hesssen, Germany;
search city records in German: https://www.dreieich.de
Dresden township was in the Russian zone - CC Kdo or Kdo. of CC ;
CC = Concentration Camp;
CC Kdo = Concentations Camp Kommando
• CC Kdo of Flossenburg Sonderkommando Dresden - 100 prisoners,
• CC Kdo of Flossenburg Dresden Neuhirschstein
• CC Kdo of Flossenburg Dresden N., Hellerhofstr. 35
• CC Kdo of Flossenburg, working for the RAW Reichsbahnausbesserungswerk, Wernitzer Ufer 50, 500 prisoners until 1950
• CC Kdo of Flossenburg, working for Bauleitung (engineering) der Waffen SS und Polizei (police). Doebelner Strasse 54 in Pionier-Kassern, 200 prisoners in 1942, 119 inmates in 1945,
• CC Kdo of Flossenburg, working for Bernsdorf & Co.,Desden A, 21 Schandauerstr. 68, prisoners: 150 men, 250 women.
• CC Kdo of Flossenburg, working for Universelle Muschinenfabrik J. G. Mueller & Co., Dresdent 24, (machine shop) Zwickauerstr. 46/58. 679 prisoners in 1945.
• CC Kdo of Flossenburg, working for Zeis Ikon.Werk Goehle, Dresden, (Optics), Riesaerstr. 32, 680 women prisoners in 1945.
• CC Kdo of Flossenburg, working for Zeis Ikon.Werk Reick, Dresden, (Optics), Mugelmerstr. 40 , 300 female prisoners in 1945
• CC Kdo of Flossenburg, Schandauerstr 68, 500 prisoners: 200 females transferred to CC Theresienstadt; 250 evacuated to Pirna.
• Prison: Untersuchungsgefaengnis (Kal. f. Rjb.)
---
Drütte KZ - Krs. Wolfenbuettel; British Zone;
CC Kdfo of Neuengamme - total 95,500 prisons; 13,500 of them were female.
Worked in enginnering, steel, chemistry, ammunitiosn, aircraft, fuel, shipping industries.
Civial work camps: 39; Wohnlager der Reichsbahn Gleidingen; 25 more at Hallendorf, see Watenstedt
In German:
https://de.wikipedia.org
---
Duisburg
Nordrhein-Westfalen, British zone
Dear Olga,
Months ago I asked you for help in finding relatives of my parents Mykola Jemeljanenko And Weronika Alpina and I am very grateful to you for your advice. I have finally received information from the archives that you suggested. They were Ukrainian but living in Poland before WW2. My father lived in Maciejew and my mother in Lipno. During the war they were sent to Germany. My father was sent to Duisburg in 1943 then Nordhurn in 1945 then in 1946 to Bathurn Lingen DP Camp until 1948. My mother was in Datel Recklinghausen then Haltern, Muenster DP camps then worked at 18DPACS in Muenchen-Gladbach until 1948. I would appreciate it if you could give more information on those places. They migrated to Australia separately in 1950, My mother from Naples in Italy my father from Bremen, Germany so there is 2 years that they do not account for. Could you please place this on your web site again please Olga? Thank you in anticipation. Yours Sincerely, Anna McClure nee Jameljanenko.pmcclure@iprimus.com.au
CC kdo of Buchenwald, SS-Baubrigade III, Einsaz Duisburg, see Baubrigade 3
average of 300 prisoners until 1942, then 300 more. Kuhlewald, Diakonanstadt
Arbeitserziehungslager: Beekenwerth, factory Thyssen, Lager Orpheus
Prison: Landgerichstrasse 2 Hatanstalt
Gefaengnis Duisburg-Hamborn
Gefaengnis Duisburg (Kal. f. Rjb.K)
Forced labor camp: Vollrath Betonbau, OT Lager 600 persons
Civilian work camps: 62 companies employed foreigners, men and women
---
Duisdorf
http://www.fleetairarmarchive.net
---
Dulmen
Zwangsarbeit in Dülmen
forced labor
---
Düsseldorf - Nordrhein-Westfalen
---
Ehingen
civiian work camp;
Ehingen has its own page with photos.
Nuremberg state archives reports there were 79 male and female slave workers in Ehingen. Angelika sends us a link for official website of Ehingen http://www.ehingen-hesselberg.de/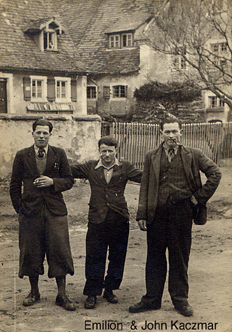 John and Milo Kaczmar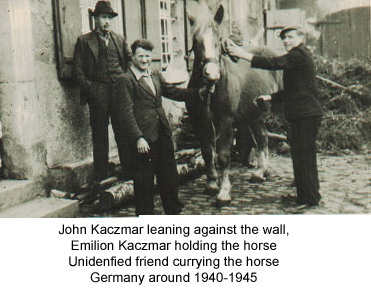 John in Germany
These photos, taken during the war, are of my father and uncle. They were the fortunate slave labor; were able to work around horses instead of the factory...and were fed. The forced labor in some factories were on starvation rations of one slice of bread, one cup of coffee and one bowl of watery soup per day. Archived papers say John was a valued worker. The farmer he was assigned to was authorized to have a slave worker because he had a son in active duty. Emilion worked for another farmer down the street. Olga
---
Eickhorst
Nordrhein-Westfalen
---
Emmerich am rhein - and the neighbor community is Dornick http://de.wikipedia.org/wiki/Emmerich_am_Rhein
The archive should be in the Kreisstadt - district city Kleve http://www.kleve.de and the archive contact and email-adress is under hauptverwaltung here below, please see:
Dezernat/Amt/Abteilung
Abteilung: Zentrale Dienste, Technikunterstützte Informationsverarbeitung, Wahlen, Stadtarchiv
Standort: Rathaus, Kavarinerstr. 20 - 22, 47533 Kleve
Strasse Kavarinerstr. 20 - 22
Ort 47533 Kleve
Telefon 02821/84-200
E-Mail: udo.huebbers@kleve.de
Leitung: Herr Hübbers www.kleve.de
---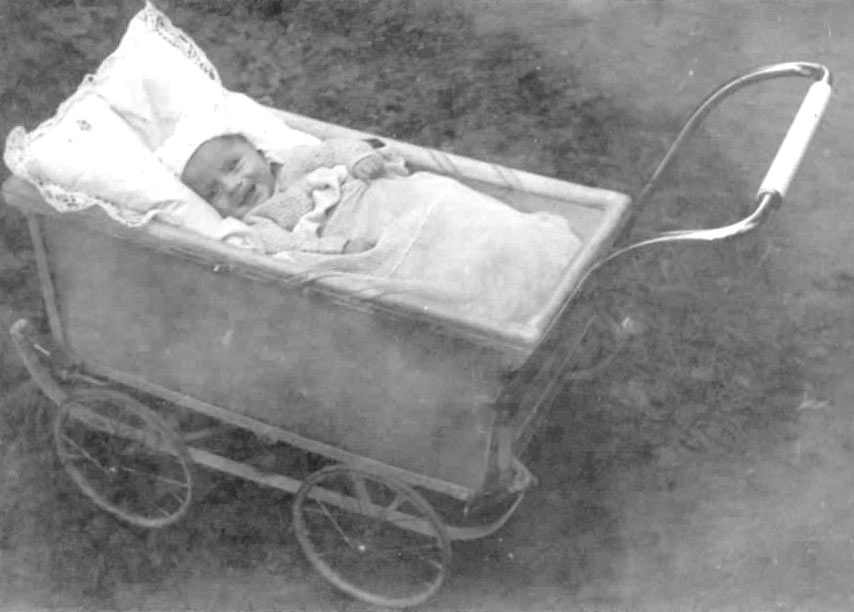 Hallo again Olga,
Here is photo of my husband's brother, Mieczyslaw. His original birth certificate states he was born in EMMERICH DORNIK, Germany.
Will you please let the world know where in Germany this place is as my sister-in-law said this place could not be found in World Atlas when my brother-in-law was applying for Australian War Pension. Hegave 9 years of his life to the Royal Australian Navy.
Anka Kowalczyk Ozzpol88@yahoo.com.au
---
Emslager KZ
---
Emslandlager camps (Moor camps)
"In summer 1933, the three concentration camps Börgermoor, Esterwegen and Neusustrum were opened, located close to the Dutch border, initially containing about 4,000 political prisoners. In Börgermoor, prisoners wrote the song of the Peat Bog Soldies ("Lied der Moorsoldaten"). After being closed as concentration camps in 1934 (Esterwegen 1936), these and four new camps were put under the control of the judicial authorities and became the Emsland penal camps.
In 1938 eight new camps were built. Six of them stayed penal camps till the end of WW II, nine others were used for Prisoners of War from the Soviet Union, Italy, France and other countries from 1939 till 1945. In 1944/45 two of these camps became satellites of Neuengamme concentration camp. The Emsland camps had their own subsidiary forced-labor camps in northern Germany, Norway and western France. A total of 70.000 penal prisoners and more than 100.000 Prisoners of War were incarcerated there. "Best regards Kurt Buck
"While the Nazis generally treated the non-Soviet P.O.W. according to the rules of the international laws, the Soviet soldiers were actually killed. They reduced their food supplies far under the subsistence level, let them starve, freeze or die of illnesses. The so-called Russian camps were often blocked from the outside world because of epidemics. You can gather from the lists of graves and documents that 14,250 to 26,250 Soviet soldiers are supposed to be buried on the six war graveyards in the Emsland." This paragraph and a wealth of information is on this site:
http://www.diz-emslandlager.de/dizen01.htm
DIZ Emslandlager
Wiek rechts 22
26871 Papenburg
Germany
Phone: +49 - 4961 - 916306
P.O. Box 1132
26851 Papenburg
Germany
Fax: +49 - 4961 - 916308
e-mail: mail@diz-emslandlager.de
---
Emsland103.jpg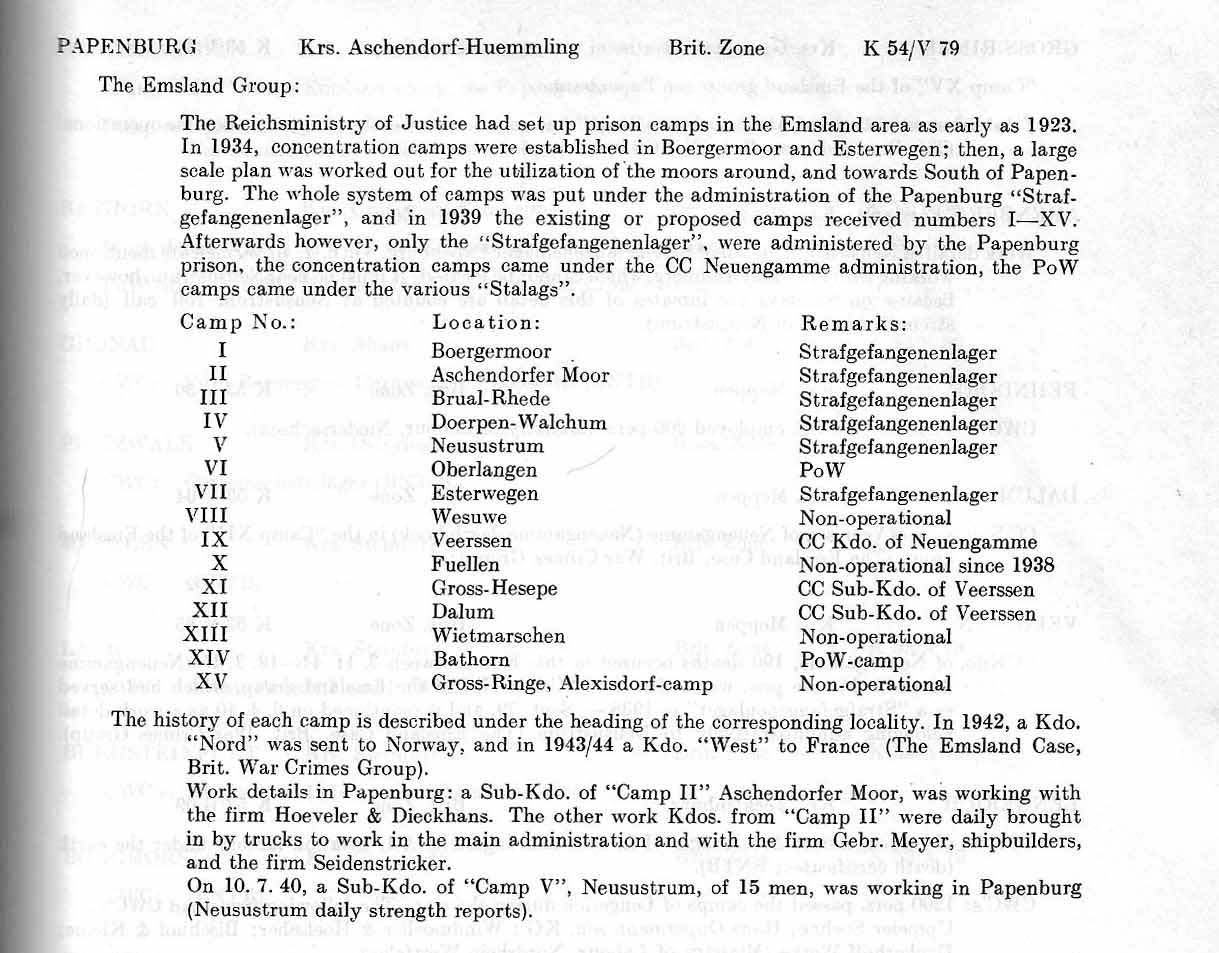 Camp I - Boergermoo - Strafgefangenenlager - administered by Papenburg
Camp II - Aschen dorger Moor - Strafgefangenenlager - administered by Papenburg
Camp III - Brual-Rhede - Strafgefangenenlager - administered by Papenburg
Camp IV - Doerpen-Walchum - Strafgefangenenlager - administered by Papenburg
Camp V - Neusustrum - Strafgefangenenlager - administered by Papenburg
Camp VI - Oberlangen - POW
Camp VII - Esterwegen - Strafgefangenenlager - administered by Papenburg
Camp VIII - Wesuwe - Non-operational
Camp IX - Veerrssen - CC Kdo of Neuengamme
Camp X - Fuellen - Non-operational since 1938
Camp XI - Gross-Hesepe - CC Sub-Kdo Vererssen
Camp XII - Dalum - CC Sub-Kdo Vererssen
Camp XIII - Wietmarschen - Non-operational
Camp XIV - Bathorn - POW
Camp XV - Gross-Ringe, Alexisdorf camp - Non-operational

---
Erfurt - Stadkrs. Erfurt, Township, Russian zone
AEL, existing Oct. 1944 Prison: Gefaengnisse Erfurt (Kal. f. Rjb.) Friedrich Wilhemplatz 27
---
Erlangen http://stadtarchiv.erlangen.de
Stadtarchiv und Stadtmuseum
Cedernstr. 1
91054 Erlangen
Tel. (0 91 31) 86-2219, 86-2885
Fax (0 91 31) 86-28 76
---
Erziehungslager - https:www.walpersberg.de/lager-e-2/
---
Eselsberg, see Um archives.
3/18/06 Dear Olga ,
I am doing research for a small historic exhibition covering the history of my suburb Eselsberg which is a part of Ulm, Germany. Our planned exhibition should cover the last 150 years and parts of this history are the DP Camps and the DPs themselves, on the Eselsberg where the former Wehrmacht Barracks Hindenburg Kaserne and some installation called Oberberghof. Poorly is known about this and I would like to cover this in our exhibition too. I remember some words of my grandmas, who told me about the DPs in the Hindenburg Kaserne, were she worked some times as a scrubwoman, but she did not told about the circumstances and the people there, only that she was lucky to earn some money in bad times. Email: Christian at Christian.Gollmar@gmx.de
---
Essen Nordrhein-Westfalen
The Krupps works at Essen
---
Ettal Monestary
Forced labourers at Cloister Ettal during the second World War
After 1940, the labor office in Weilheim, assigned five Poles (along with the two children of a married couple), six Ukrainians and thirteen Russians to work in our monastery. In the subsequent years, thirty-five French prisoners of war (but not all at the same time) were also assigned to work at our monastery. After 1943, sixteen of these French war prisoners continued to work at our monastery as "Civilian Workers" and were duly compensated for their labor. Indeed, as "Civilian Workers", the sixteen French employees of the monastery could return home during their vacation and they could also transfer their earnings back to their families in France. Many of these transfer bank receipts were found in the monastery's administrative records.
As from 1940, the labour office in Weilheim assigned foreign workers to work in the different monastery concerns. These foreign workers took the place of the monks and lay employees who had been called to join the military service. For the most part, the foreign workers were assigned to work in the monastery's agricultural undertakings, the cloister sawmill as well as in the cloister and school kitchens. The "Heimschule", the monastery's school, was confiscated by the state and renamed "Deutsche Heimschule" and ran under the auspices of the state.
For more of this see: http://www.kloster-ettal.de/dokumentation/uk-stand-der-nachforschungen-13-08-2000.htm
---
Ettersberg - krs. Weimer, Russian Zone - See Buchenwald
Name of the mountain on which the CC Buchenwald was constructed. At first the name of the concentration camp was Ettersberg, as found on the account cards of the prisoners. First mention on 15 July 1937 in Buchenwald records.
---
Eutin / Eutein
1/6/08 Amazing, Dear Olga,
I happened upon your website this morning and chills went up and down my spine. I am doing research regarding my mother's imprisonment in Nazi Germany's concentration and labor camps. Her memory is sharp but the spelling of the camps and towns are not. I came across the information I need and more. I want to say THANK YOU for establishing this website. I think I remember coming across a page with gravesites. I have a sister buried in Eutein, Germany. I was wondering if there is a website on this. I came up short.
My mother is of Romanian descent. Her village was 3 miles North of Siget, not far from Elie Weisel. She was deported to Auschwitz in 1944 and then to Lubberstadt and worked in a munitions factory. She was shot by British soldiers who thought the train full of prisoners were Nazis trying to escape. The British sergeant who helped her and her cousins settle in Eutin and get medical attention was named Ernest Finch. He was helpful in getting her settled in the US. My family is Jewish, so I assume my sister Helen Caterina Grosz or Gross is buried in the Jewish Section in Eutin. She died at 5 weeks old.
Thanks again for all you've done. Es Goodman columbo1@cox.net
---
Fallingbostel prisoner of war camp Stalag XIB / 375 |

Story and photos of the Military Museum -
www.fallingbostelmilitarymuseum.de
Once again Ukrainians aren't mentioned. If Polish and Russians were there, 3000 Soviet prisoners were buried there -- so there must have been Ukrainians there.
Excerpts from: SEARCHING FOR MY DAD,
by David J. Fleischer (Son of 3AD WWII veteran Neil Fleischer, 143rd Signal Co)
• Stalag XID, which was within sight of the Stalag XIB and had one purpose; to hold Russian and Ukrainian prisoners. The Russians despised the Germans and the Germans despised the Russians. For this deep hatred the Germans provided special accommodations for their Russian prisoners. During 1941 and 1942, over 33,000 Russians arrived at Stalag XID. The Germans didn't bother to build barracks for their Russian captives. They had them dig holes in the ground. These holes were their "homes" during their first winter in Germany. My research has shown that some Germans considered this the easiest way to handle the prisoners. When they died, the holes were just filled in. Of the over 33,000 Russians that arrived at the camp, only 1,800 remained alive at the war's end.
• Another district camp was Stalag XIC; it was part of the infamous Bergen-Belsen concentration camp. The camp where Anne Frank and so many others died.
• Now back to Stalag XIBThe war was closing in on the Germans. Stalag XIB became a central camp and very over-crowded. Prisoners were moved from other camps as the Allies pushed in from the East and the West. At this time the German army was short of able-bodied men so the camp was guarded by middle-aged men and not the young crack troops of Hitler's earlier years. These men were tired and probably didn't want to be there either.
Liberation did come on April 16, 1945 when a reconnaissance troop of the 8th Hussars, part of the Famous British 7th Armored Division (the "Desert Rats") found the camp. For more of this story, see: http://www.3ad.com
---
Ferramonte (See Italy archives)
---
Feuchtwagen (near Dinklesbuhl)
1/13/2009 Dear Olga,
Here is enclosed the foto of the: "Arrival of the "migrants" in Feuchtwangen 1940.
The inscription on the back In German it says, "Ukarinische Umsiedler in Feuchtwangen", dated 8th May 1940 from Mrs. Deininger
thanking her very much - she allows to publish it. The name of the guesthouse where this foto was made was "Alte Post" (Old post).
All the best, Angelika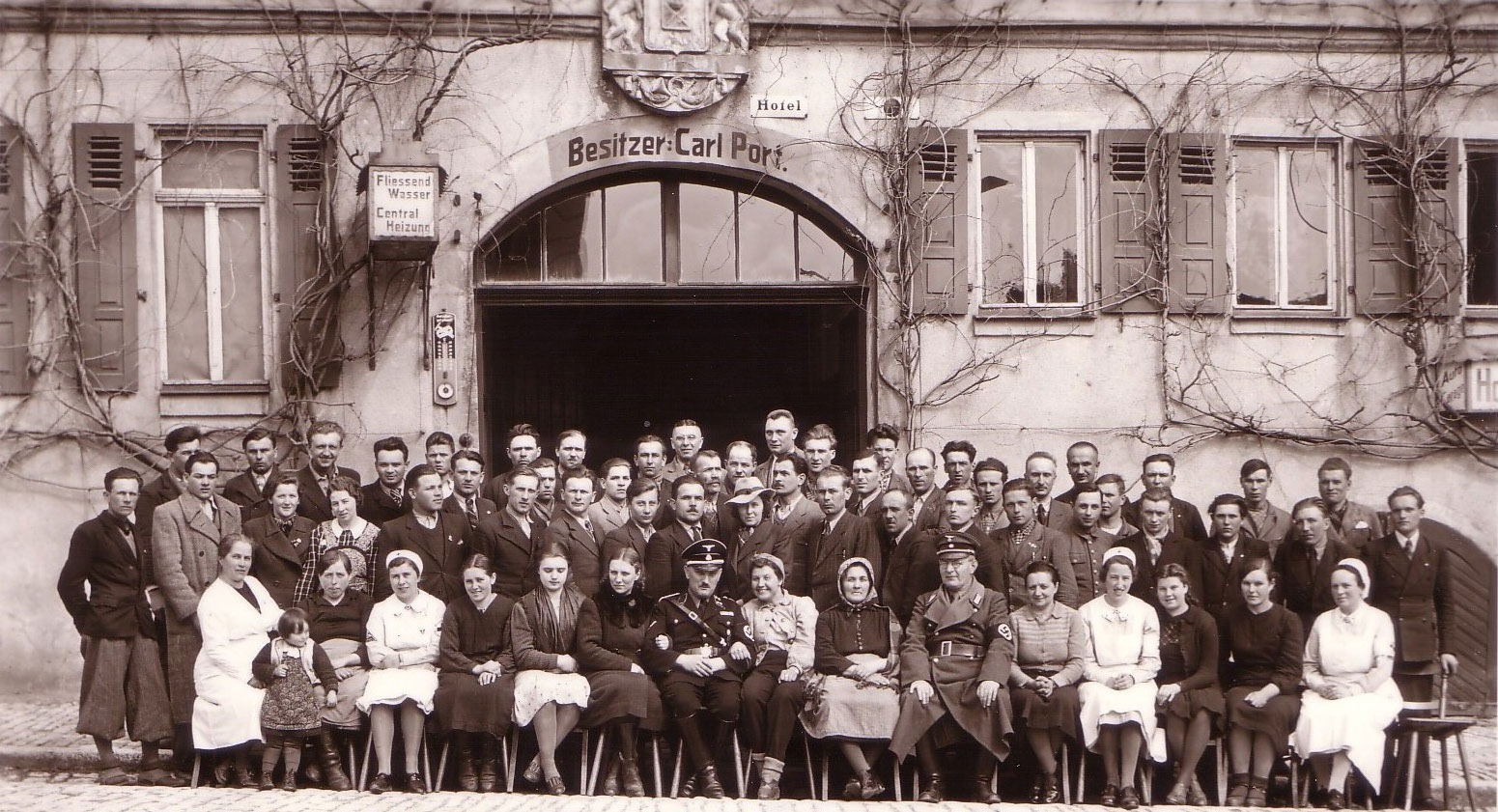 ---
Feyen- See Trier (slaveCampsT-Z)
---
Flensburg - Krs. Flensburg, British zone, Prison: Landgerichtsgefaengnis, Suedgraben 24 Miliary prison, Duburg-Kaserne Civial workers Camps: Gemeinschaftslager of Flensburger Schiffsbauges, 2300 persons being employed by Flensburger Werft Gemeinschaftslager Flensburg-Muerwik, 1100 persons ere emplyed by diff. "Ruestungsbetriebe", armament plants Gemeinschaftslager Ecernfoerder Landstrasse, 1200 persons were emplyed by "Bahnmeisterei Flensburg" and different "Ruestungsbetriebe"
---
Flossenbürg / Flossenbuerg /Flossenbuerg
Labour camp May 1938 - April 1945, Est. prisoners 30,000
Flossenburg was a camp in the hills above the village of Floss in Bavaria near the Czech border. The camp was established in 1938 to assist an SS firm which operated a large granite quarry nearby. Most inmates were worked in the quarries or nearby Messerschmidt factories. More than 110,000 prisoners passed through Flossenburg and its subcamps. It is estimated that up to 45,000 died, many of them during the evacuation of the camp in 1945. Copyright © 2001 Edward Victor
http://www.flossenburg.be/
http://www.gedenkstaette-flossenbuerg.de/
http://www.edwardvictor.com
http://history1900s.about.com
http://auschwitz.dk/Canaris
11/15/07 Dear Ms. Kaczmar
On the request of the Hnizdovsky Family I'm trying to find any information about the Chapel erected at Flossenburg Consentration Camp. A elderly lady said that J. Hnizdovsky the Ukrainian artist either drew a painting, or made a stained glass for the chapel. We are trying to research this. Thank you for any help or any leeds.
Stepha Hryckowian stephahry@mac.com
---
Aug. 9, 2019 Hi Olga,
Thank you very much for all of the info that you sent me! I didn't know that a search [International Tracing Service - https://arolsen-archives.org/en/ ] was available for me to look into my father's locations!

My father, Andrew(Andrij) Wenger Born 1924, was wrongly convicted of belonging to UPA and was placed into forced labour from 1943-1945. He spent that time in 4 concentration camps, witnessing "Hell on earth". They were Buchenwald, Dachau, Flossenberg and Gross-Rosen.
Thank you again for developing this website.
I sincerely Thank You!,
Mary Wenger marywenger@mymts.net
---
Forchheim
Landkreis Forchheim
Stadtarchiv Forchheim,
St.-Martin-Str. 8, 9130
Forchheim, Postfach 85,
91299 Forchheim 5/13/05
Hi Olga:
I am trying to find out information on my father-in-law, Simon Masnyk. He was originally from Lubaczow and was taken as a forced labourer by the Germans. He remembers being in Forhheim and Erlangen. He immigrated to Canada around 1952. He was in Belgium for a time prior to coming to Canada working in the mines. He was born in October of 1922. Do you know of any DP camps that were in either of those Towns in Germany. Thank you for your help. Lorena Masnyk lmasnyk@canismalus.com
---
Forstberg - 26 barracks - www.walpersberg.de/lager-3-2/
---
Frankenberg
(Eder)
---
Frankfurt
Fränkische Landeszeitung (newspaper) article dated Nov. 27, 1946: Headline: "Number of kidnapped persons"
Dateline: Frankfurt.
"All together 550,372 kidnapped persons were on 30 October in the US zone of Germany. In October 28,408 persons were returned to their homeland; 2,453,789 kidnapped personswere repatriated and 8,508 settled in Germany."
Roder-Praezion, located in Frankfurt on Main, was civilian work camp; from October 1943-45; had 150 persons.
Check with Frankfurt archives
City archive: Stadtarchiv Frankfurt am Main
Münzgasse 9
60311 Frankfurt am Main - Innenstadt
Telephone: +49 69 21 23 84 25
Fax: +49 69 21 23 07 53
---
Freiberg
---
Freising
kdo. Dachau, Freising, Landrat, aircraft industry
---
Freiburg im Breisgau
---
---
Freienorla restaurant - https:www.walpersberg.de/lager-zum-schwan-2/
---
Freithal - Krs. Dresden, Russian Zone
Prison: Hindenburgerstrasse 10 Civilian Workers Camp: in an ammunition factory, 130 men FLC: ZAL for Jews - 4,000 to 5,000 prisons, 1,200 to 1,500 of them were women, working with Saechsische Gusstahlwerke, partly evacuated to CSR, liberated 8.5.45 (per inmate statement).
---
French Chapel -
French Chapel of Oflag VI A
The building complex is first used as a camp for displaced persons and later to house expelled persons and finally, until 1994, as Belgian barracks.
---
Frindorf see Kirchenholtz -
---
Fuellen - British Zone; Camp X of Emsland group, see Papenburg; not operated since end of 1938
---
Fuhlsbüttel -
---
Gehlenbeck Nordrhein-Westfalen
---
Geismar, Eichsfeld, Thuringen
Goettingen British zone: civilian workers camp,
Gebr. Ruhstrat,Tonkuhle, Geismar Strasse 62, 50 men and 170 women
Jan 22, 2021 Hi Olga;
I live in Canada and am trying to piece together our family tree. Was hoping you can assist in
directing me to various resources available. Parents are Mykola Smalec (Born 1921 in Nowe Celo Lviv Oblast Ukraine) and Helen Charzcuk (Born 1925 in Cholm Ukraine). Both were required to leave and work in Germany. My father Mykola arrived in Germany Dec. 1941. Mother Helen most likely arrived around the same time.
They were sent to DP camp in Geismar e22 Germany. I have their marriage certificate indicating marriage was conducted in Gottingen Germany and shows their home was at Geismar Landstrasse e22 D.P. Camp. Also, have some wedding pictures. After the war, around 194-50, they went to Waltham Abbey England and worked in the greenhouses/farms in the Newgate Street Village. If you could assist or steer me in the direction to attaining more details, that would be appreciated. Thanks in advance!
Roman Smalec smalecron@gmail.com
---
Gerresheim Nordrhein-Westfalen
---
Giessen
---
Godenau
- The army ammunition depot Godenau
Google translate
This was followed in Godenau, as in many similar systems also, the takeover of the shaft with the premises by the Wehrmacht.
This began in 1935 with the renovation and expansion work on the establishment of Army ammunition factory (mine) Godenau. For the new task have been setup in days various ammunition chambers for the storage of finished products and powders. As a new headframe is 1938 24 m high reinforced concrete structure was built.
Outside the bay area further plants have emerged. Between 1936 and 1938 the village Limmer, the production area was built to the west with various workhouses and industrial buildings. On the southern edge of Godenau the Wehrmacht established an extensive labor camp where the workers were housed. In this context, it also came back on the use of foreign and forced laborers. For Godenau an occupation with an average of around 400 workers is documented.

1938 began the production and accumulation in the Heeresmuna. Mainly cartridges and small parachutes are manufactured here. The operation ran until the end of the war. On 8 April 1945 reached Associations of the U.S. Army the area, ending the Second World War for this region.
As of 1945:
The surrounding area has been handed over shortly after the war according to the contract by the Americans to the British.The Allies began in 1946 with the demilitarization of the system. The embedded powder stocks were burned. In October 1947 there was a serious incident from underground. Here, around 3,400 t powder exploded. Also at the mouth hole of the shafts came thereby to destruction of reinforced concrete headframe has been destroyed.

Later, all parts of the ammunition depot walked in civil-use properties. The bay area is used commercially today. Between 1984 and 1986, "Desdemona I" was filled in July 1987. From the former labor camp has become a residential area.The production area could develop with various different companies after the war in a commercial area.

Condition:
Diverse historical factory buildings are still preserved. Almost all are used and are depending on the use and ownership in different states. The historical uniform and typical construction is, however, clearly be seen everywhere. This is evident especially in the former manufacturing area. Today, various companies use the historic building. These were new modern buildings in and around the grounds. Over the years, the farms stretched from beyond the original factory border.

Access
:
The areas of the production area and the labor camp, with the exception of private land, freely accessible. Contrast, the bay area is locked as company property
The army ammunition depot (Bw) Godenau
Submitted by: Alan Newark Scotland
---
Gosen - Krs. Beeskow-Storkow - Russian zone
Beeskow (Lower Sorbian: Bezkow) is a town in Brandenburg, Germany, and capital of the Oder-Spree district. It is situated on the river Spree, 30 km southwest of Frankfurt an der Oder.
Prison - Straflager
---
Goslar
---
Gross-Hesepe - CC Sub-Kdo of Veerssen of Neuengamme. Camp VIII of Emsland group. Neuengamme had death books.
---
Gross-Rosen had 70 subcamps
Concentration camp in Lower Silesia opened in August 1940 for Polish male prisoners. Initially a subsidiary of Sachsenhausen, by May 1941 Gross-Rosen became an independent concentration camp. On February 13, 1945, the camp was liberated by the Soviet Army.
---
Aug. 9, 2019 Hi Olga,
Thank you very much for all of the info that you sent me! I didn't know that a search [International Tracing Service - https://arolsen-archives.org/en/ ] was available for me to look into my father's locations!

My father,
Andrew (Andrij) Wenger
Born 1924, was wrongly convicted of belonging to UPA and was placed into forced labour from 1943-1945.
He spent that time in 4 concentration camps, witnessing "Hell on earth". They were
Buchenwald, Dachau, Flossenberg and Gross-Rosen.
Thank you again for developing this website. I sincerely Thank You!, Mary Wenger
marywenger@mymts.net
---
Grosspürschütz - https:www.walpersberg.de
---
Gumpertal
-
https:www.walpersberg.de
---
Gunskirchen Lager and photos
"Sometimes we slept three deep in the mud of the barracks," an inmate related. "We were too weak to move out the dead, too weak to move ourselves, so we slept with the bodies." All the inmates were vermin-infested and many were covered with huge, open sores."
---
Gusen
12/15/04 Dear Olga,
Can you help me? I'm trying to locate information about my father,Tadeusz Lech-Bielinski, an artist who survived Stutthoff, Gusen and Matthausen by painting and sketching for the German guards. He came to Belgium as a displaced person. Between 1949 and 1952 he immigrated to Australia on assisted passage. I have looked through passenger lists available on the net without success. Lucy Elliott
---
Gustavsburg (see Mainz)
A Zwangsarbeiter, slave labour camp, at Gustavsburg near Mainz, Hessen, Germany. The camp provided workers for the neighbouring heavy machinery company. http://www.independent.co.uk
---
Gudensberg -
---
Gütersloh Nordrhein-Westfalen
Continue to slave camps H-L