Back to slave camps Intro
Ravensbruck - labour camp; May 1939 - April 1945; est. prisoners 150,000; est. deaths min 90,000; see http://www.ravensbrueck.de/
Concentration camp for women opened near Fürstenberg, 56 miles north of Berlin, in May 1939. It was constructed on reclaimed swampland and built by male prisoners from Sachsenhausen during the winter of 1938-1939. Designed to hold 15,000 prisoners, Ravensbrück eventually held more than 120,000 women from 23 nations. It included a separate men's camp, a children's camp at Uckermark, and, from January to April 1945, a killing center. It was liberated by the Soviet Army in late April 1945.
"Many women had forced abortions, others lost their children after the pregnancy, when the children where taken from them with violence. And if one got a child from a German it could end in a barbarious treatment, where the walk with a bold head through a city full of people, spitting and beating you. Rassenschande was the name of the crime; the punishment could end in the KZ Ravensbrück as a 'rabbit' (so did they call the women there!) on an operation-table without any narcotics and a nazi-medical treatment." by C. Maihoefer, / Germany, 2003
Olga -
Here are some pictures/drawings about Ravensbruck Nazi Concentration Camp for Women.These were published in one of the Ukrainian D. P. Camps in Western Germany sometimes right after WWII. Who are the painter and publisher of this booklet - I don't know. This booklet has been in my family at least from 1947. Please use them in your Concentration Camps website. Maybe the people to whom CC were sent out can give us more info on these pictures.
Also, as a suggestion, please leave the Ukrainian descriptions/captions. This will be proof that Ukrainian women were in this particular Camp as prisoners. At the same time please do translate these captions into English.
Z Bohom, C/\ABKO
Download book of drawings from the Archives of S. M. PIHUT Family.
- See art below for English translation provided by Laryssa Courtney laryssac@aol.com
Jewish Women of Ravensbruck exhibition
April 27, 2017 Olha,
I visited your website after reading about it in The Ukrainian Weekly. You are doing very important work. I actually have the Ravensbruck book, which was published in English and Ukrainian in 1992 by the artist Olena Wityk Wojtowycz* in Chicago. The paintings were originally published in Berlin immediately after the war, which is what you have. Olena Wojtowycz was a slave laborer along with my mother at Ravensbruck and in her book, lists the names of the Ukrainian women at the camp, including my mother, Ariadna Kotko Lapychak. They were forced to work for Siemens, assembling airplane parts. My mother, by the way, was not able to get compensation from Siemens after the war because they told her that they did not have any record of her being there. I don't know if Olena is still alive. She lived in Plano, Illinois, where her husband was a doctor.
My father Dr. Toma Lapychak was the commandant of the DP camp in Berchtesgaden. Prior to that, he was arrested in Lviv, together with my mother. He was picking her up to go to a movie, when the gestapo knocked on the door. He was already practicing medicine. He was sent to Sachsenhausen. Both he and my mother were released from the camps after about 1 1/2 yrs, when Hitler made a deal with the Ukrainian government to exchange the political prisoners for a division of Ukrainian soldiers.
Good luck with your work, and all best wishes,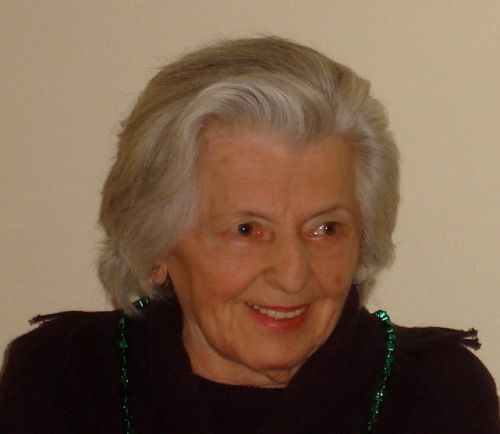 Laryssa Courtney laryssac@aol.com
*Olena died quietly surrounded by family at home at the age of 91 on March 31, 2013 in Madison, Wisconsin
Laryssa scanned these English pages for you:
Dawn was barely upon the sky when breakfast would be prepared -- a lukewarm brew of chestnuts and acorns that served as 'coffee'. Morning roll-call followed, prisoners standing in the camp square, whether in the summer heat, the damp chill of autumn, or the frost of winter.
The march of thousands of women clad in striped uniforms to work conjured the image of pharoh's slaves. Work under the watch of SS-guards and their packs of German Shepherds was an experience more horrible than death.
A scrap of turnip was a treat. The nourishment it provided could be life-saving, even though the incessant hunger remained. Lunch - a thin soup of water and potato peels. The return from forced labor brought some physical respite and the slim hope of surviving yet another day. For the slightest transgression, for even the lack of strength to work, public punishment was dispensed at the camp's evening assembly.
Even those at the Brink of death feared the ministrations of the camp dispensary. Rest -- of few hours of difficult, interrupted sleep on the bare bunks of the barracks.
Continue to slave camps T-Z