Maykowice • Maykowicz • Majkowicz • Maykovycz
Since the name Maykovycz is Ukrainian, using cyrillic script is the only correct spelling. Maykowice and Majkowicz were both found interchangeably in the priests' Latin registries. Polish seldom use a y. May-ko-wich is the American pronunciation, sometimes heard as Michael-vich, which sounds Russian.
The Maykowicz family was extremely large -- a dynasty spread over several villages in Galicia, including: Czystohorb, Javornik, Komancza and Rodaszyce. Now the Maykowicz are almost extinct. When doing my charts on the Maykowicz family, a recurring thought whispered in my head: "No one has thought about us for a long time."
I pondered to myself, "Could they have been trying to communicate with me (via telepathy) while I was so deeply focused on their lives? Are they pleased that I'm adventuring into their lives? Do they know that I anguish over their sorrows and deaths by influenza which took whole families in one year's time? Do they see a tear fall on the LDS copies?"
Olga's roots:
Eva Szczwinska born 19 February 1825 in House 67 Oslawica, at 17 years old, married 14 February 1842 to Ivan Maykowicz.. Eva Szczwinska's parents were Matey Szczwinski and Pelagia Baran
Eva died ?
Ivan Maykowicz born 6 March 1822 in Rodaszyce, Married Eva Szczwinska at age 20, died House 67 in Oslawica.
Ivan died?
Ivan and Eva Maykowicz had children:
1) Hinati: born 1 January 1844; Died: 14 February 1945
2) Tetanya: born 22 January 1846; Died: ?
3) Ahadnia: Born: 23 February 1857; Died
4) Matrona: Born: 23 May 1855; Died
5) Anastasia: Born 8 November 1857; Died
6) Anna: Born 12 February 1960; Died
7) Kurul: Born 26 Februarty 1862; Died
8) Dshyliaka: Born 26 December 1864; Died
9) Evphimina Born: 28 April 1866; Died
10) Ivan: Born 6 July 1869; Died 1 October ?
Johannes / Ivan Maykowicz's parents were Mikita (Mukuta) Maykowicz (born 1796, died 1834 at 39 years old) and Anastasia Mirha / Mirga (born 1798). Anastasia Herich's father was John (Ivan) Herich. Mirha page
Mikita (Mykyta) Maykowicz's father was Peter Maykowicz (died at age of 60 years old on March 4, 1819). Mikita's Maykowicz's mother was Anastasia Herich, (died at 48 years old on May 10, 1819).

Down load to your desktop

---
Early history:
Even before WWII, there was much tension and fighting between the Polish and the Ukrainian peoples. To the right is the burial plot of: Andrew Maykowicz, John Gulucha and Michael Polomachkanuch. They were taken by the Polish soldiers in 1939 from Rodatyczi, were beaten so severely that by the time they got to Komancza, the boys were dead. Later the soldiers assembled the villagers from Rodatyczi and demanded to know who's sons they were. Fearing deadly consequences, no one would confess -- even though everyone knew who they were.

---
Radoszyce [Polish] Radoshyci [Ru] Rodatyczi / Horodiatyczi Sanok District, present day SE Poland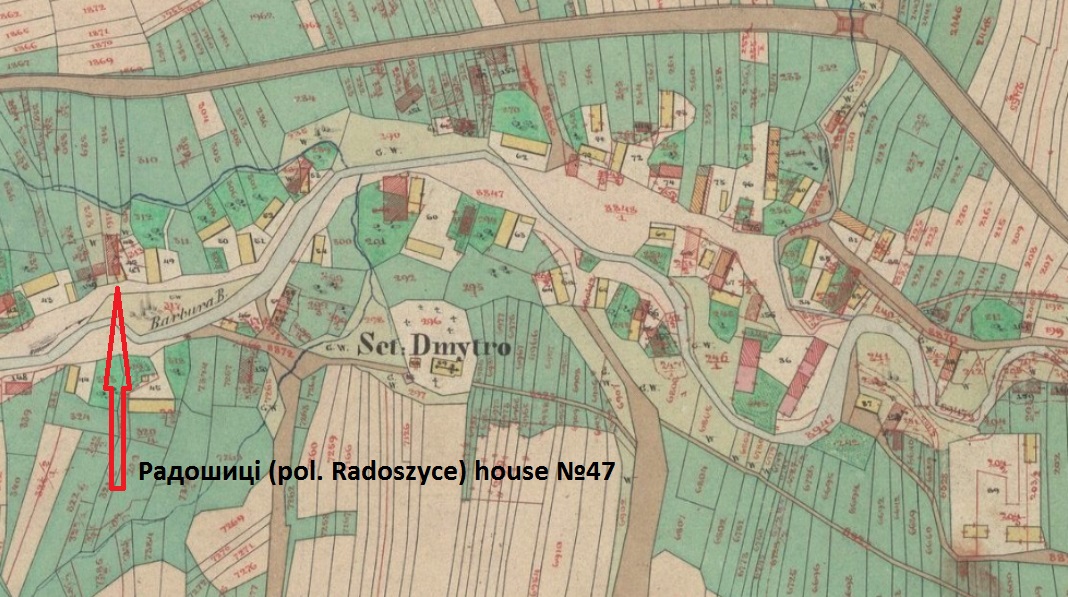 Click to enlarge map
Lemko Surnames cited by Krasovs'kyj from 1787 Austrian Cadastral Records ...item 41. Maykowicz / Majkovych
Radoshytsi / Radoszyce, LDS Film 0766045 &076604, was a village about 10 miles south of Repid'. There are no 'original inhabitants' in the village either - all gone . . . Here is a brief summary from his extensive research of 1944 - 46, from the book 'Dolya Lemkivsczyny' (The Fate of Lemkivshchyna) by Ivan Olenych, Toronto, 1993. Ivan is a dear man who couldn't stand the injustice of having his people & villages wiped out without a trace. Translation assistance provided by Oleh Iwanusiw. There were 186 'numbered homes' in the village
Number of villagers: 985 including ~20 gypsies (Romas ?) and ~30 Jews. Of those 985:
• 717...were sent to USSR
• 80.....were 'transplanted' during Akcja Wisla (Operation Vistula)
• 71.....emigrated to USA/Canda
• 13.....drafted and died in the USSR army
• 10 ....died as fighters of the Ukrainian Insugent Army
• 3.......murdered by Polish army
• 1.......executed by Ukrainian Insugent Army for cooperating with Polish army
Of the 186 'numbered homes' in the village: • 63.....were destroyed during WWII
• 4.......burned down by Polish army 1946-7
• 57.....taken apart or otherwise destroyed
• 12.....homes remained, including the church
Surnames: Maykovicz / Majkovyc: • House #28, Hryhorij Majkovyc (Kacura) 9 members to USSR
• House #50, Teodor Majkovyc (Kacura) 10 members to USSR
• House #63 Marija Majkivyc (Majkovuc) 4 members to USSR
• House #101 Andrij Majkovyc (Myvcashky) 8 members to USSR & Siberia
• House #134 Andrij Majkovyc (Myvcacky) 4 members to USSR
Out of Majkovyczes - 2 died as fighters of Ukrainian Insugent Army and 2 died in the USSR army. The following review of the book 'Dolya Lemkivsczyny' (The Fate of Lemkivshchyna) by Laurence Krupnak:
"Ivan provides a detailed history of his home village, Radoshytsi, from the start of this century until its depopulation during Operation Vistula. This small paperback book impressed us with both the author's observations of pre-WW II village life and the attention to detail in his list of village family surnames, first names, house numbers and the village house names (because our Rusyn / Ukrainian ancestors in the Carpathians had a custom of almost always giving their family home a distinctive name that sometimes referred back to a former ancestor's name. This house name was rarely the same as the family's legal surname. History has all but lost these house names, but our parents and grandparents coming from the old country would often refer to their neighbors and relatives more so by these house names than by their legal family surnames.
"Here is a list of 186 family surnames (transliterated from cyrillic) of the Ukrainian / Lemko village Radoshytsi (Radoszyce):
Nohay, Krups'kyj, Borshch, Lytvyn, Parashchak, Lapihuska, Blyshchak, Sharak, Lannyk, Kuntsiv, Lentsio, Rudyk, Kutsynda, Patrosh, Shveda, Huch, Shapochka, Maykovych, Makhyj, Ostafiv, Myrha (Mirha) Mirga, Zabieha, Luchka, Liakh, Jarosh, Skryp, Lyn'ko, Dryhan, Doroshchak, Pashko, Kokholyk, Kazio, Tsyliokh, Spyrdz, Jurashka, Shpak, Shkola, Olenych, Monts, Fytsak, Tutkanych, Makara, Barniak, Ternavskyj, Liakhovskyj, Father Makar, Tkhoryk, Kokhyna, Rizun, Buryk, Savka, Shchavynskyj, Halushchak, Holyk, Platko, Uram, Kamarets, Komanetskyj, Fytsynka, Pyshniak, Hulych, Prystash, Yatsykanych, Kahan (Kohan), Rizbar, Matsko, Josafat, Kozak, Kadelyak (Kadylak), Polomatskanych, Harhay, Hiha, Hryvka, Duhanych, Medvid', Zakshevskyj, Zhuk, Kukhta,....
"Gypsy families: Tsyhan, Pakhnievych, Ambrokh, Fynio,
"Jewish families: Surmay, Makhtul, Marymka, Pin'ko, Diklia, Hynets, Dupak"
---
Misc. Majkowych:
• Feb 24 1853 to a Majkowych with Kadylak.
• Feb 5 1862 Anna Spylka was born to Basilius Spylka and Aquilna. Aquilna was the daughter of Maria Maykowych somehow related to Dumarat and Karlicka.
• Theodosia Majkowicz born in Czystohorb 18 march 1844 Died 12 April 1844 @ 3 weeks old. She was a twin to Alexis Majkowicz - he lived to one year.
• Theodosia Maykowicz born 29 May 1843, Died 17 Apr 1856 age 12 in Czystohorb.
• Theodosia Maykowicz born in Komancza 3 June 1838, Died 26 Jan 1854 @ age 15.

---
Repid
One Majkovych branch resided in Repid', near Komancha (south of Sanok). They had two sons: Rev. Majkowych, who died a few years ago and is buried in the family plot in Repid'; the other Majkovicz still lives somewhere in Peremyshl.
---
I've done an exhaustive study of the Maykowicz line.
There are 64 charts in my research. See below:
Czystohorb from LDS film #766018
29 charts for Maykowice in Czystohorb in PDF format
[96 Kb]
In Czystohorb, the Maykowicz married: Baran / Baranowa, Baranova, Belticowa, Berida, Bilusczuk /Biluszczak/ Biluzczak /Biluszak, Blaska / Blaskowa, Bojulka / Pojulka, Boranicz, Bryzynsiak, Cenayka, Chanus, Chomka, Chrupes / Chripas/ Chresacz / Chrusziz, Czachalyk / Chocholyk, Czopik, Dadio /Dadiowa, Demcyk, Domarad, Dovoczak / Dovoczkova, Dysak, Dzubicka, Ferenkowa / Feraczkowa, Feszanicz, Fubrinska, Fyrl or Furl, Galia, Garbinska, Griga, Gulicz, Gurbin, Guzak, Guzi / Guzova / Guzukova, Harhay, Hnabous, Hnatko / Hnatyczowa, Hnatyczova, Hoczyk, Homba, Hopkowa / Hoplyoha, Horbal, Horoszka / Horoszkowa, Horval, Hryniow, Hrywniak, Jaciow, Kadylak / Kadylakova, Kapustianik, Kaszsysyna, Kawalkiowicz, Kawulk, Kimczyk / Nimczyk, Kizda / Kica / Kida, / Kidowa, Kobusa, Kocybaty, Kolarczyk, Kowalkiewicz, Kulinicz, Kuniow, Kusznis, Laczyszyn, Laskova / Luskowa / Luszka / Luszko, Luczkova, Lataniszyn, Lupkow, Mackow / Mackowa / Macowona, Mankowicz, Marlay, Matoka, Medwid, Miciow / Myciow, Olenicz, Oprysczak / Oprisczak, Palynski, Polanski Pankawicz, Patrop / Patrosz, Paulyszyn, Pawczerowa / Pawlycha, Pelesczak, Perun, Petrczak, Pinczak, Polnczak, Polowska, Polunia, Prystasz / Przystacz / Prystaczova / Prytyskacz, Rudanska, Satanci, Savoczka / Sawoczka, Sczebczkowa, Seketowa, Semuta, Stanczuki, Stralylat, Suczko / Suszko, Szuskowa, Supko, Szary, Szczwinska, Szpak, Terek, Titkaniczka / Titkaniczkowa, Torhan, Turczanowiczova, Ulczak, Urdianyk, Wakeriak, Wasylysyn, Werlyts
---
Javirnik LDS film #766018
2 charts for Maykowice in Javirnik in PDF format [20 Kb]
In Javirnik/ Jawornik, the Maykowicz married:
Baranowa, Kadylak, Karliki, Kolowa, Kownowa, Oprysczak, Peleszczak, Szazy
---
Komancza LDS film #766018
22 charts for Maykowice in Komancza in PDF format [60 Kb]
In Komancza, the Maykowicz married:
Beleza, Berida, Blaskowa, Bojoka, Bojolka / Bojulka, Burynska / Borancz / Boryniska, Chomka / Homba, Dadio, Dadosyszyna, Demczyk, Dysak / Dysiak, Dzubicka, Ferencova / Ferenca / Fubrinska, Furyl, Garbinska, Guzi, Hoczyk, Horbol, Horoszka, Hrczcow, Hryczko, Kadulak, Kapustanik / Kapustianka, Kara, Kizda, Kobusa (of Dolzyca), Kopylec, Kuniow, Laskowa, Lenczyszyn, Luczkova, Lupkow, Mackow, Macowona / Mackowa, Matoka, Medwid, Miciow, Pankawicz, Patrop, Paulysyn / Pawlycha, Petrczak / Polyczak, Pingrin, Polenczak, Polunia / Poluma, Polumarkanyczova Polyczak, Satanci, Supko, Suszkowa, Tkaczyk, Ulczak
---
Rodaszyce LDS Film 0766045
9 charts for Maykowice in Rodaszyce in PDF format
[44 Kb]
In Radoszyce, the Maykowicz married:
Baczan, Baran, Bilik, Boiczyk, Cuczyk, Dankow, Demianyka, Fuer, Gryczkowa, Horbal, Hrywka, Juraszka, Kadalak / Kadylak, Karlicka, Kozowa, Krasczyskyny, Kucynda, Kudyk, Kulikowski, Kumarcova, Lach, Lazio, Luczyka, Makara Memczak, Murga / Mirga / Mirha, Mywkowa, Panko, Pasciouk, Petryczak, Sak / Szach / Siczi, Sliwka, Spilka, Spyrdzswicz, Szapoczka / Sapoczka
Bishop Majkowicz is buried in the cemetary in Repid.  He was very well respected and loved.   Orysia Sopinka mssopink@hotmail.com
• My Mikovics are from Zakarpattia, near Uzhhorod. Maureen Pulignano
• Theodosia Maykowich of Szczawne, Galicia married to Gregorius Yasin. My uncle was baptized in St. Joseph's Greek Catholic Church in Komancza, Diocese in 1894 Przemysl. E-mail to: A.M.Wallace
• Antoni Makowiechi of Stawiski, Poland e-mail to: sharken880@aol.com
• Michael Mrakovich of Austria, died in Chicago in 1920; inquiries e-mail to: Shirley Calabrese
Hello Olga,
I have been trying to find information about my grandparents. My aunts and uncles do not know what areas or towns in Poland my grandparents were born in. Here is what I know: my grandparents John and Antonia Majkowicz arrived in the USA in 1910 +/- from Poland and settled in Passaic N.J. There were eight children (Joseph, Frank, Mary, John, Nellie, Helen, Andrew, and Emil.) My father is John. Sincerely, Lester Majkowicz
Dear Ms. Kaczmar,
I just found your site. Wow, what a discovery. Thank you for all your work and for sharing it so freely. Both of my maternal grandparents came from Czystohorb or nearby in early 20th century. My grandmother, born1875-6, maiden name Maria Gulich / Gulycz and her mother's name was Markowitz / Mankowitz or some variation. Possibly her mother's first name was Anna. Her father's first name may have been Fred. My grandfather was probably born between 1865 and 1880 (we have conflicting data) and his name was Michael Rusyn. His father's name may have been Paul/Pavel and his mother may have been Maria. We know he had a brother, name unknown, who did not emigrate, but who had a daughter, Maria Rusyn, who did emigrate (I knew her when I was a child, and I still know her descendents. Any of these folks sound like your relatives? Norman Zukowsky
---
Hi Olga - I noticed that an Anastasia Maykowicz married a Nicalaus Prytyskacz in 1866 in Czystohorb. My grandfather, Wasyl Prytyskacz was born in Turzansk. I believe that the Prytyskacz family has been in Turzansk for over two hundred years. But I've found out that the family has been in Czystohorb (also Preluki and Komancza) for many decades. If anyone has info on the Prytyskacz family, please e-mail me. Thanks, Jean Prytyskacz
---
12/30/04 Olga,
I just came upon your search of the Mycovitch family... as I know the Mycovitch spelling from the family I knew in Binghamton, NY. My grandfather came from Wislok. Vasil Urdianyk.. the same surname you have in one of your trees..Joannas Maykowicz married Parascevia Urdianyk in 1865. Her parents were Theodori Urdianyk and Anna Feckow House 4. I have been searching our name for over 25 years... just until recently was I aware our spelling is wrong. URDANICK that our spelling now.. I have a devil of a time getting to this point.. Now, with your new information it makes me want to get even deeper into our family. Especially from Theodori and Anna. Where did they live and what others in the family am I missing? I wonder if Parasevia was my grandfather's sister. He was born in 1864 and came to the US in 1894 at the age of 27. None of the 16 members of the family are no longer living. He married Anna Kusemka / Kuzemka from Wislok also. You have a great site. Bill Urdanick
---
•July 4,2009 Hi Olga, 
I just found your page on the Majkovyc's and found it absolutely fascinating!
My name is Stephan Jusypiw,  and I am currently in Poland on holiday (I live in Australia).  I am visiting the village of my mother's birth, Radoszyce. 
While browsing the net looking for information about the old wooden church in Radoszyce, I came across your web site about the Majkovyc's. My mother is called Anna Majkovyc's born in Radoszyce in either 1923 or 1921.  Her father was called Hretz (I assume it is short for Hryhorij).  My mother's mother was called Eva Matsko.  Hretz and Eva had 8 children (I think).  (a girl, can't recall her name),Maria, Tekla, Anna (my mother), Ivan, Stephan, Demtro,  Mickola. My mother was transported to Germany in the early 40's, eventually being liberated by the American, migrated to England.  We then moved to Australia in the 1960's.  Mum's parents moved to Ukraine (Ternopil) with some the family during this time.  The only living child of Hretz and Eva, apart from my mother, is Tekla, who lives near Wrotslaw, Poland.
If you know any more information I would greatly appreciate it. 
Stephan Jusypiw stephanj@internode.on.net
---
10/8/10
Hi Olya,
What an amazing web-site you have created. My name is Orysia Sopinka, married to a Chwaluk but my mother's maiden name is Wakeriak. I have been to Czystohorb, Komancha, Jawirnyk and the Sanok region two times now.
On your website,I read your great grandfather's name was Wachaliwskyj and you thought he may have been the mayor and founder of the village. Well, my grandfather and the whole Wakeriak family are from Jawirnyk. They had their homestead in Wachaliwka, the part of Jawirnyk that is the closest to Czystohorb and also the flattetest and most arable land. Your grandfather may have worked with mine because he was a radnyk and so was his brother Ivan in Jawirnyk.
I met Pani Chalupa who is a descendant of the Chalupas that your grandfather knew. She told me a lot about life in Jawirnyk and was good friends with my family. Dido Teodor Wakeriak moved from Wachalivka, most likely named after your dido, to Czystohorb, when he married Maria Feshanycz. The Feshanyczs had 16 acres of land and so did the Wakeriaks right across the river from each other.