New Hope in Ukraine
The Russian controlled government of Kuchma had left Ukraine in financial ruins and it's citizens fled the country by the millions.
The Orange Revolution in 2004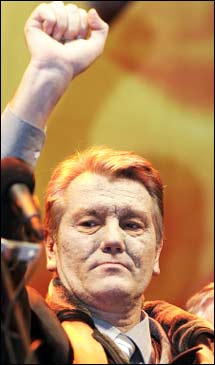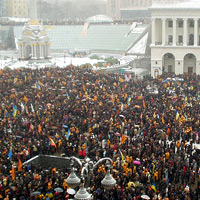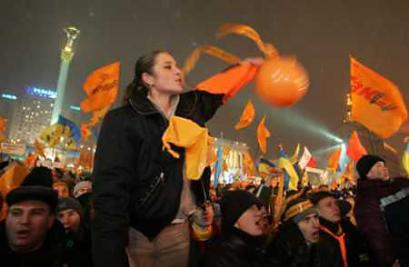 Ukrainians took to the streets after pro-Russian government in power tried to rig the elections to continue the regime with Viktor Yanukovych.
"U.S. businessman George Soros has said that Russian President Vladimir Putin had advised his then Ukrainian counterpart Leonid Kuchma to use arms against protestors during the country's fraudulent presidential elections in 2004,...Fortunately, Kuchma did not take his advice, Soros was quoted by Interfax as saying at a news conference in Kiev on Friday"(June 3, 2005; http://www.newsmax.com).
After the court threw out the results of that election and ordered a new election in December, Viktor Yushchenko narrowly won against Russian President Putin-backed Viktor Yanukovych (a twice-convicted candidate). Yushchenko, 51, was sworn in as president of Ukraine Jan. 23. Yushchenko was an accountant appointed in 1993 to head the country's central bank. His performance there led to his appointment as premier in 1999. When President Leonid Kuchma dismissed him after two years, he joined the opposition where his popularity grew. He became a hero in the Orange Revolution, along with Yulia tymoshenko as Prime Minister.
2005 Yushchenko poisoned with dioxin During the campaign, Yushchenko was poisoned with dioxin, disfiguring his once handsome face with cloracne and causing him so much discomfort he needed injections for pain directly into his spine on the campaign trail. He attributes the poisoning to a dinner he had at the home of the No. 2 official of Ukraine's secret service. Yushchenko complained to him at the dinner about government agents trailing him and his campaigners. Yushchenko promised a thorough investigation of corruption and misdeeds that allegedly flourished during his predecessor's 10 years as president. (By Abdon M. Pallasch, Staff Reporter Chicago Sun-Times, Chicago, Illinois, April 5, 2005)
2005 President Yushchenko meets President Bush President Bush has pledged $60m to the Ukraine - not a vast sum of money, but a sign at least of its continuing commitment. The United States is supporting Ukraine's membership of the World Trade Organisation and Nato - though President Bush warned that membership of the North Atlantic organisation was 'not a given'.
But the US does expect the new Ukraine government to clamp down on illegal arms exports in return. The White House says that Mr. Yushchenko's ministers are acting in a responsible manner to investigate the sale of strategic cruise missiles to Iran and China during the rule of the ousted leader, President Leonid Kuchma. (By Jonathan Beale, BBC State Department correspondent Washington, D.C., BBC NEWS, UK, Tuesday, April 5, 2005)
During his 2005 U.S. visit, Yushchenko was honored with the John F. Kennedy Profile in Courage Award, presented annually to public servants who have made courageous decisions of conscience without regard for the consequences.(Wednesday, April 6, 2005 http://www.cnn.com)
On September 8, 2005, Yushchenko fired his government, led by Yulia Tymoshenko, after resignations and claims of corruption. In August 2006, Yushchenko appointed his one-time opponent, Viktor Yanukovych, to be the new Prime Minister (some considered this a betrayal to the Orange Revolution). On November 10, 2009, Viktor Yushchenko was nominated for a second term as President, with the election to be held on January 17, 2010. During the campaign Yushchenko stated his fellow candidates Tymoshenko and Yanukovych are NOT ones who cared about the fate of Ukraine. He was instrumental in pressing treason charges against Tymoshenko which led to her imprisonment on
Yushchenko professed a free Ukraine is a European democratic country; praised the actions of UPA (Ukrainian Insurgent Army) and awarded posthumously a state medal to the nationalist leader Stepan Bandera; brought Holodomor famine of 1932–1933 and Ukrainian history to the forefront; worked for fairness and prosperity in Ukraine; worked toward increased sales of Ukrainian products throughout Europe and eradicating corruption in government; and wanted withdrawal of the Russian fleet from the Black Sea by 2017.
Disaspora Ukrainians all over the world mourned that the union between Yushchenko and Tymoshenko did not escalate Ukraine to a position of power and defence. It has led to widespread voter disenchantment and disillusionment in Ukrainian politicians, especially among former Orange voters. They nolonger believed he could bring stability to Ukraine and his popularity plummeted which led to an easy victory by Victor Yanukovych.
In 2010 Pro-Russian President is elected president, then ousted in 2014 when he tried to establish closer ties to Russia.
In February 2014 began the Ukrainian revolution, called The Maiden in Kiev, Ukraine. Ukrainian President Viktor Yanukovych was exiled and he put into writing his request in March 2014 that Putin initiate Russia's military forces "to establish legitimacy, peace, law and order, stability and defending the people of Ukraine". 2013 Inspired by the success of the Orange Revolution, the young people formed the EuroMaiden Revolution which spread all over other cities in Ukraine.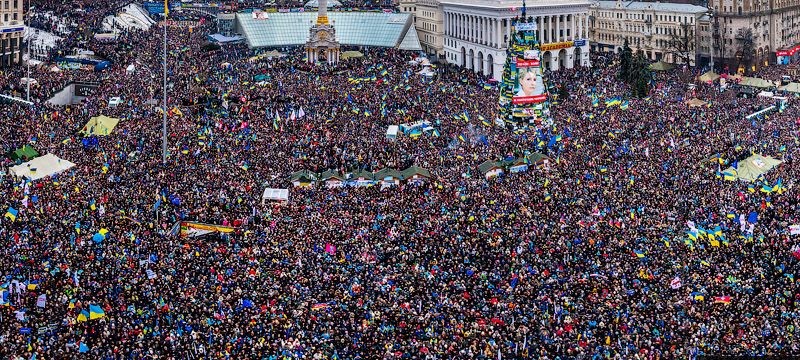 Photo compliments of http://www.airpano.com
Opponents try to discredit them as neo-nazis, paid protestors, etc, etc. This is just a continuation of the same fight for freedom.
2014 - Putin wants Ukraine back
It is the first leg in rebuilding USSR, Russian President Putin took the valuable seaports of Crimea (called New Russia in 1783.) Russian troops mobilized first throughout Crimea and then in the southeast of Ukraine. By March, Russian troops had complete control over Crimea and the Eastern Providences of Ukraine. Russia rolled in with 'humanitarian relief' trucks propping up the separtist governments which called for release from Ukrainian control. In the Donbass region of the Eastern Ukraine, pro-Russian protests escalated into war, an armed separatist insurgency. Early in April 2014, masked gunmen took control of several of the region's government buildings and towns. On 22 May, militants proclaimed Donetsk People's Republic and Lugansk People's Republic to no longer be part of Ukraine and did not vote for the presidential election.
2014 - US President Obama, after de-escalating much of the US military, didn't protect Ukraine according to the promises of the START I treaty in May, 1992 when Ukraine agreed to become a non-nuclear state. Presidential elections were held on 25 May 2014; Petro Poroshenko being elected President of Ukraine. Although congratulating Poroshenko on his election, Obama denied him the military and monetary aid Ukraine requested to keep Ukrainian border intact as per the Start treaty.
March 2014 - The election referendum was rigged. The elections to secede from Ukraine was not held throughout Ukraine, only in Sevastopol were the majority were Russian military. During the 2014 Crimean crisis, Ukraine lost control over Crimea, which was unilaterally annexed by Russia. There was only one check box to agree and none to oppose. 123% of the registerd voters showed stuffing the ballot box when opponents of the Russian invasion stayed home. Most Muslim Tatar had already been relocated to Siberia and elsewhere, whereas the minority which weren't ousted from Crimea, wanted to stay as far from Moscow as possible.
---