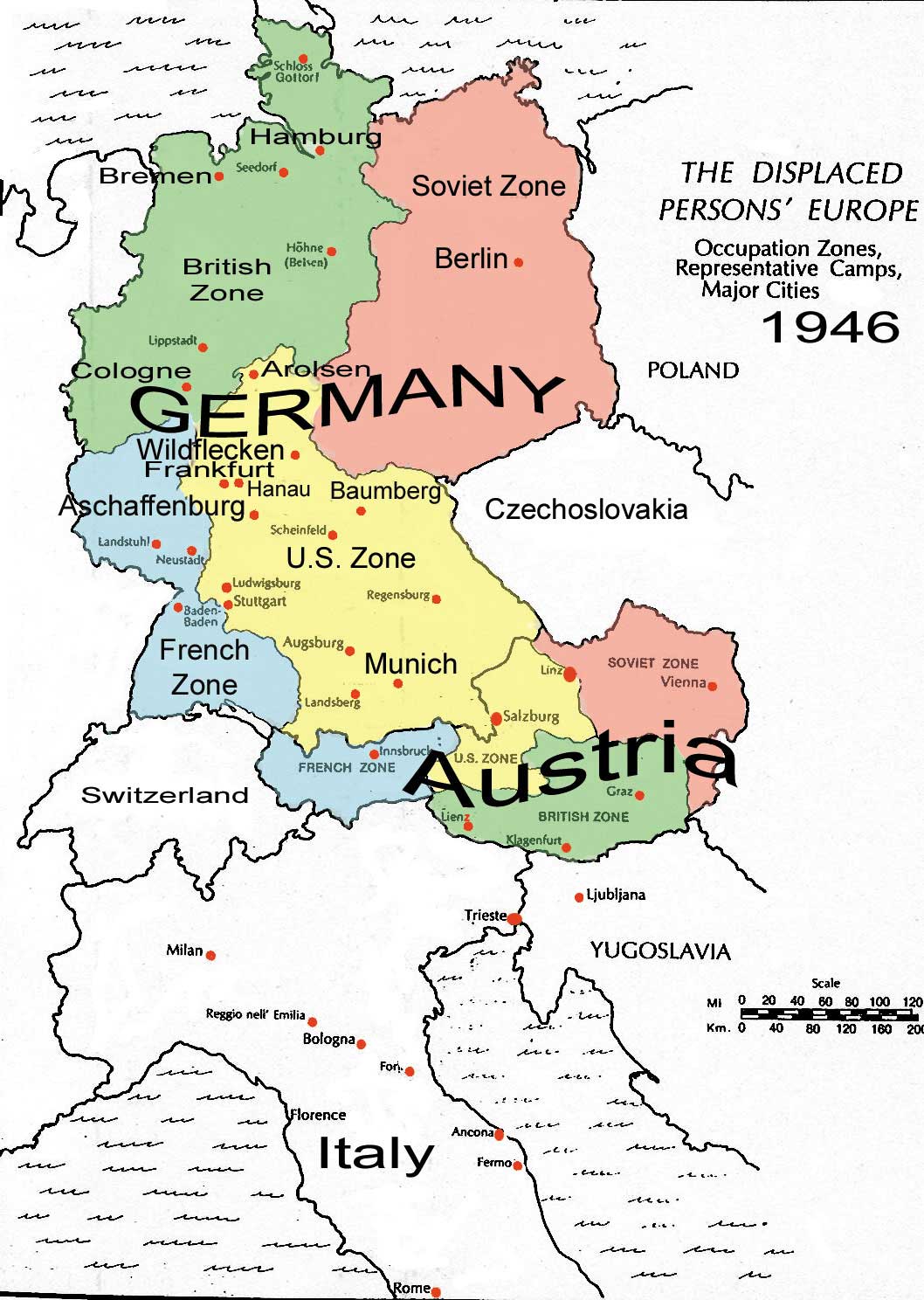 Zone map from: DPs Europe's Displaced Persons, 1945-1951 by Mark Wyman
I enclose a Ukrainian DP map I found.
Our list of camps is over 200 pages and is still growing. If you don't find info the web page pertaining your own camp, start your own research page and link it here. We'll have a link to each camp as people become aware of this project. Make DP camp recognition your project.
United Nations Relief & Rehabilition Administration Teams (UNRRA Teams 1945) http://www.crommelin.org Web site by Miff Crommelin Bookmark this new site.
---
Feb 17, 2015
Here is my current list of Germany UNRRA DP camps (pdf goes to your desktop) I have made so far. My point of view is from the UNRRA teams.
I still have to add periods (from/till), amount of DP's, type of DP-camp (nationality, etc) and the names of the (sub) camps. One place could hold several DP camps.
Be aware that the names I used are the locally used ones. Some are now parts of larger cities. The area indicators are based on the map from Miff Crommelin. Missing info on UNRRA in Austria I do hope to add soon, when I have had more documents to study.
I enclose a Ukrainian DP map I found.
Click to enlarge
.
Greetings,
Rob Kuenen robkuenen@hotmail.com
Click on other maps:
map compiled by Ihor Stebelsky
Germany:1990 Borders Genealogy.net regional research
This map shows the: German Länder or States
German cities map (shows a lot of the camps)
http://www.maps-of-germany.co.uk
---
---
Quote from Church World Service brochure, DP's are People (1948):
"Since V-E Day, more than 11,000,000 former slave laborers, prisoners of war and concentration camp inmates have been sent home. Some 850,000 still in camps, can never go home.
"These 850,000 are today's DP - the hard core of irrepatriables. They are Poles, Latvians, Lithuanians, Esthonians, Yugoslavs, Greeks, Ukrainians, Czechoslovaks. Brought into Germany as slave laborers and concentration camp inmates, they cannot return to their Soviet-dominated lands because of fear of political and religious persecution.
"This is the third year since "liberation" that 850,000 DPs continue to live in DP camps. The United States has promised that none of them would be forced to go back to Soviet-dominated countries to face enslavement or death. They must stay in the camps because their homes and homelands have been destroyed or closed to them.
"Over 150,000 children, at least half of them under the age of six, live in these camps. Fifty per cent of all DPs are women and children.
"All religions and denominations are represented among the DPs. Four out of five are Christian.
Hitler and Stalin tried to erase Ukrainian, Polish and Baltic populations. Through the guiding hand of God, we are now in 43 countries and growing. (M. Wyman says DPs of all nationalities were spread over 113 countries, p. 202.) Some people cruelly wrote that the displaced people were lazy and wanted to live on the charity of others. When you read the following excerps, you will see how families were torn apart, millions of lives were destroyed, people didn't know where they should go or how they would ever survive.
Definition of a displaced person
As used in a Congressional Bill, the term, Displaced Person means "a person in Germany, Austria, or Italy at the time of the passage of this Act who (1) is out of his country of former residence as a result of events subsequent to the outbreak of World War II; and (2) is unable or unwilling to return to the country to his nationality or former residence because of persecution or his fear of persecution on account of race, religion, or political opinions."
The DP branding was carried forward with immigrants to other countries and later was used as a stigma or slur by those who turned their noses up and looked down on these persons struggling to survive in a strange country and strange language. A study of the immigrants showed that most of the person needed help for only a short time after arriving, soon accustomed themselves to American life and became independent. Many church groups sponsored such families.
One DP writes: "The life with some 10-15 persons in the same room is hard, and the noon-meal from the camp kitchen is sometimes scarce. Anyhow we don't beg you for more and more dollars to keep us here. An extra bar of chocolate per month will not make sweeter our bitter position. We ask to be human; we ask you to give us normal life and normal work. We are not beggars; even in our camps most of us are working hard. Don't be afraid to open us the doors to your countries, and a day may come when we help you to keep these doors closed to an evil, threatening your peace and happiness."
Good morning
Hello. First of all I want to thank you for all the amazing work you put in your web site. I started looking for information about my husband's mother's side of the family (she died almost 2 years ago and we realized that there were huge gap in her history which we knew nothing about). So I started hunting for information and then I "stumbled" onto your site and I found so many helpful things (addresses, how to get information....) So thank you again. I have included a picture taken..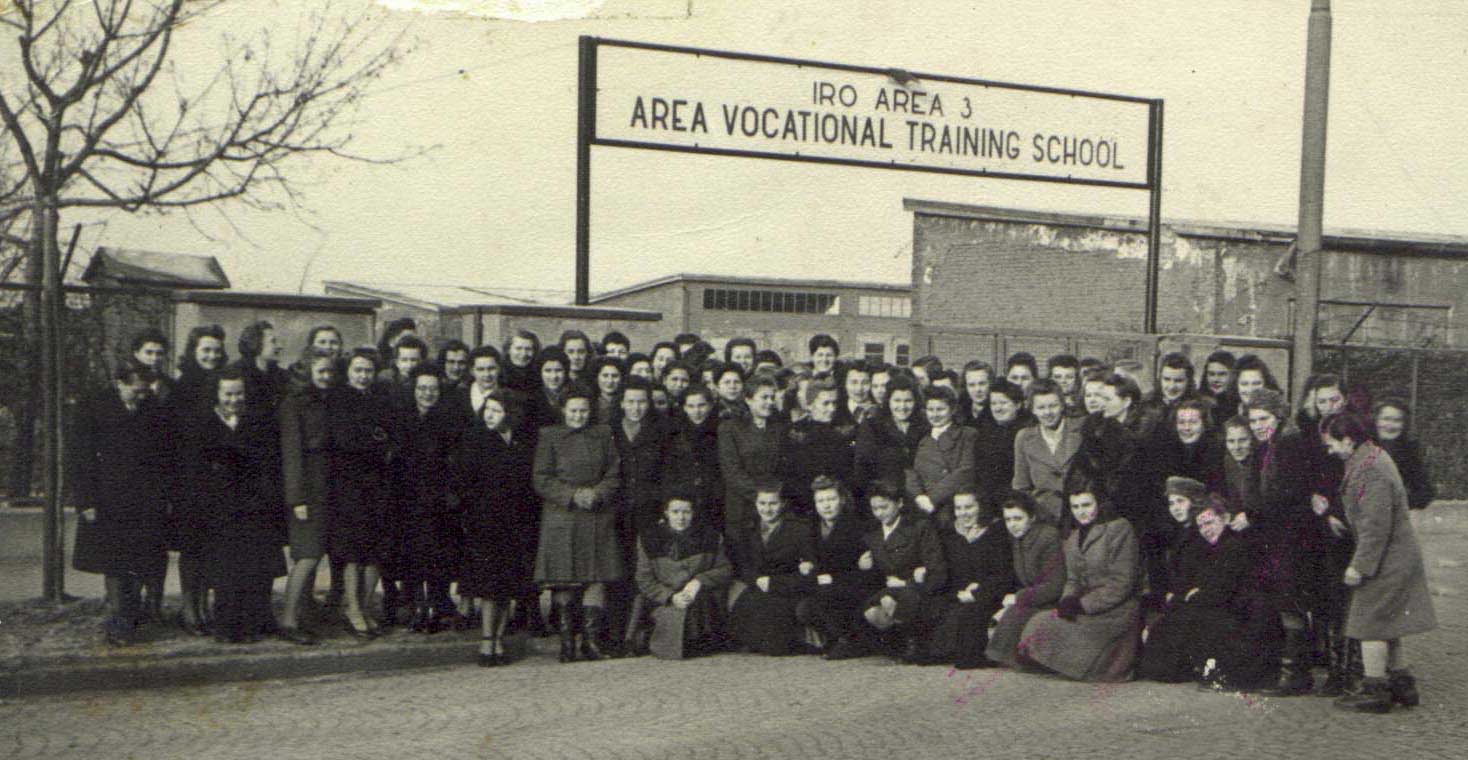 IRO Area 3; Area Vocational Training School
of my husband's grand-mother sometimes during the 1945-1951 (in Germany) and we thought that you, or someone who browses your site, might be able to let us know where it was taken. My mother-in -law left an album full of all kind of pictures of people (it use to belong to her mother but by the time she was interested to know who was who, her own mother had Alzheimer disease and was of no help. Hopefully someone will be able to recognize the place (and maybe themselves!!!)
Thank you again and have a great day. Josée Pronovost-Panyszak
---
RE: Box found with D.P. Camp, Germany made by Valar.
Hello there, I am a person who buys and sells antiques. I came across a wooden box and I feel such a responsibility to find out who and why they made this box. On the bottom of the box is Original Valar* made in D.P. Camp, Germany. Can you help me because I am sure money was not the issue when this beautiful item was in fact made. My husband is 86 and is German. Ed and Linda Buchmann
---