Wolfenbüttel / Wolfenbuettel (British zone) -Wolfenbüttel is a town in Lower Saxony, Germany, the administrative capital of Wolfenbüttel District.
During World War II, the city prison became a major execution site of prisoners of the Gestapo. Most of those executed were members of various Resistance groups.[5] One such victim was a Dom Lambert, a monk of Ligugé Abbey in France, who was beheaded there on 3 December 1943.[6] https://en.wikipedia.org
Outside of Old Town, there's one massive building that's a tourist hotspot in its own right: Jägermeister headquarters
http://digifindingaids.cjh.org/?pID=2142304
http://www.archiv.org.lv
Wolfenbüttel is a district in southeastern Lower Saxony, Germany. Neighboring districts are (clockwise from the north) the district-free City of Braunschweig, the district of Helmstedt, the district of Harz in Saxony-Anhalt, and the districts of Goslar, Hildesheim and Peine. The district-free city of Salzgitter cuts through the district of Wolfenbüttel in the southwest. https://en.wikipedia.org
During World War II the town was the site of a concentation camp which was liberated by the 36th Tank Batallion of the 8th Armored Division.
City archives:
Stadtarchiv Wolfratshausen
Loisach-Ufer 1s
82515 Wolfratshausen
Tel: (08171) 76650
Fax: (08171) 76650
Wolfsburg, #2517, Land Niedersachsen (British zone)
Nueuengamme: The inmates were forced to work under grueling conditions in various locations across northern Germany; often transported between subcamps and specific job sites. Due to subsequent demolition of the Neuengamme camp system by the SS in 1945 including its records, the historical work is difficult and still incomplete.[4] For example, in 1967, the German Federal Ministry of Justice suggested that the camp operated from 1 September 1938 until 5 May 1945 and became part of the Sachsenhausen in June 1940.[5] The Neuengamme Memorial organization (German: KZ-Gedenkstätte Neuengamme), an establishment of the Hamburg Ministry of Culture, Sports and Media, stated in 2008 that the empty camp was explored by British forces on 2 May 1945 and the last inmates were liberated in Flensburg on 10 May 1945.[6] According to the United States Holocaust Memorial Museum, the camp was established on 13 December 1938 and liberated on 4 May 1945.[2] Throughout World War II, millions of prisoners died in Nazi labour camps through mistreatment, disease, starvation and overwork, or were executed as unfit for labour. At Neuengamme, 1,700 people died each month in winter of 1944-1945, more than 50,000 in total.[2]
https://en.wikipedia.org
http://www.wolfsburg.de
City offices: Stadtverwaltung Wolfsburg
Rathaus A
Porschestrasse 49
38440 Wolfsburg
Tel: 05361/ 28-0
Email: stadt@stadt.wolfsburg.de
buergerwuensche@stadt.wolfsburg.de

Wolfstein/Pfalz http://wolfstein.de/kontakt/
City archives: Stadtarchiv Rathaus,
Hauptstr. 2
67752 Wolfstein/Pfalz
Tel. 49-6304-214

Wolterdingen,
DPAC #251, Land Niedersachsen (British zone); for city archives at Soltau see page S under Soltau.
Wolterdingen near Soltau now forms part of the town Soltau. From August 1945 to March 1946 a Polish camp existed in Wolterdingen with the DPAC number 251 which was administered by the UNRRA Team 85. From April 1046 to April 1947 the camp was administered by the UNRRA Team 259, in May and June 1947 by the UNRRA Area Team 904 or 501. From July 1947 to June 1950 it was a Baltic camp with the DPACS numbers 51/251 or simply 51 and under the administration of the IRO Area Team 501. Submitted by: Wolfgang Strobel, author of Post der befreiten Zwangsarbeiter - Displaced Persons Mail Paid in Deutschland 1945 - 1949.
Wulfen
(British zone) http://www.yadvashem.org
Wulzburg Wülzburg - Wülzburg is a historical fortress of the Renaissance-Age in Germany. It is about 2 kilometres (1.2 mi) east of the center of Weissenburg in Bayern.
City archives: Stadtarchiv Weissenburg in Bayern
Marktplatz 19
91781 Weissenburg in Bayern
Tel.: (09141) 907-221
Fax: (09141) 907-227
Email: Stadt@Weissenburg.de
Web: http://www.weissenburg.de
During World War I, Charles DeGaulle was imprisoned at the Wülzburg. The Nazis also used it as a prison camp during World War II; it was here that the Czech composer Erwin Schulhoff was held for over a year before he died of TB.[1] After the war it was a refugee camp. [https://en.wikipedia.org/wiki/Wülzburg]
Oct 3, 2018 6
We found this picture of my Mother-N-Law drawn by some one.
I looked at the signature in lower right corner. [Looks like "Bechkous" Ukrainian ch symbol... or "FS..echkous"]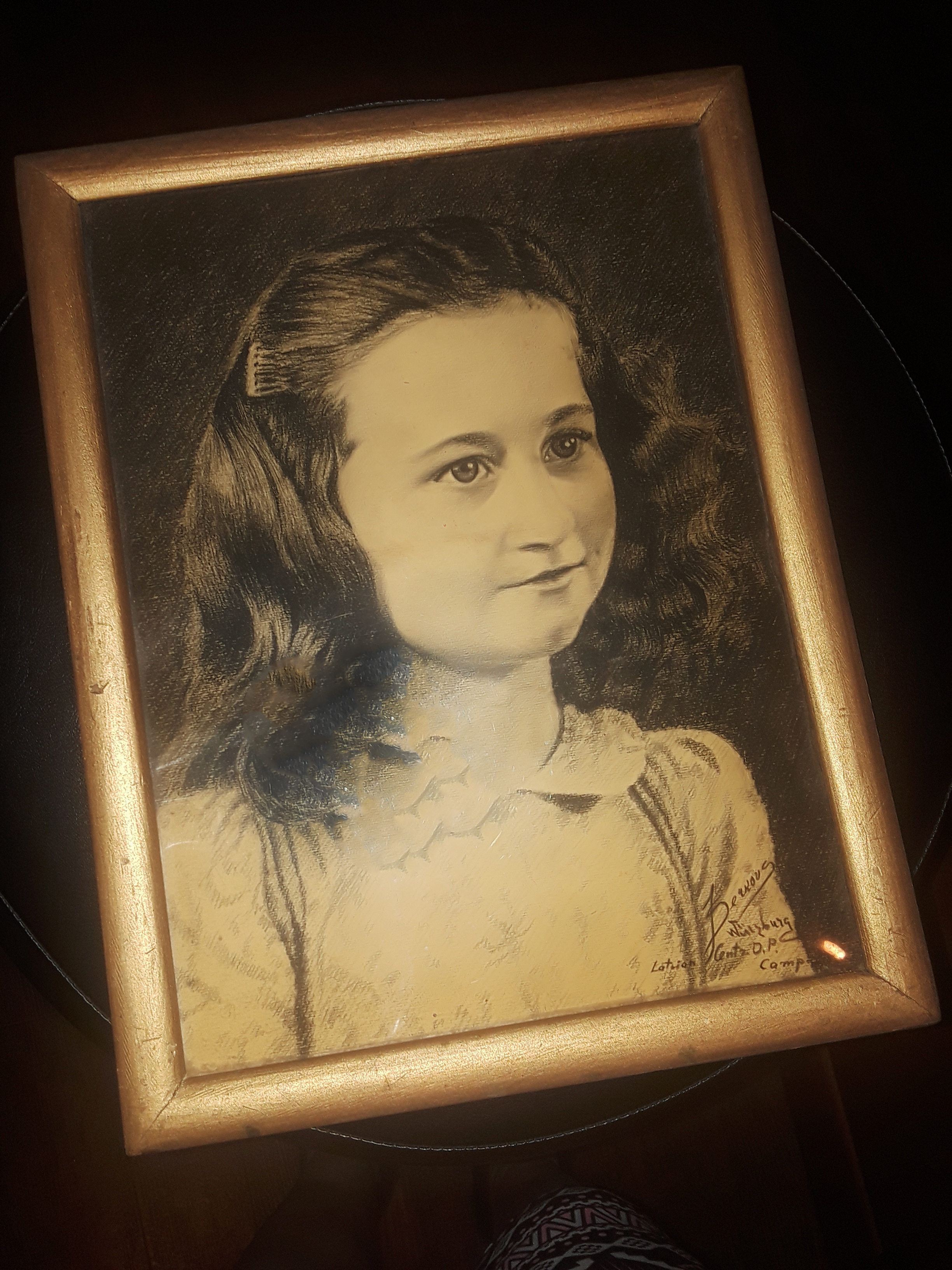 We found out from my husband's Aunt Helma who is from Wuerzburg..her husband my Mother n law's brother had these pictures of his sister's for his mother in Kevil, KY. Before he and Helma got married in 1948..she said a photographer did them the best she could remember. She is 91 and in good health living in Lawton, OK by herself. Ken Lence kwl.tjl1980@gmail.com
Wulwerstedt in Ladkreis Börde in Sachsen-Anhalt.

Mayor's office: Burgermeister, Am Berge 186
39387 Wulferstedt
Telefon: (039401) 436
Web pages in German: http://www.vgem-westlicheboerde.de
For map see: http://de.wikipedia.org
On 9/21/08 Dear Olga,
My name is Antoni Brzezinski. My parents were displaced from Gdynia, Poland; by Germans in 1939. I was born in D.P. camp 2515 Wulwerstedt, Germany in 1943. While in Germany I was moved between various DP Camps, in 1945. I was registered in 249 D.P. Camp "PODLASIE" in Germany (according to info provided by ITS). Can anyone help me find info on Wulwerstedt?
Tony tbpsg@wowway.com

Wunstorf (Lower Saxony, British zone); See also Neustadt am Rübenberge
City archives: Südstr. 1
31515 Wunstorf
Tel.: (05031) 101-326
Fax: (05031) 101-360
Email: Stadt.Wunstorf@t-online.de
Wuppertal, Poles, today
Stadt Wuppertal - Bergische Universität
City archives: Friedrich-Engels-Allee 89-91
42285 Wuppertal
Tel: (0202) 563-4138
Fax: (0202) 8025
Email: STADTARCHIV@Stadt.Wuppertal.de
http://www.uni-wuppertal.de
oder bei den Mitarbeitern des Dezernates für Arbeits- und Umweltschutz der BUGH Wuppertal.
http://www.verwaltung.uni-wuppertal.de
Alternativ Telefon 439-3737.
Gesamthochschule Wuppertal
Gaussstrasse 20
42119 Wuppertal
Würzburg / Wuerzburg, Latvian, Estonian, Ukrainian
Katherine Hulme collection at the Beineke Library, Yale University: Box 43 folder 655 Würzburg & Wildflecken camp 1945-46.
The Spessart Park is situated between Würzburg and Aschaffenburg
Article: "Letter from Weurzburg." New Yorker 24 (6 November 1948) 104-09. Inquire at New Yorker Magazine.
City archives / Stadtarchivs Würzburg
Neubaustrasse 12
97070 Würzburg
Tel: (0931) 373308
Fax: (0931) 373397
Email: info@wuerzburg.de
Web: http://www.wuerzburg.de
http://www.wuerzburg.de
For fulfilling oral or written specialty searches, the fee is 26.00 Euros per half hour of required time. Für die Erteilung mündlicher oder schriftlicher Fachauskünfte beträgt die Gebühr 26,00 Euro je Halbstunde Zeitaufwand.
My book (Das Nationalsoialistische Lagersystem) mentions:
*CC Kdo of Flossenbuerg established April 1943 with 40 prisoners, on Fuechsleinstr. 15, SS-Teilazarett only for 2-3 months in 1945, Type of work: engineering, Part of them worked in the Waldhaus Steinbachstal. The camp was closed on Mar 22,1945.
*Gefaengnis Prison
---
I, with my family, lived at Weurzburg -- April, 1949 -June, 1949, please contact: Silvia Wolff
---
Wurtzburg-Würzburg - Latvian refugee camp.http://www.archiv.org.lv
LVA, 2335. f., 1. apr., 402. l., 17. lp.
---
3/21/05 Dear Olga,
I was looking at your website and found it very interesting. Congratulations on maintaining such an important website!
I wanted to write to you to tell you briefly about my grandfather. He was Major Samuel S. Kale and he was the laison officer between the US Military and the United Nations (UNRRA and IRO) from 1946 - 1949 in Würzburg, Germany. He was in charge of several camps in the Unterfranken region. While he was stationed in Germany, my grandmother and mother and her siblings had to move there and live for three years. I grew up hearing stories of their adventures in post-war Germany and their experiences with the DPs who worked for my grandfather (he refused to hire Germans, he would only hire DPs to work as gardener, housekeeper, chauffeur, etc).
Every Christmas my mother tells me the stories of how he helped to arrange for gifts to be sent from the United States to Germany so that the DP children could have a Christmas. My mother would have to go to the military post office to pick up boxes and boxes and boxes of things my great-grandmother gathered from people here in New Jersey. Then, she had to wrap hundres of little items for the kids. She reminds me of this every time I ask her to wrap something for me!
My Grandfather also would never allow the Soviet officers to visit the camps without MPs escorting them because he did not want them intimidating the DPs into returning to the Soviet Union. In 1990 I wrote a research paper for college about his work with the DPs and eventually that expanded into a book about my family's time in Germany after the war. I would be more than happy to send you a copy of my research paper if you would like to read it. Also, if you think you might be interested in reading the book (although it's more about the American family and less about the DPs). You can read about the book here http://www.iuniverse.com
Best regards, Mark Falzini
---
11/24/2012
I saw a film Wurzburg was a city mass bombed....Alexandris Stipnieks left before the Soviet takeover being told he was on the to be killed list. I wrote about how he died.....you might want to post this link
because it is an ironic footnote..... http://www.ausaboxing.com
Esteban Stipnieks admin@ausaboxing.com

Wurttemberg
Muller, Ulrich. DPs in the American Zone of Wurttemberg between 1945 and 1950. Geschichte in Wissenschaft und Unterricht 40 (1989): 145-61. (GERMAN)
Dear Olga, I have found in a book the complete key of all camps in Wurttemberg; code, place, number of inhabitants and nationalities. (Also explaining the area around Lenningen). C. Maihoefer, / Germany, 2003
1/25/06
Can you give me any information about this camp? I was adopted in 1945 and brought to USA. I found out my birth mother and five siblings lived in this camp until 1953. I am desperately trying to find them. My birth mother: Hildegard Gust; my sisters: Ingrid Gust, Gabriele Gust, Christa Gust , Angelika Gust and my brother: Martin Gust.
Sincerely, Joe DeRaad,/ (Lutz Gust) email: deraad@adelphia.net
Wurzach in Baden-Wurttemberg, (French zone), see Bad Wurzach
Bad Wurzach (Kreis Ravensburg)
Region DP French
DistriktSüd
Name/ Funktion/ Gebäude Adresse des Camps
DP-Camp "Salvator-Kolleg"
Zehlendorf is a suburb of Berlin in the former US sector.
is a locality within the borough of Steglitz-Zehlendorf in Berlin. Before Berlin's 2001 administrative reform Zehlendorf was a borough in its own right, consisting of the locality of Zehlendorf as well as Wannsee, Nikolassee and Dahlem. Zehlendorf contains some of the most remarked upon natural settings in Berlin, including parts of the Grunewald forest and the Schlachtensee, Krumme Lanke and Waldsee lakes. Additionally, it has large affluent residential neighborhoods, some with cobblestone streets and buildings that are over 100 years old. It is one of the most expensive areas in Berlin for housing.
see: Berlin archives
Zeilsheim has its own page: 12 miles west of Frankfurt on Main, Jews, severly overcrowded;
Zeven (see Seedorf)
City Archives: http://www.zeven.de
Samtgemeinde Zeven, Nebenstelle Klostergang
Frau Luise Del Testa
Klostergang 3
27404 Zeven
Telefon: 04281 / 999800
luise.del_testa@zeven.de
---
5/23/08 Dear Olga
Both my parents were in Germany during the war years. I was born in Zeven Germany in 1949. My sister Anna was born in Bad Rottenfeld (?) iin 1947. We arrived in Australia mid 1949 on the Anna Salen which I think departed from Bremerhaven. My father arrived in Australia in 1948 on the Protea. I know my father was born in Tershiw, Stary Sambir either 1922 or 1923 in Ukraine His name was Wasyl Towarnicki. My mother was born in Dwernik Ukraine in 1925 her maiden name being Paraska Gluck. They spent the war years in Germany as Ostarbieters and met and married after the war was over.

I am hoping you may be able point me in the right direction/sites to obtain any information. Both my parents are now dead and I am seeking any other family that may be left in UkraineThe photo above and the lady is looking for anyone who knows anything. In this photo, shows a girl that looks similar; it was made in Sande in 1947. I am the small boy in the back row. The camp in Varel was a guarded camp where they kept people who had problems with their ID. Bockhorn and Friedichseld are the same. John S Pruchnik Thank you.
Marie Solyk, Australia. Email marie.solyk@bigpond.com

Ziegenhain, Jews
As I am preparing an exhibition about DP camp 95-443 Ziegenhain, Hesse, Kassel area, I am looking for photographs, information and documents about this topic.
Contact: Mrs. Waltraud Burger
Gedenkstütte und Museum Trutzhain c/o Magistrat der Stadt Schwalmstadt
Marktplatz 1
34613 Schwalmstadt
Email: WaltraudBurger@gmx.de
Zierenberg (US zone); Russian boy scout troops; Ukrainians; 85-160 Ukrainians http://history.org.ua
Zierenberg (Kreis Wolfhagen)
Region DP US; Distrikt 2
Name/ Funktion/ Gebäude Adresse des Camps Fliegerlager
Zopp - See Siedlung Zopp in Alsdorf - see British Zone - 1000 persons, Photos: http://www.alsdorfdamals.de
---
Hello,
I m particularly interested in finding: Assembly Center N° 571 in Germany, and DP Camp 527
A.E.F. D.P. REGISTRATION RECORD
Desired destination: Canada
Assembly Center N°. 571
Thank you for any help you may provide.
Best regards, Slauw Terteka
Archive:
---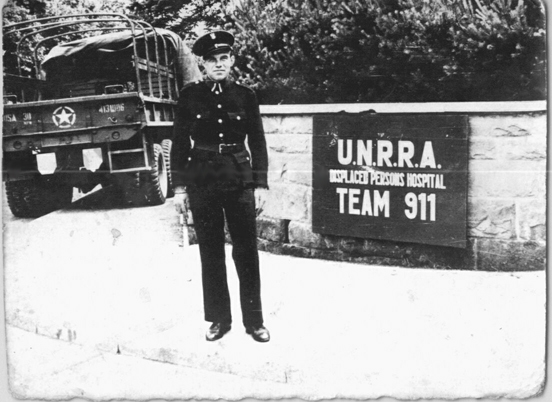 A few of my wife's relatives were repatriated to Poland and one eventually came here to the USA. This picture of one of these relatives wearing a black uniform (origin unknown), standing in front of a sign that reads "UNRRA, Displaced Persons Hospital, Team 911" with a US Army 6x6 in the background. It appears as though he's performing the role of a constable or possibly security (Note the 'billy-club' strung from the right hand) for the Hospital that's obviously somewhere in the background. Were was the hospital's location, UNNRA 911?
We believe his birth village was in what is now Lithuania (or right on the present border of Poland). He gave it on his Social Security application as Juracinski. I believe he was possibly inducted into the German army (he mentioned driving trucks). Another relative said he went to Germany as a laborer. He wound up in France and there the story gets less defined. He used to speak of the Underground, and I've seen pictures of him armed (Looked like a US Thompson Sub-Machine Gun) and in what looks to be military fatigues. I do know that he wound up in England after the war and worked there as a gardener for a while before coming to the US. Thanks a bunch. Ken Coughlin
Reply from Olga: Land North Rhine/Westphalia - UNRRA Area 911 (British Zone) covered:
A/c #
32/115 Lippstadt
33/150 Augustdof
33/132 Blomberg
32/137 Lahde
32/145 Paderborn
32/133 Rheda
32/134 Warburg
32/163 Bielefeld
In 1947 total population of 18,311 included: mostly Poles and Ukraininas; some Latvians, Lithuanians, Estonians, Yugoslaves, only 298 Jews, and others.
Correction below:
Dear Olga, You mixed UNRRA Team 911 with UNRRA Area 911, so that your answer is misguiding. UNRRA Team 911 seems to have been in the US-Zone, while UNRRA Area 911 was in Northern Westphalia, British Zone. Stefan Schroeder
More clarification: Shortly before UNRRA was dissolved at the end of June 1947, UNRRA reorganized its UNRRA Assembly Centre Teams into UNRRA Area Teams, actually beetween April 17 and 24, 1947.
The newly created UNRRA Area Team 911 was located in Minden/Westfalen and had absorbed the former A/C teams 6 (Paderborn), 65 (Lahde) and 800 (Augustdorf).
On July 1st, 1947, IRO took over the work from UNRRA. The IRO Area Team 911 then was responsible for the three mentioned camps Paderborn, Lahde and Augustdorf and additionally Bielefeld, Blomberg, Dössel near Warburg and Rheda. For Lippstadt I have no source, but I think it is possible that Lippstadt also was administered by IRO Area team 911.
I would exclude that UNRRA used the same Team number 911 at the same time as in the British Zone also in the US-Zone. Wolfgang Strobel, author of Post der befreiten Zwangsarbeiter - Displaced Persons Mail Paid in Deutschland 1945 - 1949.