Tager-Kaserne; some Ukrainian documentation at Shevchenko Scientific Society Library
Telgte,
Telgte is a town in the Warendorf district, North Rhine-Westphalia, Germany. It is situated on the river Ems, 10 km east of Münster, and 15 km west of Warendorf.
4 camps (British zone)
Stadtarchiv Telgte
Bassfeld 4-6
48291 Telgte
Telefon: +49 2504 13-312
Telefax: +49 2504 13-228
Klaus Schwinger
Thürigen (US zone)
Tirschenreuth - is the capital city of the district of Tirschenreuth. It is located in the northeast of Bavaria, very close to the Czech-Bavarian border. In 1972, when the segmenting of bavarian districts was reformed, the district of Tirschenreuth was expanded with the former district of Kemnath.
https://www.stadt-tirschenreuth.de/
My brother's birth document shows Tirschenreuth and has Flossenburg. I know we were at Altenstadt, Schongau (US Zone) Germany. I have a report card with dates of 11 July 1950 to 1 May 1951. On my medical record it has Munich, Germany, Funk Caserne dated Sept 1951. We were on the move all the time. We immigrated to the US in Oct 1951 E. Hutchins
May 6, 2020
I am reaseaching on the DP Camp Freiberg in Flossenbürg als known as "Camp Sikorski" or just DP Camp Flossenbürg on the ground of the former concentration camp Flossenbürg. I would like to come into contact with people interested or connected to the DP camp in Flossenbürg. Before coming to Flossenbürg the 2.100 DPs stayed in camps in Austria, mainly in Braunau, Ebensee, Ems, Frankenmarkt, Ranshofen, Wegscheid and Wels-Lichtenegg. Therefore I am happy to share information with researches on this camps, too. Furthermore there was a Jewish DP-Community in Tirschenreuth. As I'd like to focus on the relationship between (mostly) Polish DPs in Flossenbürg und surrounding Jewish DPs, I'd like to get to know more about Tirschenreuth, too.
SarahGrandke@gmx.de
Traunstein,
(US zone); Russian boy scout troops, Latvian I, with my family, lived at
Traunstein
June 1949 - May 1951. I was young and remember as having a "good time" playing with other kids. I am sure it was not that way for my family, but children are fortunately not plagued by worries like adults. Thank you for your site. Please contact:
Silvia Wolff
Stadtarchiv Traunstein
08 61 - 6 52 50
08 61 - 6 52 01
http://www.traunstein.de/stadtarchiv.htm
This has led to me to many questions about my mother – She was kidnapped from her school house (Ukraine) and taken to Germany to work on a farm. (I do not know any more – she would not talk about it.)
Trier - prison and civilian work camp
Trier Air Base is a former military airfield located 3 km (5 Miles) southwest of Trier, Germany. It was established in 1910. During World War I it was used by the Deutsche Luftstreitkräfte as both a Zeppelin and military airfield. later, it was used by the Air Service, United States Army, Deutsche Luftwaffe, the United States Army Air Forces, and NATO forces until being closed in 1977,
Luftwaffe use in World War II.
When the Americans left, the airfield was used by French troops, and German civilian aircraft were not allowed to use it until 1927.[2] In 1935, in violation of the Treaty of Versailles, the Luftwaffe was brought into existence. The airfield was reopened by the Nazi Government, but due to its close proximity to the French border, the airfield was used for light non-military aircraft. In 1938 or 1939, some reserve units of the Luftwaffe were briefly stationed at the airfield, but no combat units were assigned.[9]
When World War II broke out with France on 3 September 1939, Trier Airfield was placed on alert, but no Luftwaffe aircraft were assigned until May 1940, during the buildup of German forces prior to the Battle of France. The following known units were assigned to the airfield in May:[9]
https://en.wikipedia.org/wiki/Trier_Airdrome
31st May 2020
I was born in a DP in Trier Germany in 1945 – my parents migrated to Australia on the Fairsea arriving in Melbourne Nov 1950.My parents were Anna and Bernard Rulewski – my mothers maiden name was Podubna.
Thank you, Janina Barrie (nee Rulewski) Janinab@live.com.au
Trofaich www.dpcamps.org/trofaiach.html
Uchte, #2712, Land Niedersachsen (British zone) - is a municipality in the district of Nienburg, in Lower Saxony, Germany. It is situated approximately 25 km (16 mi) southwest of Nienburg, and 25 km (16 mi) north of Minden.
7/2/07 My father lived in the Kempten DP camp from 1945 to May, 1949. I would like to ask any readers who knew or knew of Jonas Girdziunas during those years to send a brief story, recollection, memory to me. My mother, Sofija Druskis nee Ivaskeviciute, lived in the Uhte, Germany displaced persons camp during the same time period. Thanks for any information on either parent. Victoria Girdziunas email : svictoria@earthlink.net

Ulm, many nationalities: Jews, Poles, Ukrainians and even Arabs, City archive - Stadtarchiv
http://www.stadtarchiv.ulm.de/
89070 Ulm
Weinhof 12
Tel: 07 31 - 1 61 42 00
Fax: 07 31 - 1 61 16 33
United Nations Relief and Rehabilitation Administration Archives Record Group: PAG 4 Box 3: District 1: Assembly Centers and Area Teams, Heidenheim, Ulm, Stuttgart
My name is Christof Maihoefer. For the DZOK Ulm and the city of Ulm, I work on the subject of displaced persons in Ulm and around (Neu-Ulm, Dornstadt, Leipheim) I can offer any assistance in questions on the subject, and I am also deeply interested to come in contact with people, who know about this time and have documents eg. In Ulm, there were different camps: Hindenburg, Sedan, and Boelke barracks.
Christof Maihoefer
Unna Stadtarchiv Unna
Klosterstr. 12
59423 Unna
Tel: 0 23 03 - 10 34 76
Fax: 0 23 03 - 10 34 76
http://www.unna.de/stadt/41archiv.htm
Unterlüss / Unterluess, #254, Land Niedersachsen (British zone), Poles,
Unterlüß is a village and a former municipality in the district of Celle, in Lower Saxony, Germany. Since 1 January 2015 it is part of the municipality Südheide. It is situated approximately 30 km northeast of Celle, and 25 km southwest of Uelzen.
The following is paraphrased from Less than Slaves. The Mayor of Unterluess confirmed that there were four labor camps in the town which provided Russian and Polish women to a number of German firms. Many came via Auschwitz and Bergen-Belsen and from there to work at Unterluess. The camp consisted of two large wooden barracks capable of housing about 400 persons each. Rheinmetall had the only factory in Unterluess and Rheinmetall's work camps, with constant replacements coming in from Auschwitz, housed an estimated 900 women.
Upstadt (British zone)
Ubstadt-Weiher is a municipality in northern Karlsruhe district in Baden-Württemberg, Germany. It is located on Bertha Benz Memorial Route. The four villages that make up the municipality are: Ubstadt, Weiher, Zeutern, and Stettfeld. The area in between and around these villages is numbered with grape vineyards.
Valka, Estonians, See also Baltic page: http://www.dpcamps.org/balts.html
Valka Lager Thank you for your information on Valka Lager. I was born there 50 yrs ago. My parents have photos but my mother can't seem to bring herself to tell us much without much crying, so we never really pushed the subject. Now she is elderly and some what confused, I still don't have the heart to ask about her war experiences and the camps. I'm doing my own web research so that I can leave my children some information of their history. I've searched the web for days before finding this site. Thank you for verifying my history. Marge
Reply from Olga: Question your mother again soon before she dies. Once she dies, finding answers will be harder. And you really want to know her experiences personally. Tell her how important it is for you to share her life story. When I questioned my mother, she left out a lot too and took important secrets to her grave. She kept saying 'why do you want to know'. It was a impossibly difficult time for them. They had to summon up courage on a daily basis just to make it through the day. They were truly deprived of happiness, of their childhood and of all their possessions. They witness their family members die by bombs, torture or starvation. Squashed into too small living quarters with too little sanitation, they were infected with lice and TB.
Czech site holocaust
Dear Olga:
My best friend, a Czech, was a resident of Valka Lager in Bavaria. The Valka camp (Valka-Lager), a post WW2 refugee camp located in the outskirts of Nuremberg, is described by the German government's Federal Office for the Recognition of Foreign Refugees. In German: http://www.bafl.de
The above text in English translation: http://www.bafl.de
A search at Google will turn up a German language page showing a photo of barracks at the camp, at a Web site about Nürnberg (Nuremberg). The camp was named for the city of Valka that straddles the border between Estonia and Latvia, and the name stuck even after the refugees from those two countries left around 1949 and were replaced by refugees from other nations.
Thanks for your efforts. Sincerely, Dale Chock
2/11/05
I came to the US with my parents and a brother and sister. We were one of the fortunate ones that created another life after spending time in the DP camps in Germany. The two camps I remember the most were Valka and Ulm. We came to the US without any other family and friends so in the grand scheme of things it was a frightening experience to be all alone in a strange land without knowing the language. Now I'm retired and have the time to reminisce and perhaps put my life into words so that it can be shared with my family who knows very little about my life before we came to the US. I don't know exactly what I'm looking for other than perhaps communicate with others who have had similar experiences. Respectfully, John Plumitis
---
Nov 26, 2013 G'day Olga,
Found your website and am wondering if you may know how i can get information on records from valka camp? My father and grandma were both at that camp around 47. any direction you could give would be wonderful. Thanks!
Matt Barr
matt@barrphoto.com
801 829 8197
www.barrphoto.com
www.facebook.com/barrphoto
Varel website in German with photos, (Westhauderfenn in '47) #262, mostly Poles
City archive: Stadtarchiv Varel, Stadtverwaltung, Rathaus
Windallee 4
26306 Varel
Tel: (04451) 1260
Fax: (04451) 126-130
The camps we lived in from 1945 to 1952: Varel, Bockhorn, Siegen, Sande, Hahn I was a child then and it's the only names I remember. Thank you though for the embarkation camp name. That one I could not remember at all. This is a neccessary site for all persons searching for their roots.
Photo one below: I thought you might add this picture to your site. I believe it was1946. I am the blonde in center of back row. My sister, Wanda, is to my immediate left. Thank you so much. I am always sending people to your site, it has grown a great deal from my first visit. Thank you very much. Rita Wolf Robinson Windsor, Ontario, Canada
Photo two below: We had a Polish school that I attended. I did my first Communion in Varel. Here is the picture. I am the first one on the left. After communion, our priest took us blackberry picking. One can only imagine what our white dresses must have looked like to our mothers. My dress was made by my grandmother, who was a seamstress and very adept at making clothes over. That dress changed twice as I grew. One of my sisters was born in Varel. At Christmas, one of the men would dress up as St. Nicholas, and visit the children to pass out gifts (supplied by the parents) after asking us questions. My question was, "How much is 7X7?" I did not know the answer, but because I knew all my prayers I received my small gift. So these are my memories of Varel. Thanks for adding them to your site. Best regards, Rita R., Ontario, Canada
Photo three below: The photo above and the lady is looking for anyone who knows anything. In this photo, shows a girl that looks similar; it was made in Sande in 1947. I am the small boy in the back row. The camp in Varel was a guarded camp where they kept people who had problems with their ID. Bockhorn and Friedichseld are the same. John S Pruchnik
Photo one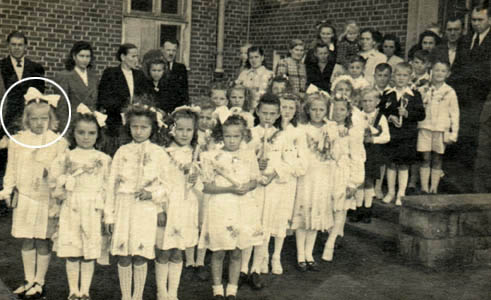 Photo two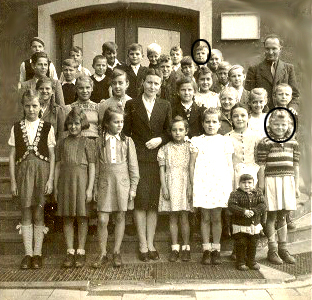 Photo three
Follow-up: Thank you Olga. John and I are in communication, sharing pictures and trying to figure out if we were in the same camps at the same time. It has become our own little mystery tour, (smile) I was born in Pultusk, Poland. John and I came over on the same ship too. He in Nov 1951 and I in Feb 1952. I am in contact with one of the crew members of that ship too. Computers are a real doorway.
I am glad to see your site grow. I remember when I first visited. Wow, what a difference. I am always suggesting your site to people that want to know about DP camps. I don't remember Varel as being a guarded camp though. Keep up the wonderful work. Sincerely yours, Rita
Varenesch -
7/17/07
I have a baptism certificate from Goldenstedt , which states that Janina Markus address as a refuge in Varenesch (a small town 5 kms from Goldenstedt, Germany, British Zone.) If anyone has any information about this camp, please write Mark Norek events@lifesanadventure.com.au
Velbert (British zone), Velbert today
City archive: Stadtarchiv Velbert
Thomasstr. 1a
42551 Velbert
Tel.: 02051/262264
Fax: 02051/262112
Web: http://www.archive.nrw.de
Hi Olga, My name is Peter Pernarowsk.i I am trying to get some information about Velbert camp. My email address is yoralla@yahoo.com Many thanks, Peter
Vellern (British zone) - This place is situated in Warendorf, Munster, Nordrhein-Westfalen, Germany
Velmede (British zone) Yugoslavs
Venta (British zone)
Veersen, #2521, Land Niedersachsen (British zone)
Verden (Stade in '47), #247, Land Niedersachsen (British zone)
City archive: Stadtarchiv Verden (Aller)
Ritterstr. 22
27283 Verden (Aller)
Tel.: (04231) 12230
Fax: (04231) 12202|
War archive: Kreisarchiv Landkreis Verden
Lindhooper Str. 67
27283 Verden (Aller)
Tel.: (04231) 15-200
Fax: (04231) 15-603
Verl (British Zone), mostly Polish
City archives: Gemeindearchiv Verl
Paderborner Str. 3-5
33415 Verl
Tel: 05246-961-170
Fax: 05246-961-190
Email: Verl@gt-net.de
Web: http://www.archive.nrw.dee
Versmold (British zone)
City archive: Stadtarchiv Versmold
Schulstr.14 / Postfach 1464
33775 Versmold
Tel: 05423-954110
Fax: 05423-954115
Web: http://www.archive.nrw.de/home.asp?stadta-versmold
Vilshofen an der Donau - a German village near the Czech border, see also Passau
Municiple address: Stadtplatz 27
Vilshofen an der Donau
Germany 94474
info@vilshofen.de
Tel: 08541/208-0
Fax: 08541/208-190
Web: http://www.vilshofen.de
Archive: Kreisbildstelle Vilshofen
Pacherstr. 5
Hauptschule St. Georg
94474 Vilshofen
Leiter: Raimund Maier
Steinbruchweg2
94575 Windorf
Tel. 08541/5642
Tel. 08541/918957
Fax 08541
Vilseck
City archive:
Stadtarchiv Vilseck,
Marktplatz 13,
92249 Vilseck
https://collections.ushmm.org
Photograph | Photograph Number: 32422. Date: 1946 - 1948 …Gerzon and Gittel Trzcina with their son, Benjamin, in the Vilseck displaced persons camp.

3/15/05 Dear Olga
I am searching for info on Mr. Asher Lande, who was active in Germany in the camps employed by UNRRA (United Nations AID). According to documents I have, he was the manager of UNRRA Magazines in VILSECK from 1946 - 1950. He had left Germany to Russia at the break of war, stayed in Russia, and came back to Germany in 1946 and was nominated manager of the UNRRA in the region. I am looking as follows: 1) If you have any document in your files about him.
2) If there are any people who knew him?
3) If you have any documentation about Vilseck.
4) I know that he was living in Munchen.
I am also looking to find the files of the UN and UNRRA of these days, if you have any information.
I will thank you very much for your support.
Joseph Herman
, TEL-AVIV, ISRAEL TEL. 972-54-4740618
Vörde / Voerde, #3107, #34/107, N. Rhine-Westphalia (British zone), mostly Yugoslavs
City archive: Stadtarchiv Voerde
Rathausplatz 20 / Postfach 101152
46549 Voerde
Tel.: 02855-80-227
Fax: 02855-80-555
Web: http://www.archive.nrw.de
Volkertshausen and today
Great site! I was born in Volkertshausen Germany (1945) to Estonian refugee parents, was there a refugee camp there?
Thank you,
Vern Pilder
, Nashville TN
Vorhelm, 2 camps (British zone) - Vorhelm is a district of Ahlen in Westphalia and consists of the villages Eickel, Bergeickel, village farming (village field) and Tönnishäuschen (Isendorf).
Vrasselt, Poles
Vrasselt is a municipality in Germany's most populous state North Rhine-Westphalia. Vrasselt is located in the administrative district Kleve.