Paderborn, 2 camps, #3145, #32/145, Land Niedersachsen (British zone) mostly Poles, Balts, Yugoslavs
City archives: Stadtarchiv Paderborn
Pontanusstrasse 55
33102 Paderborn
Germany
Phone: 49-5251-881593
Fax: 49-5251-882047
Email: stadtarchiv@paderborn.de
Web: http://www.archive.nrw.de
Submitted by: Wolfgang Strobel, author of Post der befreiten Zwangsarbeiter - Displaced Persons Mail Paid in Deutschland 1945 - 1949, in reply to a research request: Apparently in Paderborn existed several barracks (Kasernen), as mentioned in the city's website www.paderborn.de in a chapter concerning Stadtentwicklung und Stadtplanung (city development and city planning).
My lists on DP camps mostly begin in October 1945 but no doubt the camps existed before. In Paderborn at that time existed a Camp #8 with Poles, DPAC number (changing with the time) 145, or 32/145, or 24/25/3145, or 24/25. In 1947 the location in the Infanteriekaserne (= infantery barracks) is mentioned, probably concerning the same camp. This camp still existed in April 1949.
A second camp also with Poles with the DPAC number 32/144 is listed from March to May 1946 in the Panzer Viking (tanks Viking, probably also barracks). A Panzerkaserne in Paderborn seems to exist still today. I did not find an address. So it might be a historical name officially renamed.
I did not find on the internet any actual information on the "Infanteriekaserne". So either it does not exist any more or it has been renamed since 1949. The latter could be more likely. I found on the internet that a tram line in Paderborn going from the Hbf (Hauptbahnhof - main railway station) via Infanteriekaserne to Elsen existed until March 31, 1958.
So it should be possible to find out with the help of the city's archives the exact location of the former DP camp.
My book is written in German but in many aspects self explaining mainly in the lists of camps in the former British occupation zone and also by the pictures of mail, letters and cancels in the other parts of the book. It can be ordered directly with me. To the USA: $26.50 (includes shipping cost). Payment in advance in cash to my address at buyer's risk; no check and no mandate please because of the excessive bank charges.
---
Dear Olga, Hello, my name is Brian Lewis, I am an American trying to find out about my grandparents' days in Germany during WW2. They were taken to Germany where my mom was born in Sept., 1943, in Paderborn, Germany. Are there any name lists that you know of that might have my grandparents name? Their last name is Zawislak. I know it's a shot in the dark, oh well, if you think there's no hope for me, please let me know at belewis19@aol.com.Thank you, Brian Lewis
Papenburg (British zone) Document and information website in English DIZ Emslandlager
Wiek rechts 22
26871 Papenburg
Germany
Phone: +49 - 4961 - 916306
You may contact the DIZ by (e-mail: mail@diz-emslandlager.de) or snail mail: P. O. Box 1132, 26821 Papenburg Germany
Fax: +49 - 4961 Ð 916308
Papinghausen (British zone)
Passau (US zone) has its own page. Russian boy scout troops
City archives: Stadtarchiv: stadtarchiv-passau.de
address: Stadtarchiv Passau,
Rathausplatz 2,
94032 Passau,
Postfach 2447,
94014 Passau (Postanschrift),
Tel: 0851/396255,
Fax: 0851/396249
Peine #2813, Land Niedersachsen (British zone) Stadtarchiv Peine
Windmühlenwall 26
31224 Peine
Tel: 0 51 71 - 4 95 38
http://www.peine-online.de
Perdoel (Proetz in '47), Schleswig Holstein (British zone)
Petershagen (See http://www.petershagen.de/ )
9/26/10
Dear Mrs. Kaczmar, my name is Hermann Kleinebenne. I am the local mayor of the village Petershagen at the river Weser in NW Germany. In 2008 I published a documentation "Die Würde des Menschen ist unantastbar". It deals with the incidents in the Petershagen-Lahde area at the end of WW II where an education camp had been established by the Gestapo in 1943 and where a DP camp of UNRRA team 65 was established from 1945 – 1949. If there should be any questions about this camp I would like to help you. Best regards, Hermann Kleinebenne Hermann_Kleinebenne@web.de
Pfaffenhofen (US zone) Russian boy scout troops
REWARD:
I am in urgent need of a photograph of my father. I will pay $25 for each photo I accept and $500 for a photo of my father, if accepted. His name is Jozef Kurek, a Polish officer. He was in Pfaffenhofen, Germany in 1945-1946. He was very tall and had blond hair and blue eyes. He was in his early 30's at the time he was in the DPcamps. The photos would have been taken in the Altenstadt and Pfaffenhofen DP camps. Please contact me at suttonall@comcast.net."
Sincerely, Mari Sutton
Olga,
Pfaffenhofen is spelled with one "f" in the last part. It has no association with Alsace France. Here is complete address for:
City archives: Pfaffenhofen archives
Stadt Pfaffenhofen a.d. Ilm
Hauptplatz 1, 85276 Pfaffenhofen a.d. Ilm
Briefanschrift:
Postfach 1241, 85262 Pfaffenhofen a.d. Ilm
Email: rathaus@stadt-pfaffenhofen.de
Tel: (08441) 78-0
Fax: (08441) 88 07
Website: www.pfaffenhofen.de Sincerely, Mari Sutton
We visited the historic synagogue in Pfaffenhofen last summer. It was founded in the late 1700's and existed until 1940 when all the Jews were sent away. It's a beautiful little place that is in the heart of town, but difficult to find. We didn't know that there had been a DP camp there. Larry R. Weisberg
Pfarrkirchen / Eggenfelden, educated Ukrainians degreed in engineering or law (Wyman, p.119)
Pforzheim
10/14/04 Dear Ms. Kaczmar, I am a US-based producer for German television. We are working on a documentary about life in the post-war years in the American zone in southwestern Germany, in cities and towns such as Stuttgart, Ulm, Heidelberg, Heilbronn, Pforzheim, etc. I am in search of people who were Displaced Person in the region, and of American officers of the Occupation authorities and UNRRA representatives who were assigned to the area. I would be grateful if you could give me any leads. If I could get replys within 3-4 weeks, that would be great. Best wishes Konrad Ege
---
6/12/2015 - Please write, If you recognize any people in the photos, we'll start the labeling process, okay?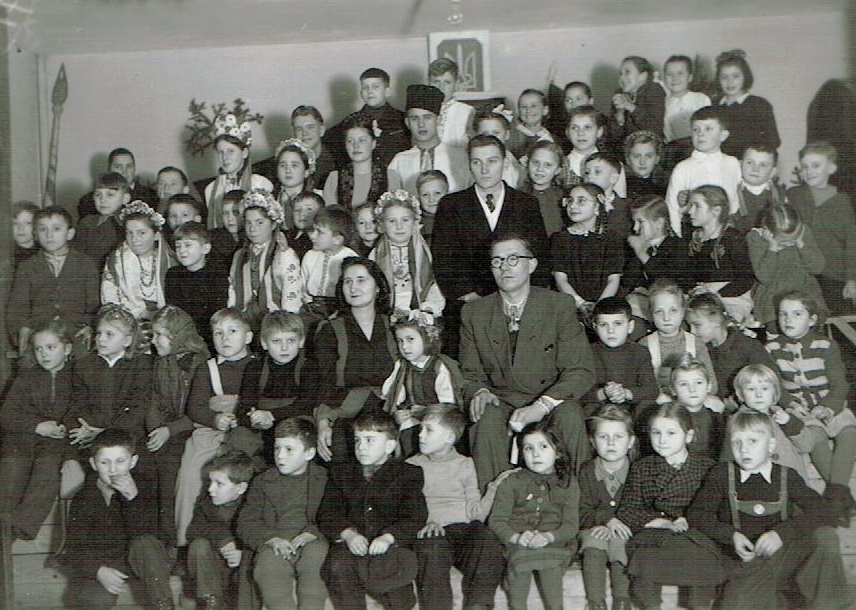 First row: Front row 5th from left is Leszek Bernard Mikolajczak (My deceased father) Schleswig-Holstein.Tanya Eldridge tanyamarie.eldridge@googlemail.com
Second through fifth rows:
Sixth row: I am the boy in the second row from the back on the right side corner. V neck sweater. It is a picture of the school children at the DP camp. I thought that it was in Pforzheim. But will check with a friend who was at that camp with me. Jurij Lysiak js.lysiak@sympatico.ca I have been in touch Jurij Lysiak (and his friend) confirm that this was in Pforzheim (not Aschaffenburg). They recognize the man in the middle with thick glasses as the principal. They remember him riding his bike. We think we have narrowed down the date to January 1949, so it is a Christmas celebration. Beatles Fan nadjali6@gmail.com
Seventh row:
Jun 18, 2019
bonjour. je viens de voir votre site ma maman Irèna chmielewska est né la 10/12/1947 dans la Camp d'altensdat .
elle est fille de Chmielewski zygmunt né a Przebrot le 09/04/1905 et de Wazkulinkowa Halina née le 04/05/1914 en Ukraine.
un Frère est né aussi le 15/08/1943 Zygmunt Chmielewski a Pforzheim
si vous aviez des infos sur les membres de ma famille je serais preneur surtout sur tous ce qui concerne leur déportation en allemagne.
merci par avance, J.krawczyk jerome.krawczyk@gmail.com
Computer translation: I just saw your site. Irena Chmielewska, my mom, was born the 12/10/1947 in Camp Altensdat.
She is the daughter of Chmielewski Zygmunt has Przebrot born 04.09.1905 (and nut Wazkulinkowa Halina born on 05/04/1914 in Ukraine. A brother is born also 08/15/1943 Zygmunt Chmielewski in Pforzheim.
If you have information on my family I would take, especially on all regarding their deportation to Germany.
Thanks in advance, J.krawczyk jerome.krawczyk@gmail.com
Pinneberg, #1234, Poles, Balts; Schleswig Holstein (British zone), website in German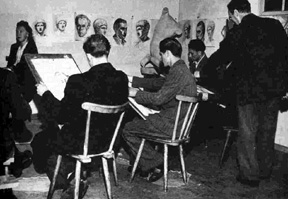 City archive:
Stadtarchiv Pinneberg
Bismarckstrasse 8
25421 Pinneberg
Tel: 0 41 01 - 21 12 24
Fax: 0 41 01 - 21 14 44
http://www.archive.schleswig-holstein.de
Baltic DPs, with aid from UNRRA, the Lutheran World Federation, and other groups, set up their own university at Hamburg, which was later moved to Pinneberg and renamed the DP Study Center. These students were part of a drawing class. Photo: Lutheran World Fed. and M. Wyman
"The Baltic DP university with about 170 professors on the teaching staff and 1,200 students in eight faculties and 13 subdivisions has been running for three semester. Girl Guide and Boy Scout organizations, branches of the YMCA and YWCA and sport units have been organized. The last -named have attained outstanding results well up to international standards." Baltic Refugees and Displaced Persons, published 1947 Boreas Publishing Co. Ltd. London.
Pirma refugees from Klein-Nossin
Pirmasens City site http://www.meinestadt.de German.
Pimasens is leading German shoe and boot manufacturing center. Founded in the 8th cent. The city was heavily damaged in World War II.
City archives http://www.archiverlp.de
Street address: Rathaus am Exerzierplatz
66953 Pirmasens
Post office box: Postfach 2763
66933 Pirmasens
Tel: 0 63 31/84 22 23
Fax: 0 63 31/84 22 86
Email: archiv@pirmasens.de
Homepage: www.pirmasens.de
Hi Olga,
I was wondering if you could help me. I am trying to find a DP camp in Pirmasens Germany. My father has it listed on his baptismal certificate as his place of birth but I am unable to find a record of it anywhere. As his father died there I am hoping it can lead me to find out more about him. Also thank you for such an informative web site. You have done an exceptional job. Samantha randsam
"The Group Headquarters entered Pirmasens late the night of the 23rd and here at close range saw the devastating effects of allied aerial bombing. The town of perhaps fifty thousand was practically leveled. German families were huddled together wherever they could find shelter. Others wandered in a daze through still smoking rubble Broken water mains spouted water and the smell of death was everywhere. That night the Group found a place to bivouac near a mausoleum and cemetery at the edge of town. In back of the buildings were row upon row of coffins of the unburied dead and within the mausoleum was a large room completely filled with corpses. We were glad to soon move on." WITH THE 101st CAVALRY IN WORLD WAR II 1940-1945
http://members.tripod.com/1-101cav/ww2.html
Pissau, #1235, Schleswig Holstein (British zone)
Plattling
3,000 trusting veterans (Ukrainians) of Gen. Vlasov's forces turned over to the Soviets (Wyman, p.68). William Sloane Coffin Jr. wrote that his role "left me a burden of guilt I am sure to carry the rest of my life." (Wyman, p.69)
Plattling Soviet DPs and POW Camp, Regensburg, Bavaria 1945 -1946
Submitted by: Alan Newark, Compiled 01 April 2009
In Count Nikolai Tolstoy's book Victims of Yalta and in The Last Secret by Lord Bethell, we are told that at Plattling, near Regensburg, north of Munich and Dachau, a large number of Russians and Ukrainians, German Army volunteeers in the 2nd Division of General Vlasov's KONR, were, in February and May 1946 badly treated and forcibly repatriated to the Soviet Zone by the US Army.
As Count Tolstoy, with whom I long corresponded, puts it...3000 'Russians' had been transferred to Plattling in late-1945 and were held there for several months. By February 1946 about half of these men - the figure was, says Bethell, 1800 - had been deemed liable to compulsory repatriation.
At one point, believing that they were going to be deported and reacting like the large body of such men who had violently resisted deportation by the Americans at Dachau (where, on 19 January 1946, a number of Soviets fought pitched battles with US military police and committed suicide) barricaded themselves into their huts; a US Signal Corps film and camera team filmed and photographed the operation at Dachau while a photograph of a Vlasov man who had killed himself was published in Stars.and Stripes. The sudden, pre-deportation, appearance of military cameramen at Plattling, see below, rightly worried the Vlasov Army inmates of that large camp.
The American commander at Plattling, says Tolstoy, managed to restore order by lying and saying that the Plattling Vlasovites - who had spent months there living quiet and safe lives - were simply being shifted to a camp further from the front line. However, the men began to worry when their usual camp guard, normally provided by the men themselves, was replaced by Americans and they were asked to complete questionnaires aboiut their past lives in Russia and in the Red Army.
Had many of the men not feared their questionnaire answers falling into Soviet hands,thereby making things worse for themselves and their families back home, the Vlasovites might have told the truth about being oppressed by the Communists and therefore have saved their lives by impressing the Americans with the severity of their fears.The prisoners also often refused to supply personal information.
In adition to the above, writes Bethell, Russian suspicions were greatly aroused when all non-Russians were moved away from the Regensburg complex to other camps (though a camp for SS troops remained occupied), Army photographers began taking pictures of the prisoners, the camp and the huts and a 7pm till 6am curfew was imposed.
(So distressed were many of the Vlasovites that when the Greek Orthodox Metropolitan of Bavaria visited the camp many men asked for the last rites. The Metropolitan asked the authorities to show mercy and to heed the prisoners' fears. In Rome, meanwhile, the Vatican rumbled into action and the Pope announced his opposition to the Western Allies - still secret - alleged denial of asylum and human rights by signing the Stalin -demanded Yalta Agreement clauses which doomed all Soviet citizens liberated or captured by Western forces to compulsory repatriation).
Soon afterwards, in the middle of the night, a column of tanks surrounded the Russian camp at Plattling and numerous American troops, wearing rubber soled shoes and carrying specially reinforced night sticks, crept into each hut while the Vlasov men were sleeping, thereby ensuring almost total surprise ( at least one Vlasov soldier, seeing the tanks approaching and the US soldiers entering the camp crept under the wire into an adjoining, non-Russian, camp). In
'The Last Secret', Lord Bethell gives a lot more detail...
Of the 271 Soviet prisoners at Dachau, where US troops using billy clubs and tear gas, had to fight their way past barricades behind which a number of inmates were killing themselves, 135, including wounded on stretchers, were transferred to the Soviet Zone that day. The survivors of Dachau were sent to Plattling where their story distressed the main camp inmates. The Vlasovites asked the camp commander for guidance. He reportedly wrote and signed a letter assuring the men they had nothing to fear.
At 5:45 AM on 24 February 1946, wrote Bethell, the Russians were driven out into the night, many in pyjamas and bare feet and some with blankets. They had to stand there, said one Russian survivor, in '6 degrees of frost from 6 AM till four o'clock that evening'. They were broken up into small groups and each man had two guards. A roll call was held and two long lists were later drawn up. Two large groups were formed.
In the late afternoon, in groups of twelve or fifteen each, the Vlasovites were loaded onto trucks, each truck guarded by a section of military police. As the witness continued, 'The prisoners, who were were sitting or lying down on the bottom of the truck, could not see where they were being taken. It was only by the length of the journey that they were going outside the camp, and only at the railway station, when they saw the bars on the carriage windows, that they realised they were doomed. It was then that some people began to commit suicide.'
As Bethell relates...according to an American report, 'in spite of the elaborate precautions taken during this transfer, five of the men succeeded in committing suicide'.
So, to recap, the 1500 or so surprised Vlasov men were frog-marched to the above waiting lorries and later put on the train going into Soviet-occupied Czechoslovakia. There were no suicides in Plattling camp but there were several successful suicides and various attempted suicides before the train reached the hand-over point. Even before the American guard escorts had left the area, the Red Army began hanging Vlasovite officers, senior NCOs and others from nearby trees.
Bethell identifies the Plattling convoy's hand-over point as Schonberg, north of Munich and says that on the above evening 1,590 Soviet deportees were brutally received by the Red Army. On the 13th of May, when a second batch of Soviets were also forcibly repatriated from Plattling, there was one final suicide. As Tolstoy describes them the Americans at that location were shocked, angry and ashamed that they had been party to these killings. Their shame was visible when they returned to the camp and even the SS men in one adjacent camp are said to have shouted at the Yanks for their actions.
After the operation, a number of American Other Ranks and officers both junior and senior made complaints about the forcible nature of the Plattling operation. In May 1946 a further 200-300 Soviet nationals were sent East from Plattling but that deportation was to be the last compulsory, USSR-bound, 'Yalta Convoy' repatriation exercise carried out by the US Army in Germany.
Alan Newark braveheart562002@yahoo.com
Pocking City website: http://www.meinestadt.de
City offices:
Stadt Pocking
Simbacher Str. 16, 94060 Pocking
Tel. (08531) 709-0, Fax. (08531) 709-24
City archives: Stadtarchiv: Heimatpfleger Dr. Sebastian Kaiser
Rathaus, Simbacher Strasse 16
Tel: 709-41
Email: koeck_birgit@pocking.de
For some research I am doing, I am interested in posting an inquiry. Does anyone know records of a trial in the American zone of postwar Germany about a nursing who was charged with euthanasia at the DP camp at Pocking? Thanks, Susan
Pognitz
Poking (Pine City, aka Waldstadt) Located in the Bamberg district, Poking Pine City was the second largest DP camp in Germany after Belsen. Opened in January 1946, the camp reached its maximum of 7,645 Jewish inhabitants on October 19, 1946. It had several Talmud Torahs with more than 200 pupils, as well as a Lubavitcher and a Klausenburger Yeshiva with a combined 500 pupils. Poking Pine City's cultural department featured theaters and sports clubs. The camp closed on February 16, 1949. http://www.ushmm.org
Polching - Poles 2/10/07
I have now discovered that my parents met in Polching (Polish Camp) and lived in Winzer, then we were transferred to Warner Kaserne in Munich until we left for America from Bremerhaven. In your site, there is not much said for the Kaserne but it says there will be - looking forward to it. It was a very large place and there were many, many people living there. Daria (Maslihan) Bonomini email: t bono@warwick.net
Pongau
9/29/2012 Dear Olga,
Spending the last couple years collecting documents and information on my parents WW II experiences, I've compiled my story, thanks to ITS, U.S. Holocaust Museum, dpcamps.org and others. On reviewing your site recently, I've noticed others mention some of my parent's camps in Austria. [Carol inquiring about Pongau, my parents spent a few years there, my sister was born there]. 60 Years (below) tells our story in general.
On the 60 year story their liberation was by the 90th Recon as the poster shows, not an armored unit who followed handing out chocolate-loved them Americans. Mother says the German people were afraid of them but some helped.. Back to DP Camps. Mother lost a baby boy a few weeks old probably in Markt Pongau [UNRRA No. 18], are there any records available now of births in the camps? I know many records are now becoming public [after 50 years] which is a big help. You understand when mother does talk about things she mixes them up. Old age too. I recently found another brother who died in childbirth here in the U. S. I put a marker on his grave. Don't mean to ramble but don't know where to begin to search UNRRA or IRO records. Any help you can give would be deeply appreciated. Hope this may help others.
Sincerely yours, Dushanka Vlajic Donner davenduke@gmail.com
Olga's reply: Fill out form G639.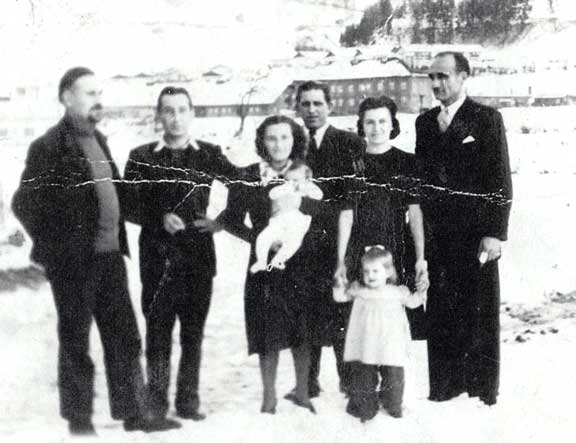 My parents, center couple, with me, baby Dushanka, and my sister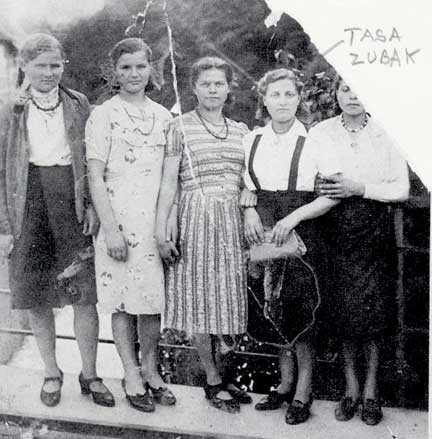 Picture of mother's workmates in Konigsee after liberation 4-11-45. Note: real shoes.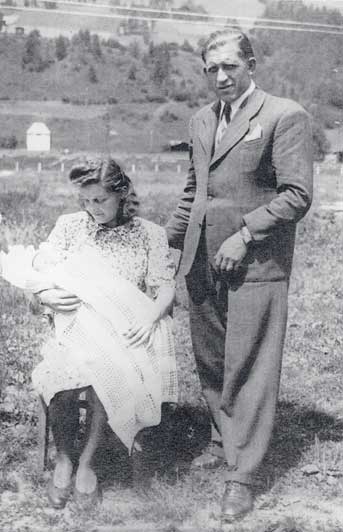 My parent's wedding, Gradimir Vlajic &Tasa Zubak, Aug. 12, 1945, Lehener Barricks, Salzburg, Yugoslav camp UNRRA Team 324 LAGER PUCH-AUFELD. My father, a tailor, made mother's wedding dress.
60 Years, By Dushanka Vlajic Donne
In 1941, Germany was aggressively expanding its frontiers. In Yugoslavia, the Nazis overwhelmed the 5th Yugoslav army as they stormed toward the capital. Gradimir Vlajic and 5000 fellow soldiers were captured. Before he reached Stalag XIA in Altengrabow, Germany[50 mi. SW Berlin], on April 13th, the Nazi flag was flying over Belgrade.
Later that year as more Germans were marching across Poland toward the Russian capitol, they seized Tasa Zubak, barely 16, along with others from her town, Letave [Khmelnts'ka], Ukraine, then near the Polish border. They, and many others were packed into boxcars and taken to Templehof, Berlin transit center for assignment to labor camps.
POW'S generally fared better than forced laborers, being given work details, such as bomb cleanup, farm work,and later in the war, because of labor shortages, factory work. Forced laborers got their hair cut off, were issued worker ID cards, and an identifying badge of their origin to wear.
In Tasa Zubak's case, an OST badge. A worker from the
East. Ukrainians were considered subhuman, worthy only of being worked to death, and they were. By 1944, 10 year olds were being seized to replace ones who had died.
Days later Vlajic returned to find Zubak. In August 1945, they traveled to Salzburg, Austria, getting married at the Lehener Barricks, Yugoslavian DP camp. [Puch-Aufeld].
Zubak was first assigned to Mariendorf [Sachenhausen- Berlin], then others as bombardments destroyed the factories. In 1945 she met Vlajic, he being on a work detail from POW camp. Both were working at a factory in Konigsee, Thuringen [R. Stock & Co.] when the 90th Recon. Bn. attacked the town. Everybody ran. Zubak, hit by schrapnel, made her way through the smoke, over bodies and debris to hide. After securing the town, tank crews handed out chocolate to the newly-liberated laborers. The Americans also liberated nearby Buchenwald Concentration Camp and the Bad Sulza POW camp.
In 1946 they moved south to St. Johann im Pongau DP camp. [UNRRA No. 18, formerly Stalag 18C POW camp]. Their first daughter was born there in June 1947. Passing up employment in Australia in 1949, they moved back to Salzburg DP camp Hellbrunn [von Trapp day residence], where their second daughter was born April 1950. In June they moved across the river to DP camp Glasenbach, awaiting final immigration papers, after being sponnsored to the U. S. Their final trip to Germany, took them to Munich-Riom, boarding a Trans Ocean Airline flight to New York. On August 11, 1950 they arrived in New York and traveled to their new home in Mansfield, Pa.
They encountered challenges faced by all immigrants. Shopping -- if you could see it, you could buy it. If it was boxed or wrapped, it could be a suprise. But they managed. Their home language was Serbian. Alter a few years they moved to Pumpkin Hill near Roseville, Pa. Within the first 10 years in the U. S. they had four more children, all boys. The girls were going to school in Roseville learning a new language, English. One recalls watching and copying the other kids. Sometimes one would call us Communist, we had no idea what it meant, but the teacher would stick up for us. Gradually the girls learned English, taking it home, their father declaring it to be the home language so they could all learn it, and they reluctantly did. About 1957 Mrs Vlajic took on a job at the Dixie Barbecue, Elmira, to help support the family. For the next 33 years she worked along with most of her children and one granddaughter, doing waitressing, kitchen duties, and car hopping. Over the years she made many friends and earned the respect of others. This little lady from the East was not one to fool with. On a warm Friday nite, after closing late, cleaning up, and setting up for the next day, it was not unusual to go home as the next day dawned. A book full of memories. Her husband Gradimir died in Sept. 1982. In 1990, she put away her order pad and hung up her apron. In 1993 Vlajic and 3 of her children visited Ukraine and Yugoslavia. In Feb. 2001 Vlajic married Matthew 'Bud' Dooley, another WW2 veteran, a U. S. Marine, 1st Division, who was one of the nearly 1300 casualities of Sept. 15, 1944. He survived the 1st day of the assult on Peleliu in the Pacific. The month long battle was one of the most deadly for both the U.S. and Japan. Dooley was a new inspiration in her life, taking her out to eat almost daily, she loved sitting at the table, giving the order rather than taking it, silently evaluating the food and service. After all, a waitress should earn, not assume tips. And so it went till health problems slowed down her husband. With her 17 grandchildren and 13 great ones so far, 60 years has passed so fast. Vlajic still shovels snow as fast as it falls [doesn't get deep that way], does yardwork most every day, and has the most flowers on Pumpkin Hill. After all, she's still a worker from the East!!!
Pordöl / Pordoel (Proetz in '47) #1233
Prien am Chiemsee - Prien am Chiemsee is a municipality in the Upper Bavarian district of Rosenheim in Germany. The town is a certified air and Kneipp spa on the western shore of the lake of Chiemsee, 16 km east of Rosenheim http://www.bavaria.us
2/15/07 Mrs. Kaczmar,
In 1947, my father was registered here with the UNRRA under the name Konstanty Proniewicz by a Mrs. Proniewicz, who had taken him in as an orphan of unknown origin (probably Polish or Belarussian and Jewish) in 1942 and was no longer able to care for him. He was kept at the Children's Center here until being transferred to Aglasterhausen in 1947. Any information on this location would be greatly appreciated. Max Monclair, Omaha, NE
http://maxmonclair.blogspot.com

Prien on Lake Chiemsee photos supplied by Nadia
nadjali6@gmail.com
Remembrance from conference of representatives of Ukrainian YMCA/YWCA
On your website you have just one post for Prien, and one for Chiemsee. Both mention an International Children's center there post war. Here is a link to USHMM that I think is the hotel. It says that "By December, 1948 the Jewish children were gone and it became a YMCA training center. The camp closed on June 6, 1949." Small window of time for the conference, 6 or 7 months. http://collections.ushmm.org
Two other links to postcards of the hotel, found on-line.
https://www.ak-ansichtskarten.de
http://www.heimatsammlung.de
Cheers,
Nadia nadjali6@gmail.com
---
From 1945-1950 my mother, my brother and I (only occasionally my father) lived not in camps but in a room in a private apartment house in Munich. For some two or so years, my father was in charge of several DP orphanages in Prien am Chiemsee (Bavaria), so he lived there, coming home only from time to time. At other times he lived in camps where he worked.
When we were on the Kurši? Marios [the Curonian Spit], Soviet planes bombed us. The fishing boat that had followed us was hit and sank. Constantly on our way to Austria we experienced bombardments and strafing. Since we were the "Verfluchte Auslaender" (damn foreigners), the possibility of being taken to slave labor camps permanently hung over our heads. My mother had extraordinary abilities of survival (as a child, the Russian Revolution, in Klaipeda arrested by the German military and accused of spying for the Soviets, and incessant other harassments), so she managed to keep us and the other Lithuanian refugees that were fleeing with us (she got papers for them as our relatives) out of camps. Once three of our families reached Gratkorn (a town outside of Graz, Austria) my mother and one other woman were assigned to work in a lumber mill, maneuvering logs into monstrous saws.
Description of the living conditions in Prien (Did you live in a barrack, a building, an apartment) Were there other occupants in your living quarters? How did you eat, prepare food?
The city administration of bombed-out Munich had ordered that homes and apartments be subdivided, and allotted a specific square footage to refugees of all nationalities and bombing survivors. In the 4-room apartment where we lived, 11 refugees were housed. When my father would come home, there literally was not enough room for the four of us to sleep even including on the floor. Ponia Neverauskiene, who lived downstairs, would then share her room with me and I would sleep on her couch.
Kitchen, toilet and bathroom were all communal. Taking turns for all needs, all common tasks, and keeping track of how much natural gas we each used for cooking, were endless undertakings. Since there was no central heating, our room was heated with a wood/coal stove. We also used it for food preparation not just warmth. The chimney protruded out the window that had been covered with some kind of cardboard. No light. After months of waiting, glass panes were installed (they had shattered during bombing raids), but a part of the window still was left covered with this cardboard to accommodate the chimney.
Throughout the apartment house no warm water existed. Laundry and bathing was done in the basement laundry room where one could make a coal fire in a huge oven that had a built-in cauldron. Again we had to sign up for its use.
Most memorable events from life in the DP camp(s).
When my mother, my brother and I would go to visit my father in Prien finally there would be enough food! We also tasted such exotic delicacies as peanut butter for the first time in our lives. I overate and did not touch it for the next 30 years or so. In Munich we lived on ration coupons which minimally covered our nutrition needs, consequently what my father would bring back from the camps was invaluable. We were allowed to live outside the camps because my mother and at times my father had jobs not necessarily related to camps.
https://balzekasmuseum.org
Purten (US zone)
Russian boy scout troops