Click here for Judy's photo album or order a Powerpoint CD by emailing Judy Hrynenko jkruzer@shaw.ca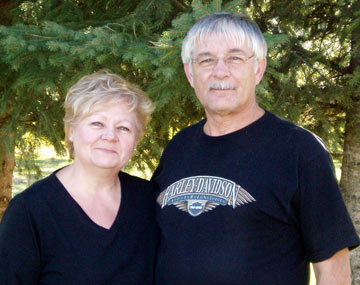 View of Cornberg approx. 1945
Cornberg Colony of the Hessian Copperslate Mine (district of Ratenburg a.F.) built in 1938 AD state domaine of Cornberg. Approximate population 4,000.
Cornberg Monastery known since 1205? previously Bubenbach ? 1230. City Square until 1529 (di. Sontra) Railway Station Cornberg built in 1875. Precious metal and mineral deposits 1936 and 1942. See Mario's Monastery photos on Cornberg page 3.
UNRRA Area Team 1023, Cornberg DP Camp 566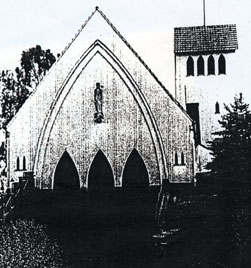 Below: A memorial stone, commemorating the 350th anniversary between the union of the Ukrainian Church and Rome, is embedded in the walls of the new Catholic church. Inscription is in Ukrainian, German and English.
Cornberg Memorial
Linda Cunningham, 1994
Quartzite sandstone, engraved quotations.
Cuningham: I met with the mayor of Cornberg and said, well, I could come and do a small sculpture, but if you can make available to me some of the town's resources, we could do quite a big project. I prepared a lot of drawings and found enormous stones cut in half in a nearby quarry that evoked the stone circles in England. The mayor got the stone quarry to donate them, and men who normally repair the roads worked with me to transport them. It was really built with the resources of the town. I wanted the text, that would be inscribed on the stones, to deal with what was in fact the very problematic history of the town. The town was built to house forced laborers from conquered nations in World War II. The text on the stone tells that story, but also that the Americans who marched in in 1945 threw everybody out of the town and made it into a town for displaced persons. It's one of those ironies of history that the Americans didn't know that these people were forced to go there in the first place, that they weren't even German!
I went back a year later, and the town is proud of the monument, they are as invested in it as I was, and it has never been touched by graffiti. I feel that listening to them during the planning process helped to accomplish that. It was important to include all the truths, and then people could accept it. The monument is not a one-sided telling of their story.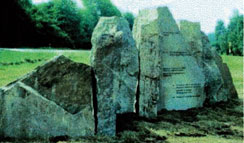 Cornberg Memorial
Church archives in Rotenburg has Cornberg documents: e-mail: kra.rotenburg@ekkw.de
Archiv der Herrschaft Biengen - Freiherr von Cornberg, Freiherr von Flotow, (free men of Cornberg & Flotow) Schloss Biengen 79189 Bad Krozingen http://www.archive.nrw.de/index.asp
Gravestones in Cornberg
Church archives in Rotenburg
has Cornberg documents:
e-mail: kra.rotenburg@ekkw.de
Archiv der Herrschaft Biengen -
Freiherr von Cornberg, Freiherr von Flotow,
(free men of Cornberg & Flotow)
Schloss Biengen
79189 Bad Krozingen
http://www.archive.nrw.de/index.asp
Cornberg is about 2 hours away and 181km WSW from Berlin.
Of Ukrainian decent, Anna Maria Zinkewycz of Lubaczow, Poland & Michael Hrynenko of Rozdol, Lvivska Oblast were forced from their homes in 1941-42 & sent to forced labor camps. Anna Maria worked for a German family, took care of the children, home, garden etc., because she was blond and blue eyed...looked German!! Considered Ostarbeiters...In the last few years she had to prove she was in forced labor and receives German pension. If you had a child during this time, there was further compensation. Michael Hrynenko stated the zone was Canadian / American. After the war in 1945, he worked for the American Police until emigrating to Canada in 1949. Judith Hrynenko email: jkruzer@shaw.ca
---
Dear Ms Kaczmar,
My parents Teodor BUBNIUK and Katerina BUBNIUK (nee Zinkewycz) were in Cornberg from 1945-1947 before emigrating to Sydney, Australia in 2003. There are other persons who were at the camp during this time who have photos and materials that may be of interest to anyone compiling a profile of persons from the camp. My mother is also from Ljubaczowso there may be a link with the woman in the photo.
Unfortunately many have died as they are now in their 70's and 80's. My mother has a an excellent memory of events that occurred and names of people from the camp. It may be of value for someone to speak with her about her experiences. Again there are others from the camp Olga Dawydko, Mychajlo and Rosalia Smykulis to name a few. For your information: Leshia Bubniuk Sydney, Australia.
---
1/31/05
Hello,
My mother was in the Cornberg DP camp from 1946 until she emigrated to Canada in Dec, 1948. I recently came across some of her old photos and was asking about them and she was recollecting about her time in the camp. My mother's name is Nina Lamikina (Russian) although I think that she may have gone by Nina Lamakowska during the war. She was in the camp from age 20 to age 23.
She has many pictures from a nursing school she attended while in the camp. She also has several pictures of people in the camp and her memory is quite amazing for people's names.
Thank you very much for the work you have done on the website. It is helping me to uncover some valuable family history that needs to be documented before my mother passes away. Greg Johnston gregjan@sympatico.ca
I have attached some pictures. My mom, Nina Johnston (nee Lamikina), is in all the group shots.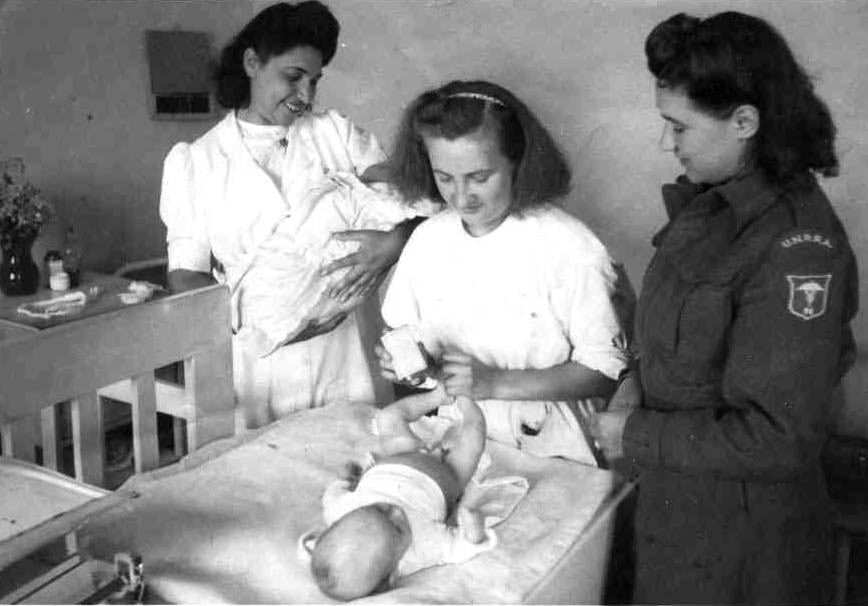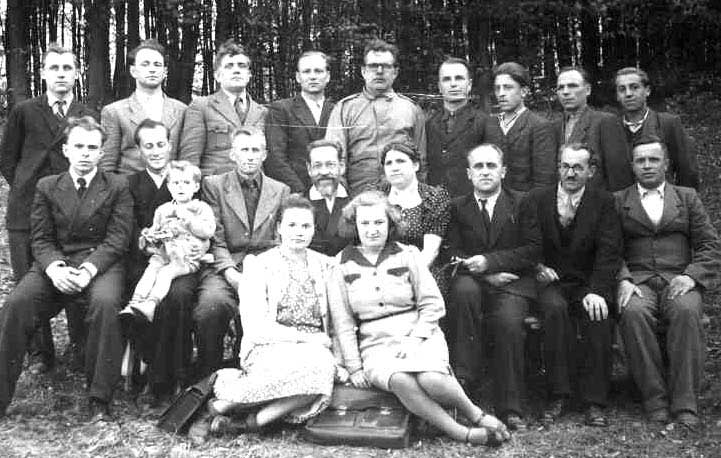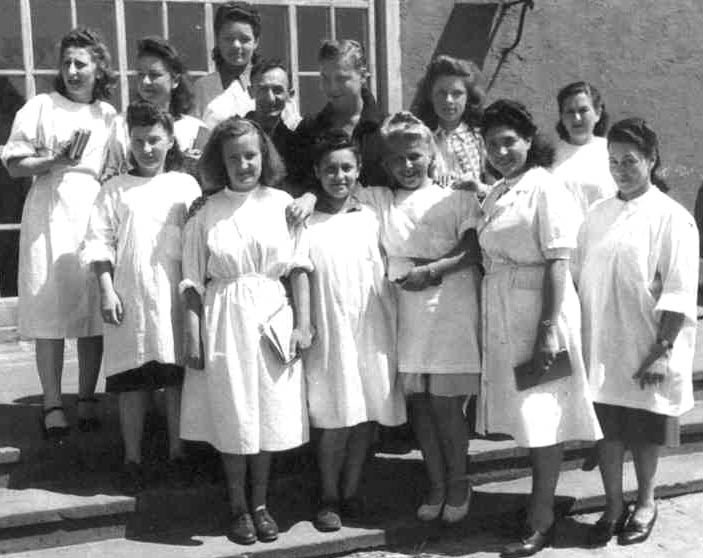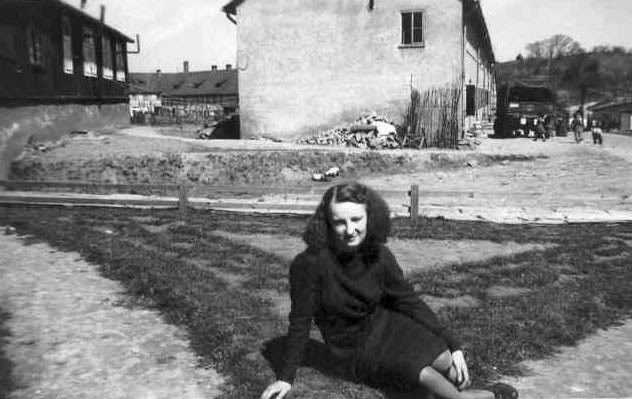 ---
I received an email from a gentlemen from New York. whose mother was in the Cornberg camp. She is 84, we connected and I sent them several CDs and a book that was written about the camp by a survivor...a long time ago by John Charczenko. There is no isbn number. I don't think you can even get a copy. It's written in Ukrainian.
She is loving it and remembers everything so vividly. His sister was born in the camp but the first husband died... Olga, I have a picture of his headstone; they were blown away when I sent it to them.

So you know what, I love to help people anyway I can; don't want nothing in return as long as they find happiness and some peace. Many Hugs and much love, Judy
---
Jan 16, 2015
I will travel to NTSh archive to meet with Stefania Charchenko, daughter of Juchym Charczenko, 2nd "mayor" of Cornberg DP camp from July 1947 to November 1948. Prior to staying in the DP camp, he was a political prisoner at Buchenwald Concentration Camp. His memoirs will be published in Ukrainian this year by the Shevchenko Scientific Society. It's important that his memoirs be translated into English to inspire youth interested in self-help practices of post-WWII Ukrainian refugees and genocide prevention.
I also will meet with youth from RAZOM organization and display a draft version of the electronic publication that includes digitized documents, photos, maps, sounds, video, etc. about life in the DP camps I mentioned above.
If you know any youth interested in archiving source materials, integrating them in maps, and telling stories via eBooks, please give them my email.
Also, I look forward to meeting Ukrainian-American librarians and archivists who may be meeting in Washington, DC this year. We can all learn from each other.
Thank you
Bohdan Kantor
Library of Congress
Information Technology Specialist
Work: 202-707-3015
Home: 703-243-2431
Leaving Cornberg registry submitted by Nadjia Beatles Fan <nadjali6@gmail.com>
---
More photos: