Displaced Persons -Immigration to Canada
Before 1918 Galicia was in the Austro-Hungarian Empire, and immigrants from Galicia would have carried Austrian citizenship. If the person came from the Austrian part of Ukraine, his records might be located in some other records at the Canadian Archives.
There are a few questions that need to be answered before you can begin your search: 1)
Who came to Canada and when?
(you may find information on ships manifests as to the towns they came from)
Did they come directly to Canada or through another country?
Talk to other family members and see who has information, documents etc.
Look at old pictures, sometimes they may give clues. People sometimes wrote on the backs as to names and locations where pictures were taken.
Also if there is a Ukrainian Genealogical group in your area, join it, and if not in your area there are Genealogical groups specifically geared to Ukrainian Polish research that you can join and they will send you a lot of information in doing research in Ukraine.
Canadian National Archives:
http://www.collectionscanada.gc.ca/index-e.html
National Archives of Canada that contains links to sources for various genealogical records in Canada including citizenship, immigration Information, passenger lists, military records,etc.
---
Canadian Vital Statistic offices http://www.gov.ns.ca
---
Alberta In Basilian Fathers' Museum in Mundare AB, there was a traveling exhibition entitled "The Barbed Wire Solution" Ukrainians and Canada's First Internment Operations 1914-1920 in recognition of the 80th anniversary of the First Internment Operations in Canada.
http://www.ucrdc.org
---
British Columbia:
British Columbia archives: http://search.bcarchives.gov
For the best Ukrainian food, call Prairie Cottage Perogies, or ask for their menu by email: Judith Hrynenko prairiecottageperogies@telus.net or visit website: www.prairiecottageperogies.com
Phone: 604 533-9354 • Fax: 604 534-1443
Address: 302 20771 Langley Bypass, Langley BC. Hours are 8 till 6 pm.
Only serving breakfast and lunch, takeout and frozen products all day long.
And of course making fresh perogies everyday!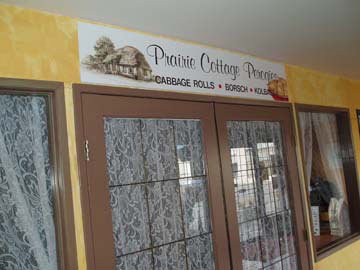 The best Ukrainian home cooking found here at Prairie Cottage Perogies.
I am the owner in the apron, Judy Hrynenko, and the young lady in the front on the left is my niece Tanya. Behind Tanya is Vicky from Baba's Treasure's and Olga behind me...
The best Ukrainian home cooking found here at Prairie Cottage Perogies. I am the owner in the apron, Judy Hrynenko, and the young lady in the front on the left is my niece Tanya. Behind Tanya is Vicky from
Baba's Treasure's
and Olga behind me...
Prairie Cottage Perogies © The Vancouver Province 2008
Mark Laba, The Province, Published: Thursday, February 07, 2008
Lowdown: Homemade doughboys just like they made in the old country; no preservatives, no additives. It's only open for breakfast or lunch, but they have a frozen section so you can take these treats home with you.
What to eat: Perogies of course. Potato and onion, potato and cottage or cheddar cheese, sauerkraut and onion, or the fully loaded with cheese and bacon. As well, there are cabbage rolls, both meat and veggie, meat or veggie borsch, excellent kolbasa and the homemade cream sauce for the perogies is a heartstopper in more ways than one.
Address: 302-20771 Langley Bypass, Langley, Tel: 604-533-9354
---
Books:

Genealogical Gazetteer of Galicia by Brian J. Lenius http://www.lenius.ca
His gazetteer (3rd Edition) is without a doubt the best for Galicia, as it includes more than a simple list of village locations. It includes among other things, data from various church shematisms (Greek Catholic, Roman Catholic, Evangelical) and Jewish synagogue locations. The gazetteer is NOT available on-line. He spent thousands of hours of research to compile the gazetteer. It's around $40.00 US.
San Francisco University lists the book Dictionary of Ukrainian Canadian Biography: Pioneer Settlers of Manitoba 1891-1900 by Vladimir J. Kaye in its online catalog. Also see: http://ist.uwaterloo.ca
There may be volunteers who can searchthis book at the following Alberta GenWeb lookup site:
http://users.rootsweb.com
A group at Infoukes own Community & Family History books. One of our members has placed the list at his internet site. If you find an area of interest, just click on the persons name and request a look up.
http://www.geocities.com

Dictionary of Ukrainian Surnames in Canada by F. Bogdan. You won't find much other information in this book, but you will find a correct transliteration of Ukrainian names (about 30,000 of them) from the Cyrillic into the English alphabet.
Books on family, immigration, and sources by Jeff Picknicki Generations: a family history. Winnipeg: [publ. by the author] 1990. 194 p. illus. ISBN 0-9694835-0-3, about the Picknicki and Morski families who settled in Manitoba. (Much information about ways of life and customs also).
The land they left behind: Canada's Ukrainians in the homeland. Stella Hryniuk and Jeff Picknicki. Winnipeg: Watson Dwyer, 1995. 107 p. illus. ISBN 0-920486-13-4 Photography by Frantisek Rehor, a Czech who became fascinated with Ukraine. The photos are from 1870s in Halychyna (Galicia).
Under the Southern Cross: a collection of accounts and reminiscences about the Ukrainian immigration in Brazil, 1891-1914. Jeff Picknicki Morski. Winnipeg: Watson Dwyer, 2000. 82 p. illus. ISBN 1-896239-62-5 When the emigrations began, families were leaving for America, Canada, Brazil, and even Hawaii. There were instances where families split up, with one brother in Canada, one in Brazil. The first two books are out-of-print, but you may still find them, if you're lucky. If not, try libraries or inter-library loan. Very much information, well-written, and with great photos of the period.
A Finding Aid Naturalization and Citizenship Indexes in the Canada Gazette 1915-1951. Victoria British Columbia, self-published 1999. This finding aid enables you to locate which issues and pages in the Canada Gazette contain Naturalization Indexes. Copies of the book are available for sale from the SGS.
Volunteers at the following site do lookups in the local community history books - for names of interest. The web site was kindly offered to us by Ted Lomatski. http://www.geocities.com
Some books have been digitalized; can be read at the following site. The page can be enlarged (click L at the top of page) http://ahdp.lib.ucalgary.ca
Ukrainians during World War II: history and its aftermath: a symposium, edited by Y. Boshyk [with R. Waschuk and A. Wynnyckyj], Edmonton: Canadian Institute of Ukrainian Studies, 1986. (Canadian library in Ukrainian studies), ISBN 0920862372.
Political refugees and 'displaced persons', 1945-1954: a selected bibliography with special reference to Ukrainians, by Y. Boshyk and Boris Balan. Edmonton: CIUS, 1982. (Occasional research reports - CIUS, no. 2.)
Book on DP migration to Canada: Searching for the Place.
Greater than kings : [Ukrainian pioneer settlement in Canada] text by Zonia Keywan (Main Author); Coles, Martin, (Added Author); photographs by Martin Coles; 1948- Bibliography: p. [vi]. Montreal : Harvest House, 1977.
Reminiscences of courage and hope : stories of Ukrainian Canadian women pioneers Krawchuk, Peter, 1911. Toronto : Kobzar Pub. Co. Ltd., 1991 ISBN/ISSN 0969512015
The Ukrainians in Canada by Ol'ha Woycenko = Les Ukrainiens au Canada / par Ol'ha Ottawa : Printed by Trident Press, 1968
DP: Lithuanian Immigration to Canada After the Second World War Danys, M. (1986), Toronto: Multicultural Historical Society of Ontario.
Great website, btw! Kind Regards, Julia Dicum
---
CENSUS ONLINE 1880's Census of Canada and USA:
http://www.lds.org
1911 Census:
http://www.collectionscanada.ca
---
Dominion Land Grants: http://www.archives.ca
---
East European Genealogical Society
http://www.eegsociety.org/
P.O. Box 2536
Winnipeg, MB
CANADA R3C 4A7
---
Eastern Orthodox Catholic: http://www.easternorthodoxcatholic.org/
Chancery Office
87 Sanders St. West
Exeter, ON N0M 1S2
Canada
Tel: (519) 235-1006 [Canada] or (512) 244-6802 [USA]
Fax: (512) 244-4919
Greek Orthodox Church in Ontario, http://www.gocanada.org/
http://www.greeklegacy.com
at 1-416-364-8918 or 1-416-465-8213 or 1-416-977-3342
They may be helpful in giving some of the information you need. In the search column, type: Ministry of Consumer and commercial relations or elections Canada. You can make an application at your local library to view the research documents you need or order what ever micro film you need.
---
Immigration Immigration advertising 1870-1830
http://www.civilization.ca
Immigration advertising in Europe 1900 -1920s
http://www.civilization.ca
Tools immigrants brought with them:
http://www.civilization.ca
C Article: "Canada's Immigration Policy." Commonwealth 45 (6 December 1946): 181-82.
Immigration report by Evangelical Fellowship
http://www.evangelicalfellowship.ca
---
Jewish immigration In the years after the end of WW1, Jews were the most numerous ethnic group of arrivals from Eastern Europe. Between 1919 to 1923 23,000, Jews arrived in Canada. Austrians, Bulgarians, Germans and Hungarians did not have the right to immigrate to Canada during that period.
Jewish Genealogical Society of Greater Washington P.O. Box 31122
Bethesda, MD 20824-1122.
---
Languages in Canada
http://www.statcan.ca
Chinese as a mother tongue has been experiencing rapid growth since the 1980s due to increased immigration, particularly from Hong Kong and the People's Republic of China. Between 1991 and 1996, the number of people who reported Chinese as mother tongue increased 42% to 736,000.
As a result, Chinese moved from second place to first as the most frequently reported non-official mother tongue among Canadians, surpassing Italian. Chinese mother tongue comprised 2.6% of the total population in 1996, followed by Italian, German and Spanish, in that order.
After Chinese, Punjabi, Arabic and Tagalog were the three other non-official language groups which had the strongest growth between 1991 and 1996, reflecting the increase in immigrants from Asia and the Middle East.
Twenty-five years ago, the top three non-official mother tongues were German, Italian and Ukrainian. Their number has been declining since 1971, due largely to significant declines in immigration from European countries and the increasing death rates associated with the aging of their population.
In 1996, 47% of people with Ukrainian mother tongue were aged 65 and over, as were 28% of people with German and 20% of those with Italian. In contrast, 12% of Canada's population was aged 65 and over.
---
National Library of Canada: http://www.nlc-bnc.ca/
English version: http://www.nlc-bnc.ca/index-e.html
---
NATIONAL REGISTRATION of all Canadians - over the age of 16 years. Please note that since March 30th 2005, Statistics Canada's regional reference centres across the country are closed to the public. Should you require the access of Statistics Canada's publications and reference documents please contact your local public library
(Depository Services Program - DSP) or your local university library (Data Liberation Initiative - DLI) for availability.
1940 National Registration file:
In 1940 the Canadian government required ALL people over the age of 16 to register. It was possible that some Ukrainians avoided the registration. Ukrainians might think that it could be a repeat of the Ukrainian (mostly) interment in Canada during and for two years after WW I.
The information in the file is held by Statistics Canada so it is not covered by the privacy regulations governing census information. To request this information you need to know where your person was living in 1940. The information included is: Date of registration, electoral district number and name, polling division number and name, card number
Surname, given name, permanent postal address
Age last birthday, date of birth, conjugal condition (married, widowed, divorced), of what dependants are you the sole support (father, mother, wife, number of children under 16 years, number of other dependents), do you contribute partial support to anyone
Country and place of birth of yourself, your father and your mother
Nationality or country of allegiance: British subject (by birth, by naturalization, foreign citizen, if naturalized in what year, in what place, if not British subject, to what country do you owe your allegiance, if an immigrant what year did you enter Canada, racial origin
Language or Languages: Do you speak English? French? What other language can you speak, read and write?
Education: Primary only, primary and secondary, vocational training (business college, technical high school), college or university degree
Is your general health (good, fair, bad)? If blind, deaf, dumb, crippled or otherwise physically disabled, state nature of disability. If permanently disabled, are you in receipt of a pension? In respect of War Service? Workman's compensation? Old age or blind? Other?
Class of occupation: Are you an employer of labour other than domestic? If so state business. Are you working on own account, but not employing labour? If so, state business. Are you an employee (working at usual occupation, working at other than usual occupation, unemployed, not working because pensioner, dependent, retired, independent means)
Occupation or craft: Present occupation, years of experience? What is your regular occupation, years of experience? What other work can you do well? If an employee, who is your present employer (name, address, nature of business where employed)? If experienced in a skilled industrial occupation or profession, describe specifically the type or types of work in which you are specially equipped by training or experience.
Unemployment: How many weeks did you work in the past 12 months? If out of work now, state number of weeks since last employed in any occupation other than work performed in return for direct relief. Are you totally incapacitated for employment?
Were you brought up on a farm? Until what age? Have you worked on a farm? How long? In what province or country? Can you handle horses? Drive a tractor? Use farm machinery? Can you milk? Are you able to do other farm work?
Is there any particular occupation in which you would like to be specially trained?
Defence Services: Have you previously served in any Naval, Military or Air Forces? If so, state Forces of what country? Approximate dates between which services performed? Unit? Rank held? If retired or discharged, give reasons? Have you been rejected for military service in the present war? Why? Where?
The form was sent to Ottawa and each individual was issued with an identification card which they were required to present whenever they were stopped by a member of the constabulary. Not all questions were always answered. These forms still survive.
Read this file for application and instructions: 1940 registationCensus.pdf
Statistics Canada
Census Microfilm and Pension Search Sub-unit
B1E-34, Jean Talon Building
Tunney's Pasture
Ottawa, Ontario K1A 0T6
Fax: (613) 951-04574
http://www.statcan.ca/ You need to show proof that the individual is dead. Fee: $48.15 including GST. If no record is found $5 will be retained and the remainder of the fee returned.
---
The
Provincial Archives
have other records we would be interested in, most particularly the homestead records, and vital records, such as the birth, marriage and death certificates.
You will need to show a proof of death, i.e., a copy of Death Certificate, copy of obituary, or photo of gravesite, showing the name and dates. File an Freedom of Information form, available free from public libraries or government offices. With the form include a $5.00 fee for service and the cost of a postage stamp.The naturalization papers may be held in the Province where the person applied for it, or from the National Archive in Ottawa when the information is received.
Naturalization Records: Before 1917 and from 1977 - 1985, one had to be in Canada for three years before one could be naturalized. From 1917 - 1977 and from 1985 to the present, one had to have been in Canada for five years. Pre 1917, the original records between 1854 and 1917 have been destroyed but a nominal card index survives. The information on the cards provides the present and former place of residence, former nationality, occupation, date and place of naturalization. 1917 to the present, these records give the name, address, date and place of birth, former citizenship, whether married, single, widower/widow, name of wife is sometimes given, citizenship of parents, physical description, names, birth dates and places of birth of minor children and the date and place of naturalization 1932. From 16 January, married women had to make a separate application for naturalization.
Information found in a Naturalization File: In addition to the application form for naturalization, there is a Royal Canadian Mounted Police report, an Affidavit Proving Petition and an Oath of Allegiance. Other documents could show why they wanted to be naturalized, information about their husband or wife and children and who vouched for their character and reputation.
Indexes: An index of those who were naturalized, along with their addresses and countries of origin, was published in the Canada Gazette. Although naturalization indexes ended in 1947, the lists continued to be published until 1951. From 1917 to April 1921, the lists are in numeric order. After this time, they are listed in alphabetical order.
Copies of the naturalization certificate may be found in your family papers or may be found in the Homestead Papers. From 1918 - 1938 the lists of those who were granted or refused citizenship were printed in the CANADIAN GAZZETTE (http://www.tbaytel.net/bmartin/natreg.htm) the official paper of the Canadian parliament. Copies are found in the National Library of Canada or on microfilm or fiche in the legislative or university libraries in each province. The Saskatchewan Legislative Library has microfilm copies from 1910 to the present A Finding Aid Naturalization and Citizenship Indexes in the Canada Gazette 1915-1951. Victoria British Columbia, self-published 1999. This finding aid enables you to locate which issues and pages in the Canada Gazette contain Naturalization Indexes. Copies of the book are available for sale from the SGS.
How to Obtain Copies of Naturalization Records: Copies are available if submitted on an Access to Information Request Form by a Canadian citizen or a resident of Canada. The form and information are available on the Internet at the National Archives of Canada. There is a $5 fee payable to the Receiver General. Send to:
Department of Citizenship and Immigration
http://www.cic.gc.ca/ENGLISH/INDEX.ASP
Public Rights Administration
300 Slater St, 3rd Flr, Section D
Ottawa, Ontario K1A lL1.
Naturalization papers -- This address effective March 27, 2000.
Public Rights Administration
Citizenship and Immigration Canada
Narono Building
360 Laurier Ave West, 10th Floor
Ottawa, Ontario
K1A 1L1
Public Rights Administration Directorate
365 Laurie Ave
Jean Edmonds South Tower, 15th Floor, section "A"
Ottawa, Ontario K1A 1L1

Attention: Deborah Goble, Manager of Operations.
It will take about 6 weeks, apparently, all immigration paperwork is located in Halifax, Nova Scotia, and they have to send it up to Ottawa to be verified before sending it out.
You should get a letter stating that they received your letter of request, first, before they process your request.
http://www.immigrationdirect.ca
http://www.immigrationdirect.ca
Ukrainian consulate in Canada - Choose English or Ukrainian language on site
http://www.ukrconsulate.com
Prince Edward Island
Upcoming 2019 Camp Ohio Reunion: Want to learn more about Camp Ohio? Would you like to meet some of the former residents and their families? A reunion is being planned in beautiful Prince Edward Island, Canada July 9 to 12 in 2019. Meet up with old friends, make new ones, share memories and photos! For more information, email Daria dariadv@yahoo.ca
---
The topic of Ukrainians in D P camps was neglected for a long, long time! ! ! Some of us have lived there but our children and especially our grandchildren do not know about it . . . !
https://www.cbc.ca
C/\ABKO kpyk1939@comcast.net
The news media only focuses on D-Day and the American lives that were lost to free Britain and France. Olga okaczmar@gmail.com
Yes. Somehow in the narrative they lose sight that Britain went to war because Hitler invaded Poland, then Churchill and Roosevelt, later backed by Truman after Roosevelt's death, illegally ceded eastern Europe to Stalin as spoils of war, causing decades of misery and loss of freedom and opportunities for those people. dariadv dariadv@yahoo.ca