Breendonk - Prison and labour camp; Sep. 20, 1940 - Sep. 1944; est. prisoners min 3,532; See: http://breendonk.be/
---
State Archives of Belgium
English versio: http://arch.arch.be
Search archives: http://arch.arch.be
http://arch.arch.be/frame_nl_cd.htm
French version: http://arch.arch.be
Email: Algemeen.Rijksarchief@arch.be
Workpermit.com http://www.workpermit.com
English:- Rootsweb: http://belgium.rootsweb.com/
Jewish: http://perso.wanadoo.fr
Federal Office for Scientific, Technical and Cultural Affairs -
Homepage - http://www.dwtc.be
www/nautica/museums/mmeube.html
Belgium navy
http://www.mil.be/marine/index_eng.htm
http://www.naut-res-guild.org
BELGIUM Sister of Charity distributed UNRRA food.
Belgium, 1946 Archives 4575 UN/DPI
Photo United Nations archives: http://www.un.org
Belgium National Tracing Bureau (BNTB)
Belgian Red Cross - Flanders
Motstraat 40
2800 MECHELEN
e-mail: tracing@rodekruis.be

Belgium Red Cross - French
96, Rue de Stalle
B - 1180 BRUXELLES
e-mail: service.tracing@redcross-fr.be
---
Zedelghem POW Camp 2227, Belgium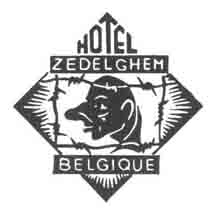 Historical website about the Allied PoW Camp for German and Baltic soldiers in Zedelgem (Belgium) 1945-'46:
www.zedelgem-pow-camp.be
http://www.zedelgem-pow-camp.be
---
Ex-German Army depot turned into Allied 21 Army Group, 1st Corps, POW Camp housing various Baltic POWs and some Rumanians but mostly, 1945 - 1946, thousands of soldiers of the German Army's Latvian Legion. In 1946, in spite of their past SS service, these men were declared non-Nazis and set free. There are major local initiatives underway to preserve the camp as a museum. Some campaign participants want to exploit the above museum plans as a means of preserving the camp remains as a memorial to anti-Communist Flemish and Latvian troops who fought in the German Army on the Eastern Front.
Other POW and Internment Camps in Zedelghem, and in France, included:
Bayeux and Caen
Brasschaet
Enghien
Esselheide
Jabbeke
Kraci
Overyssche
Rheinberg
Weeze
Wickwrathburg
Flanders
Flanders was a medieval country in W Europe, extending along the North Sea from the Strait of Dover to the mouth of the Scheldt river. The corresponding modern regions include the provinces of East Flanders and West Flanders in W Belgium and the adjacent parts of N France and SW Netherlands.
Submitted by Alan Newark braveheart562002@yahoo.com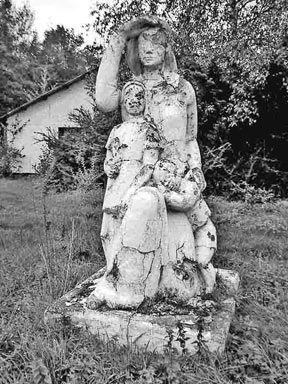 Statue entitled: "Marianne: When are you Coming?"
The statue, and many other pieces of art were made by the PoW's. It shows a women (called Marianne) and her small kids waiting for her husband to come home. The statue proves the homesickness of these young soldiers. For some of them, it was not possible to return to their homeland, because it was occupied by the Russians. And deportation meant a certain death in Siberia. At the time the statue stood in the middle of the camp. But after the PoW's left the camp,it was moved to the entrance of the military site, where it still stands. But it is in a very poor condition. So it's part of the purpose of my website to rescue the Marianne and the last remaining PoW-art in Zedelgem from total distruction. Coming?"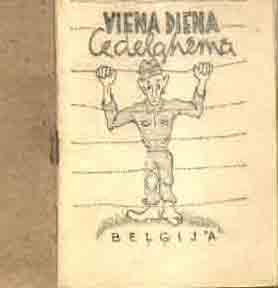 Cedelghema
is the Latvian translation of the Belgian town Zedelgem or Zedelghem. The title of the small booklet printed in Zedelgem (1946) is Viena Diena Cedelghema which means: "A day in Zedelgem." It discribes, in Latvian rhyme, a day in the PoW camp. Denys, Pol email is pol.denys@pandora.be
Forced labor victims fund in Brussels
Überraschender Fund umfangreicher Zwangsarbeiterlager-Listen im Archiv des Service des Victimes de la Guerre in Brüssel by Joachim Schröder
http://www.archive.nrw.de
---
Hi I'm 17yrs and trying to find my grandmother's family. My grandfather already found his family by a miracle, but no one can find my grandmothers'. Her father was Joseph and mother Maria. She had a sister Kathrine, Olga, Felcha and her Maria. They were separated and my mother was a slave to a German family for 3 yrs she left and went to a dp camp found her sister. Kathrine married to a Belgim solider; they had a daugter Olga. I have photos of her at about 2 yrs old. They went to Belgium; never saw them since. My grandmother came to Australia, had a family, she is sick with dementia. It would be good if i can find them for her. Her maiden name is Bandera. I don't know the right spelling so it's hard even my last name is hard to find cause they changed the spelling. If you can help, please do so. My buba's Polish, dido is Ukrainian or Polish. I don't know. My name is Nadia Lypskyj email is
lypskyj_1@hotmail.com
Thanks.
---
Dear Miss Kaczmar,
A collegue of mine is looking up the personal history of her German grandfather, who was a Navy officer in Belgium (Zeebrugge) during the second World War. After the war, he was in an internment camp in Bavaria. He died in Hamburg in 1964. His name is Gustav Friedrich Hans Gunderloch. He married in 1945 a woman named Madeleine Arenberg. I'm searching in what internment camp in Bavaria he stayed, for how long, if he really was on trial etc. I would really appreciate your effort. Sincerely, Frederika Ducheyne
bolle.ignace@belgacom.net
---
11/16/04 Hello Olga,
I'm writing my Dad's war history. Can you embellish this story at all? My Dad served in the US Army Air Corps during World War II. At the end of the war, my Dad was stationed in Namur, Belgium. A month or two after the war ended, my Dad was bored, so he and a couple of GI buddies walked down to the Namur train station to watch the trains come in. He noticed that the trains coming in were crowded with "displaced persons," mostly men. Apparently these were men who had been from Belgium or the nearby area, and who, during the Nazi occupation, were forced to go to Germany where they were forced laborers. They were now being returned to their homes. Thank you. Please email any reply to aamuise@hotmail.com.
Allan Muise France
1/8/06 Madam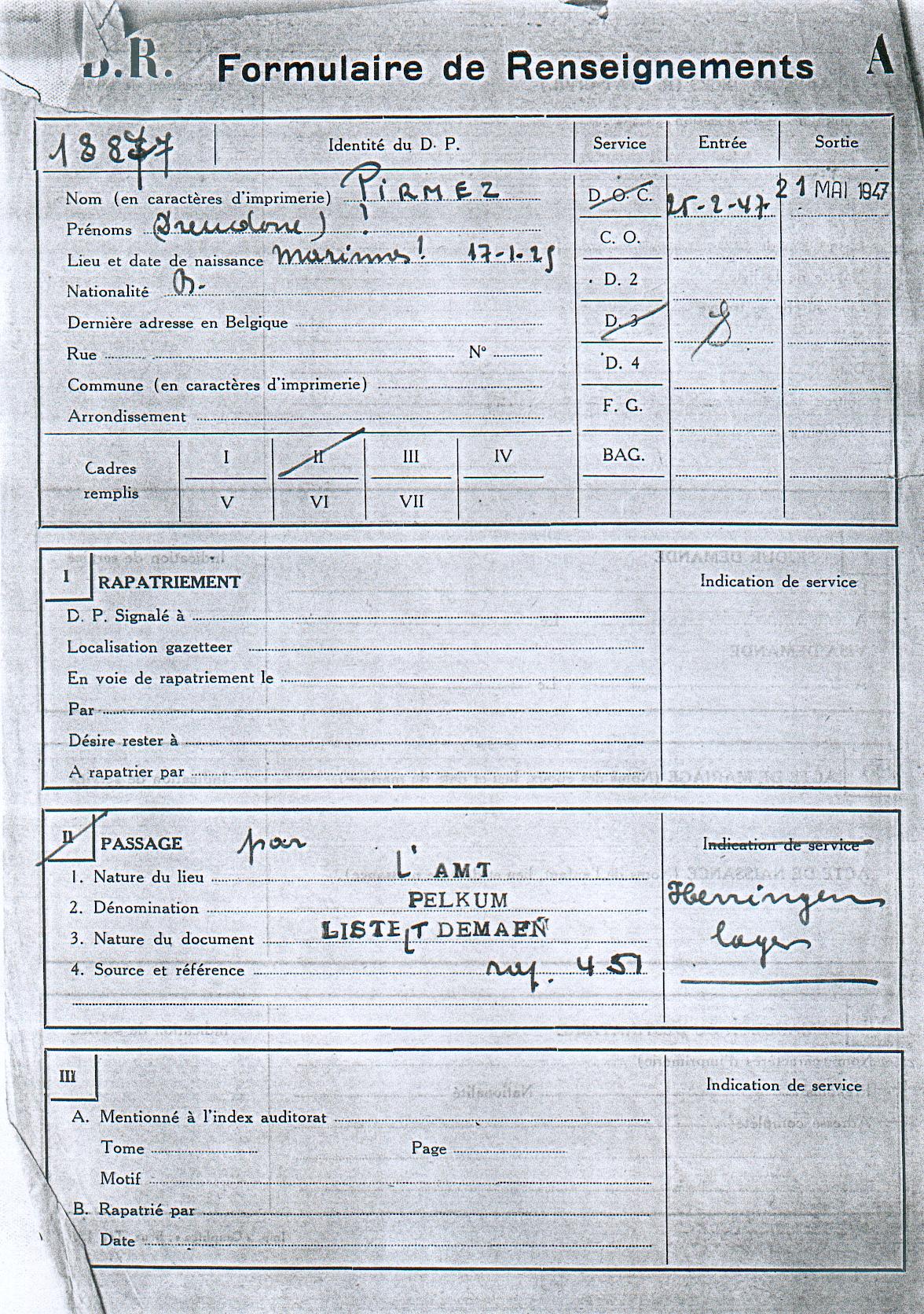 I am in search of my uncle, Pirmez Dieudonné Fernand, A Farcienne in Belgium. We have a document which refers to the camp of Herringen in 1947. We lost trace of him. He left Belgium to work in Germany, to be able to eat for he was hungry, and then at the end of his contract, he was working in the legion Wallone, which was a Belgian branch of the German soldiers. Alas with time, it appears to us that he had made a bad choice. I does not want and cannot judge it, for it is made, I do not know what I would have done had I been in his place. My family and I are trying to find him, or his children. I hope you could help me in my research.
Madam I convey my sincere greetings, Lacroix Laurent, email: fa458737@skynet.be
---
1/28/09
My mother was taken from her home in Przemysl, Poland in 1943 and insured at the "Allgemeine Ortskarankenkasse" Marktheidenfeld; Hasloch. She was registered in Hasloch where she was forced farm labor at Bernhard Verchs. Later she was in Baldersheim, a rural district of Ochsenfurt, resided in house number 62 and gave birth to my sister. Then she was in a DP Camp Schweinfurt and in 1946 in a DP Camp Weiden/Oberpfalz. In 1947 she left Camp Weiden for Amberg. My father was arrested in Radomsk. In 1943 he was sent to Aushwitz. Then in 1943 he was sent to Gusen and in 1943 to Mauthausen, 1943 Weiner Neudorf. In 1945 he was liberated from Mauthausen and he was in DP Camp Schweinfurt, on and in DP Camp Weiden/Oberpfalz. Then in 1947 he left DP Camp Weiden for Amberg, Belguim. Neither my mother nor my father ever talked about this time. I found out these dates through the Red Cross and Holocaust Tracing. Both of them are now deceased and there is no way of finding out any more information about this time. Can you give me any suggestions about who I can contact or hire to try to find out about my mother's life in Germany during her forced labor and my sister's birth there? I would appreciate any help you can give me.
Your site is fantastic. You are doing a wonderful job. It is amazing how many people are looking into the past.
Thank you.
Helena Stange hstange@cox.net
---
Timewitnesses.org:
The Liberation of Belgium
A Canadian Officer in Belgium
---
Belgium brigade
---
Belgium displaced children
---
Hoover library on line
Hoover and Belgium relief 1914-1917 URL: http://hoover.nara.gov/
---
Hello from Brussels,
I make a biography about the Polish grandfather of my wife, who was soldier in the 1st Polish armoured Division of General Maczek.
Also I'm looking for some information: the grandfather saved the lives of three children in Ter Apel (The Netherland) between 14/4/45 and 19/4/45.

He received a present from the family, with address in La Haye. This address doesn't exist any more. I would like to know how is it possible to find, without names, the basis town of these children's? Netherlanders DPS?? Red Cross archives in NL?? Best regards. Gilles LAPERS
---
12/15/04 Dear Olga,
Can you help me? I'm trying to locate information about my father,Tadeusz Lech-Bielinski, an artist who survived Stutthoff, Gusen and
Matthausen
by painting and sketching for the German guards. He came to Belgium as a displaced person. Between 1949 and 1952 he immigrated to Australia on assisted passage. I have looked through passenger lists available on the net without success.
Lucy Elliott
---
Latvians in Belgium 1905-2012
http://www.latviesi.be
Submitted by: Alan Newark
braveheart562002@yahoo.com
Latvian POWs of WWII - in Zedelgem