Camp names:
Bathurst Migrant Camp
Berrima (see Australia Page 2, link below)
Bonegilla See story are on Australia, page 2
Cabramatta
Chullora Railway and Migrant Camp See story are on Australia, page 2
Cowra
Greta See story are on Australia, page 2
Mildura Holding camp Australia, page 2
Ohio Australia, page 2
Uranquinty Camp See story are on Australia, page 2
Sale Migrant Camp
Stewart
Villawood
Woodside Camp
---
The
National Archives of Australia
is your first place to start your search:
PO Box 7425
Canberra, BC ACT 2610
National Archives of Australia http://naa.gov.au/
Ask us a question' page:
http://naa.gov.au
World War II records email: ww2@naa.gov.au
9/28/2016 Hi Olga,
I am currently researching my Polish in-laws who stayed at various camps in Germany and Poland. When one digs deep enough, it is amazing what you can find. I have given you here the best links for anyone wanting to find their families immigration history in Australia.
Here is the link to search for names re immigration etc.: http://recordsearch.naa.gov.au
Some files you can access for free, some you have to order and others are still not open. A mixed bag.
Immigration Records – Fact Sheet 227: http://naa.gov.au
Immigrant Ships - Transcribers Guild -- World War II Refugees to Australia -- http://immigrantships.net
The National Library of Australia which is in Canberra and has a very extensive genealogical section, micro fiche's, with many links to helpful sites. https://www.nla.gov.au/
This one is for Trove our newspaper archives. http://trove.nla.gov.au/
This one below is a great little site I discovered with lots of information on Poland and its history. You can type in almost anything. It's a bit like an encyclopedia. http://revolvy.com
If you would like any other links or information, please do not hesitate in contacting me. I have been researching for over 28 years and have a very extensive list.
Kind regards, Diane diaura@optusnet.com.au
---
OzeUkes http://ozeukes.com/ Australian Federation of Ukrainian Organisations
---
Ukrainian organizations in Australia http://brama.com
---
Australia accepts displaced persons from Europe - 843 Estonians, Latvians, and Lithuanians arrive. (1947)
http://historysmiths.com.au
Check Immigrant ships Transcribers' Guild SS Oxfordshire: http://immigrantships.net
---
Hi Olga,
Just sending you some information on some camps in NSW Australia.
I used my naturalization papers which had my name, D.O.B., & born in Germany. I backtracked with the Australia Archives and immigration. I learned where I was born; what camps; names of grandparents; where in Poland my parents came. We stayed at these camps over a 10 year period after the hardships both my parents went through in Germany, mum was a forced labourer on a German farm, and my father was an inmate of concentration camps: Majdanek in Poland, Mauthausen in Germany/ Austria and Natsweiller in France.
After the war, we spent 5 years in various DP camps in Germany before we migrated to Australia. I was born in DP camp Hohenfels, Bad Reichenhall. If you think they a useful, you could use them on the Australia page of your site.
I'm forwarding you the Archives in Canberra as well as the Polish page. Congratulations on your site. It is fantastic. You have done so much wonderful stuff and gone to so much trouble. You are an inspiration and a tremendous help to other people doing research into their background, people like me who knew nothing about their parents past lives. I feel to have a future, you must know your past. Thank you for your contribution. It is much appreciated.
Polonia.og.au and their English version http://polonia.org.au/
The Polish Connection on rootsweb http://freepages.genealogy.rootsweb.com/
Warm regards, Maria Nolan / Australia
---
The Polish Museum & Archives http://polishmuseumofamerica.org
---
Australian Dept of Immigration https://www.border.gov.au
---
Populate or perish http://john.curtin.edu.au
---
12/30/04 Do you or do you know people who can do research? I was born In Unterluess, Block A-18, 1949. I have found my mother, but not able to find information on my father who emigrated to Australia. Any information I could get as to him, his family or genealogy via camp information would be great for my heart and good for my children in the future. I have been looking for him for 10 years and have only recently found proof he did emigrate to Australia, but the info I got was sketchy. Perhaps he had family? That is an avenue I may pursue. Thanks for the time. Jenny Apfel apfeltj@yahoo.com Moran, MI
---
Hi Olga
Terra Nova means a new land -- it was the title of an exhibition for some of us from within the Polish community set up at the Immigration museum in melbourne. It then toured Australia and visited Poland. It commemorated 50 years of post war migration by Poles to Australia.
regards, Lucyna Artymiuk Melburne, Australia
---
Hello Olga
Recently I emailed you and you posted my e-mail. From that, an odd experience has resulted one which I believe is God's work. Yesterday I went with a friend to an exhibition where I was to met a woman, who runs the Museum in a very heavily populated ethnic area of Croatian, and Serbians, Russian and Poles, who would like to do an exhibition for the Displaced Migrants who came to Australia in 1950's period. Could you please provide me with all the websites address details.
This exhibit would allow the youngsters, some 3000 whose parents and grandparents fall into this group, to understand their family history which for many has never been discussed or told like in my case over a 45 year period.
I think it would help as I had told her how I now was learning and wanted to do something using my mother's experience to educate myself further and my children as well.
Kind regards Anne-Marie Hofman
---
Hello Olga.
I have just came across your wonderful site. I have only recently decided to try and locate a family my Grandmother accommodated in her home (Australia). This family Husband, Wife and daughter came to Aust.approx 1949 and initially settled in Bonegilla Migrant Centre.The daughter attended a Catholic School.They came by boat.Other migrants tell me they first saw them in Italy. They were Romanians.Their surname Balan (this spelling is my version) the young daughter was called Lena by my family but this may not have been her given name she would be about 58 years old now. Other migrants tell me they kept very much to themselves in Bonegilla, but developed a friendship with my grandmother (possibly thru church ?) this led to them leaving the migrant centre, living with my grandmother in Albury. Grandmother did not take monies for them living with her ("they had to get on their feet") but Mr. Balan (?) who was a builder/Architect put his skills to work around the home. I have not ruled out the possibility of them having left Australia.
With such little information do I have a chance of perhaps finding the daughter. What do you think? Any ideas would be very much appreciated.
Yours Carolyn Hennessy
---
Hello Olga and Stefan: Thanks for your help and congratulations on your work. It is extremely valuable to people such as myself. Andy Kowaluk, Australia
---
So pleased that I found your site. Just found the Greta camp information where my husband's family from Poland went to after arriving in Australia. thank you thank you. a wonderful website. enjoyed reading this article. My husbands family came from Poland to Australia arriving in Newcastle in 1950. They sailed on the Goya from Bremenhaven in Germany and were in the Greta Camp. Do you know where I can get more information or photos of the camp or the Goya??? thanks Linda Juda
Thank you for your help. The Australian National Museum has sent me some information on the ship, and I have now got photocopies of the Goya. Many thanks. Linda Juda
---
Hello, Olga - My book is: Carrington, Lois, A real situation: the story of adult migrant education in Australia 1947 to 1970. Canberra: Tara. 1997. I am already sending your web-address to those old friends I mentioned yesterday. Good for some more recorded reminiscences. We do applaud this project!
Olga - I am "addicted" to your site now, deriving more from it every time open it. You might like to add another book to your lists (general and Polish): Sonya's mob: the life and times of a Polish-Australian family. Lois and George Carrington. Canberra: Tara, 1996.
Sonya was George's mother - the book centres on her story, including her fortunes in post-war Europe, the difficult early days in Australia, and her rising career as a noted weaver. It is plentifully illustrated by photographs, many in colour, of Sonya's work, the family, etc. We have originals ofthe photographs relevant to the European-camps period of Sonya and George's lives.
We still reckon this is the best site seen for donkeys' ages! Lois Carrington
---
November 10, 2008 Dear Olga,
You have a wonderful Web site, just as many others have told you already.
I've taken the liberty of linking your site to mine, at http://fifthfleet.net. Mine is about the movement of the DPs to Australia and their lives here. Like yours, mine is intended to aid reunions, the Fifth Fleet Forums. Two sad items of news: Lois Carrington died in April this year; Tom Stiglmayer now is prevented by blindness from his undertaking his very worthwhile passenger list transcriptions and other researches for DP families in Australia.
I don't know what has happened locally in Western Australia with Tom's work but, internationally, it is being pursued by the Immigrant Ships Transcribers Guild. Lately I have been corresponding with Richard Botteron of the ISTG about updating their pages which refer to Tom's work.
The idea is to let users know that many of his passenger lists are incomplete, so their co-operation in having them digitized by the National Archives of Australia (at AUD 16.50 a list) would be of great assistance.
Western Australia is a whole continent and three hours away from me in Canberra, so tracking him down at a phone account in someone else's name was quite an achievement. I can't do much more from here than issue encouragement through my own Web site.
Fascinating artwork too, Olga.
Wishing you all the best,
Ann Tündern-Smith,
tundern@yahoo.com.au
---
Here is another book which covered postwar migration to Western Australia 1945-1964 called "Milk and Honey - but No Gold" written by Nonja Peters which was published by the University of Western Australia Press 2001. Tess / Australia
---
G'Day Olga, The following site gave me a wealth of information regarding DP immigrant ships to Australia, and Tom Stiglmayer can be contacted to obtain very specific information also. http://immigrantships.net
During my search for information regarding my families early years in Australia, 1950 and onward, I was introduced to a wonderful book called ' Letters of Heartache and hope' by Edith Torokfalvy. ISBN: 0 646 22175 2. It is self published and can be obtained from Gould Publishing. http://gould.com.au/
Edith and her family were in Bonegilla and Mildura camps about the same time as our family.
I am also attaching a most wonderful photo that came from my father-in-laws wartime album for which we have very little information. I send it to you in case the posting of this photo on your site can shake out information on the men in it. My father-in-law is not in the photo. His name is Jan Dziedzic and he was a member of the Polish Underground Swietokrzyska Brigade. His brigade name was Kula. He was born in Olesnica. Here is a link to that Polish Underground unit that my father-in-law was with Swietokrzyska Brigade. It is in Polish, so I am not aware of its content.
With kind regards from Australia, Hans Simons ubg@tsn.cc
---
1/27/05 There was a German Camp in the village of Berrima, New South Wales, Australia. A book has been written on this subject, which is totally fascinating. The following is a review of the book, which will help you to know what the camp was about:

World War I brought about some 300 prisoners of war into the tranquil village of Berrima, when the disused sandstone gaol was transferred into a German internment camp. While there were many internment camps located throughout Australia at this time, this book looks at one in particular, brought to life with an excellent photographic collection. Prisoners in Arcady is a fascinating read into 4 1/2 years of history into the POW at Berrima.
Afforded few comforts, these resourceful seafarers waited out the war far removed from front line action. While confined nightly in cramped cells, they were free to roam by day, "easy-going military guard permitted every liberty that prisoners-of-war could reasonably expect," They bridge the Wingecarribee River, building along its banks chalets and gardens in the style of their homeland. They supplied fresh produce to a community that learns to accept them, respect them, and even love them with their choir, orchestra and theatre.
It is an incredible story, the photographs I have seen are beautiful. These German people built gorgeous huts on the banks of the river, and paddled around in hand built canoes. I am just astounded.
Prisoners in Arcady: German Mariners in Berrima 1915-1919 by John Simons is available from The Berrima District Historical Society, PO Box 131, Mittagong, NSW, 2575, Australia. Phone: (02) 48722169 The book costs about $45 plus postage.
Regards, Lavinia, lavinia@mitmania.net.au
---
1/20/06 Hello Olga, I have just been reading all the interesting stories about the displaced persons that came out to Australia. I myself came out when I was 4 years old. I have been looking to find the name of the Ship that I had come out on but have had no luck so far. My parents and I came to Australia as displaced persons in 1950. We stayed in Cowra for a short while then went to the camp at Bathurst , then Villawood and Cabramatta. I would love to know the name of the Ship that brought us to Australia and any other information regarding people that came out at the same time on this Ship. Hope you can help, Albina Kerwin (nee Trenkiewicz, Trynkiewicz) thank you. ally@bizmail.com.au
---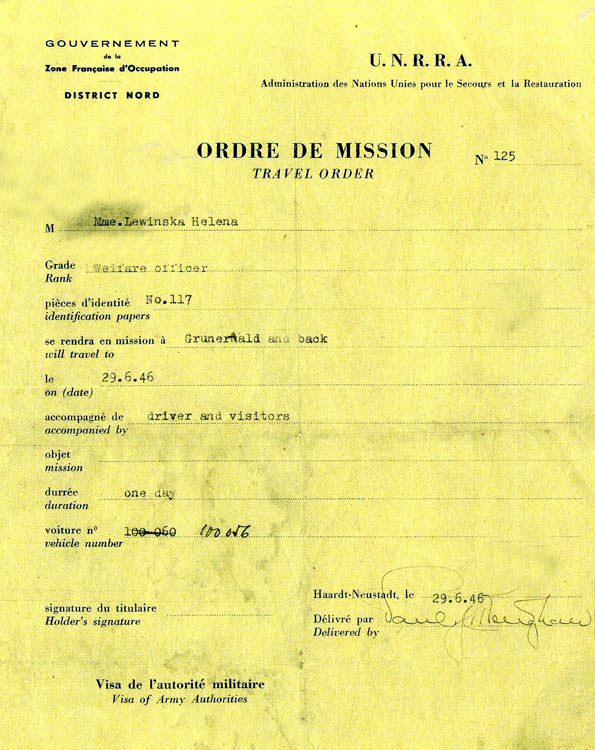 2/4/06 Dear Olga,
Enclosed please find a travel order belonging to a lady who has since died in Australia. She emmigrated here in 1949 with 2 little boys. I hope this document is of some interest to you, but I am also asking where could I find some background information on this lady. Would there be an employment record for her? Where was she living? Her husband died in Montabaur in 1948. Fantastic website. Cheers, Sandra email: sahara03@optusnet.com.au
---
1/23/08 Hi Olga,
I am on the quest to find my family history and found your site. Both my mother and father came over as young children (to Australia 1950).
I have responded to Janina Kik from your site as I found that her parents and my grandparents & parents travelled on the MS Nelly in 1950 – I have supplied passenger lists, images etc to Janina.
It is possible to find the passenger list of the MS Nelly at the
http://naa12.naa.gov.au
– it is free to search the database – but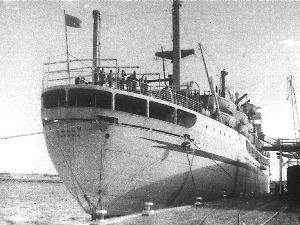 you must register as a user. If you use the following text - A434, 1950/3/45007 in the reference number search filed under the research search after you log in – it will display 87 pages of the Nelly's passenger list in digital format.
I am early in my search of my grandparents/parents history – family names of Czubara and Pijanka, as all my grandparents have died – I am now on a quest to gather as much information as I can.
I am finding your site were interesting and if I can help anyone else fill in the gaps it would be a pleasure. Have a nice day.
Regards, Anne-Marie Pijanka
apijanka@internode.on.net
---
1/30/08 Olga
Thank you. After the Americans came to Kapellen in 1945, mum and dad were taken temprarily to Anrath. From there they first went to the Dormagen camp (which was mainly Polish) for a short while and then to Lintorf - where they stayed from 1946 to 1947. From there they went to Seedorf in about 1948 before being processed for emigration to Australia at Fallinbostel in 1948. They left for Australia from Naples in 1949, arriving in Melbourne a month later. From there they were taken to Bonegilla - but because mum had a baby girl (my sister and was pregnant with me) she went to Cowra for a few weeks as the facilities for mothers was better there. They both finally came to Canberra in 1948. Do you know if there are any photos of the camps at Dormagen, Lintorf and Seedorf which are from that era??
Regards, Peter Ilyk ilyk@grapevine.com.au
---
3/26/08
While in Germany during the second world war Mrs. Irene Ozarchuk nee Kowal gave birth to a baby girl, Olga. When Olga was a few weeks old, she got sick and was taken to the hospital. The nurse which admitted the baby said to Mrs. Ozarchuk, "Oh my name is the same Irene Kowal (Canadian Ukrainian). A few days later, the nurse brings the pillow and blanket of the baby and said the baby died.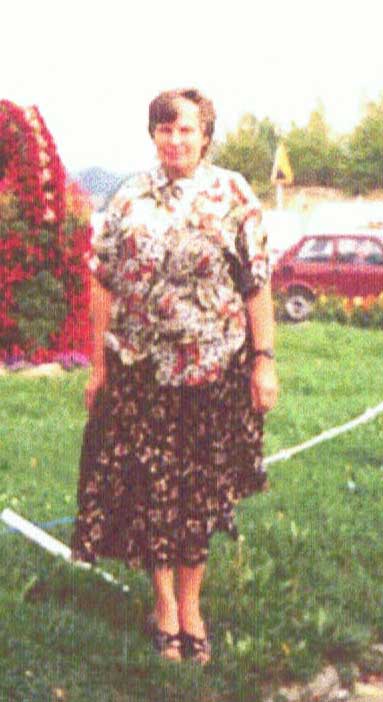 The mother did not see the baby after her death. As the Russian soldiers were moving the people, she did not leave her barrack. All these years she presumed her daughter was dead until a few years ago she receives this picture stamped at Sydney Australia and at the back it is written in Polish: "Olga is a well and beautiful lady." No other information is given. So we presume Olga was sold as a baby in Germany because at that time they were stealing children and selling them. We presume this is the baby Olga, grown up and somebody knew about Mrs. Ozarchuk because the enveloppe was sent to her to Northam. That is why were are trying to locate her. The hospital was Soltau. The mother was in a displaced person's Camp named Munster. (Click photo to enlarge.)
We wrote to Germany and we received Olga's birth certificate but there is no record of her death. The hospital destroyed their records after 30 years so we couldn't get the information of when she was discharged and when they took Olga from the hospital.

We went to the Salvation Army police missing persons unit, but they all say they cannot help us. So we have tried different channels but to no avail. The mother is elderly and not too well, therefore, I would like to see them reunited because I really feel this is her daughter. If not then al least we'll clear the case. So if you have any further suggestion I would appreciate to hear from you. Thank you kindly for your time.
Sr. Muriel Zemliak / Ozarchuk family, mzemliak2@bigpond.com
---
On 5/1/08
I am trying to get more details on MARIA MAIER who was on board the Nelly to Australia 1950 from Germany; then worked for Ford Motor Co. for 2 years. peb12@onthenet.com.au

---
1/8/09 Dear Olga
I have set up a website http://ssasturias.net for the interest of passengers and their families who emigrated to Australia on the SS
Asturias in the 1940s and 1950s.
In September and December 1947 several hundred Polish Displaced Persons came to Australia on the ship. I have been told they were the first Polish DPs to arrive in this country (but am trying to confirm that). Most of them were soldiers in uniform.
The passenger lists on my site have the names of these people, most of whom were sent to work on hydro-electricity schemes in Tasmania or New South Wales.
The site may be of interest to you. (My own site is quite new - which makes me appreciate all the work you must put into yours to keep it up to date!)
Kind regards
Vicki Doherty info@ssasturias.net
Melbourne, Australia SSAsturias.net
---
DP Camps. Latvians in Australia Face Book Pages
3/13/2015 Dear Olga
I have been browsing your website. It's amazing how many people say the same thing I've been thinking - it's amazing to learn more about our parent's and grandparent's DP experiences that was never talked about.
You might like to add the below information to your Australia page.
Face Book Pages/Groups
There are a few now and the members are very helpful with enquiries from people looking for family.
FB - 'Latvians Living in Australia'
FB - 'Latvians Online'
FB - 'Latvian Federation of Australia and New Zealand'
WEB SITES
http://laaj.org.au/
Latvian Federation of Australia and New Zealand
Latvians Online http://latviansonline.com/ (It has Australian Latvian Editors)

FORUM - 'Looking for Friends and Relatives'
http://archive.latviansonline.com
It was almost impossible to find this forum by going to Latvians Online and using their own search tool bar. I just already knew it existed.
Ingrid
Australia