The town is located on both sides of the Main in the southwest part of Germany, 41 kilometers (25 mi) southeast of Frankfurt am Main. In the western part of the municipal territory, the smaller Aschaff flows into the Main. The region is also known as Bayerischer Untermain ("Bavarian Lower Main"). Aschaffenburg lies in the far northwest of the state of Bavaria, close to the border to the state of Hesse.
There were six camps in Aschaffenburg: https://en.wikipedia.org
Alte (old) Kaserne (opened in 1805) on Goldbacher Strasse at corner of Weissenburger Strasse.
Jäger-Kaserne (1894-96) on 180 Würtzburger Strasse; mostly Poles & Lithuanians
Pionier later renamed Fiori-Kaserne (opened 1936); 2,000 people (1946–1949); on Schweinheimer Strasse.
Lagarde (LaGarda) (opened 1936-7); 1,700 people (1945–1949; later renamed Smith-Kaserne on Würtzburger Strasse.
Bois (forest)-Brullee (opened 1937); 1,500 people (1946–1949); later renamed Graves-Kaserne on Würtzburger Strasse. Many Ukrainians
Artilerie Artilleries (opened 1938); approx. 2,000 people (1945–1949; later renamed Ready-Kaserne on Würtzburger Strasse. Many Ukrainians
City archives:
Stadt - und Stiftsarchiv Aschaffenburg
Schönborner Hof, Wermbachstrasse 15
63739 Aschaffenburg There are research fees involved for this information gathering, so ask your questions carefully. As of 2006, Matthias Kloz is the Archivamtsinspektor, and he speaks English. His e-mail is:
matthias.klotz@aschaffenburg.de
9/24/2012
Yes, there were five DP Camps in Aschaffenburg. The Jaeger Kaserne was known as POLISH CAMP...though Lithuanians and Ukrainians were housed too. The USA law indicates nationality by the place (state) of birth....therefore your parents were placed in the Polish camp...although really they are Ukrainians. When we came to USA (the same family) but I came under Czech quota ...my mother under Polish quota ...and my dad under Russian quota. Figure this ....the same family? European states go by parent's nationality.... here is the difference. Our saying: If a German Shepherd is born in France, he doesn't become at once a French poodle because he is born in France and visa versa. Isn't this a good comparison?
When I was liberated by French army in Ravensburg.....the French authority did not have Ukrainians on the list at all....and therefore we were not able to receive food rations. They told us to change the nationality to Polish or Russian and many did change....except 17 men (including me) did not agreed to it....and we were left without food rations.....After many days of negotiation, they handed us only half portion.This is to show you how Ukrainians are treated wherever they are....and therefore...I am bowing my head in front of you....because you promote Ukrainian culture ...as PYSANKY, etc.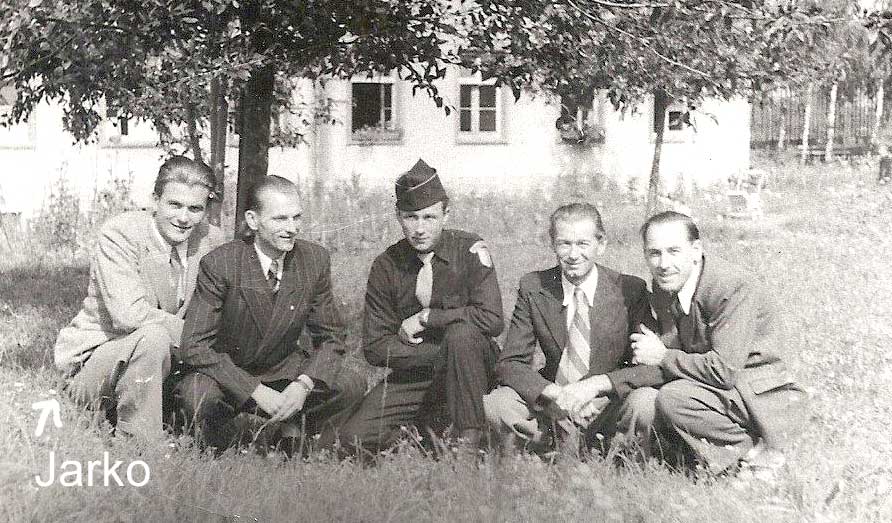 I am very upset....how the Russians are lying on all fronts of the history. They claim, that they are Slavs....originating from Kyiv's Rus'.....but how come that they do not make PYSANKY? which actually came from pagan time...and Ukrainians are making them wherever they are until nowadays. HERE is another evidence, that they [Russians] are not Slavs....and that they do not originate from Kyiv, cradle of Slavs.
The Pioneer Kaserne...had a hospital and La Garde was fully Ukrainian....it was a cultural center for all others camps. It had a High school (= Gymnasium)....many concerts and /or entertainment was performed there. This was camp where Ukrainian elite were housed...as medical doctors, professors, artists, priests, etc. Many organizations were there, such as: PLAST (Ukrainian scouting org.) and SUM (Ukrainian Youth Association).....in USA, it became SUMA (Ukrainian Youth Associattion of America www.cym.org) With best regards, Jarko Sichynsky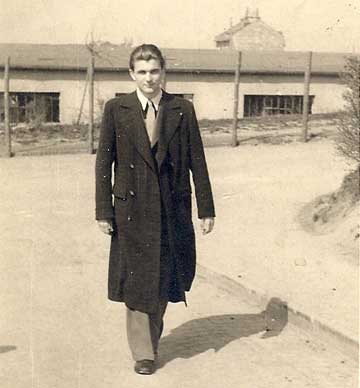 Jarko walking in DP camp La Garde, Aschaffenburg, 1947
---
Here are three pictures from activities of PLAST in DP Camp Lagarde in Aschaffenburg....celebrating 35th anniversary of PLAST with big show.
Aug. 14, 2014
My grandfather was an officer in a camp after the war in Pioneer Casern, Aschaffenburg. His name was Wasyl Krywyn. One of the photos was cut off and on the back you could make out his birth date and "Pioneer Casern, As.....Team 612.......Lagerpolizei (Camp Police)" John Daciuk jdaciuk@gmail.com
Attention readers; if you find your family in this photo, write directly to Olga to update names: Front row:
I am researching my father-in-law's ancestry. He was born in Aschaffenburg in January 1953 and placed in an orphanage where he was adopted by an American couple. My search is for his biological birth parents. The man I'm hoping to identify is in the second from the bottom row, 2nd from the right. Sincerely, Rachel Valastek raeoflight@live.com
10/6/21 Middle of photo, only man wearing a hat is Michael (Michaylo) Bilous from Ukraine, emigrated to Bonegilla Australia in 1949 and married Briljanda Turrmann from Estonia. They met in the camp in Germany. He was a photographer of sorts in the camp and would stamp a blue 'Bilous' on the back of some photos. Mariah Lawson mariahblawson@gmail.com
7/18/2019 I just discovered that my father Wolodymr Bilynskyj was in the Aschaffenburg camp as a youth. I am not sure of his father's name, though I believe his mother's name was Olena.
I have the attached photo of a group in front of the technical school. My father is the tall fellow in the center below the "U" in the city name. You are free to share this photo on your site. Thanks for all the information you have gathered together.
Sincerely, Steve Bilynskyj, bilynskyj@comcast.net
---
How to ask for a birth certificate in German:
The local authority has a webpage: http://www.aschaffenburg.de
At this page, you could find a lot of contacts for the responsible department "Standesamt"
The head of the dept is Mr. Walter GROSSMANN.
The contact for certificates (=Urkunden) is Mrs. Christine STAUDT.
Best Regards, Martin Rossdeutsch / Germany
Sample letter:
2/34 Km 650/47
Stadt Aschaffenburg
Postfach 63
63701 Aschaffenburg
Deutschland Germany
Lieb Frau/Herren ___________:
Ich mögen ein von die Geburtsurkunde von ____________________________ geboren___________herein Aschaffenburg kopieren. Meine Mutter ist____________ Meine Vater ist__________________
English translation of above:
Dear Mrs./Mr. _________:
I would like a copy of the birth certificate of ____________born on __________ in Aschaffenburg. My mother is____________My father is____________
Anything else you want to add to help him search. You can request both the German and English versions. You can ask for mother's marriage certificate. from each town. Germans keep very good records.
---
War photos:
In World War II, Aschaffenburg was heavily damaged by Allied area bombing, including Schloss (castle) Johannisburg which was completely restored several years later. The Germans chose to defend Aschaffenburg with particular steadfastness, which resulted in the "Battle of Aschaffenburg" fought 28 March - 3 April 1945. The U.S. 45th Infantry Division was forced to take the fortified town against stiff German resistance in a series of frontal assaults that involved house-to-house fighting and vicious close combat. The resulting widespread urban destruction was quite severe, as cannon fire was used point-blank to blast through structures.[7] https://en.wikipedia.org
Photos from NARA show scenes from a 6-day fight to clean the town of stubborn German resistence. Company 3, 2nd Bn. 157th Regt., 45 Div., XV Corp, Aschaffenburg Germany:
WWII History of the 2nd Chemical Mortar Battalion,
from the "Crossing the Rhine" chapter by
Bruce Elliott:
belliott@mcttelecom.com
"...On 25 Mar, Co C moved to positions in the vicinity of Ibersheim and Rheindurkheim in support of the 157th Inf which was initially in reserve. The company crossed the Rhine by pontoon bridge on the 27th and did no firing until Aschaffenburg was reached. Here fanatical resistance was encountered by the 157th, and the entire company fired many missions into the city starting numerous fires and destroying several buildings. For four days, the city held out against our constant mortar and artillery fire and continued daylight bombing. The company remained in position on the outskirts of town until the end of the month. ..."
"...On Mar 28-31, the company fired in support of the 179th advance, which moved rather slowly south of Aschaffenburg because of fanatical resistance in that city."
"...At the beginning of the month, the Main river had just been crossed by both divisions south of Aschaffenburg, and they had advanced northeast toward Bruckenau and Gersfeld. Aschaffenburg held out for two days after it had been isolated and bypassed, but surrendered on 2 Apr. " More memories
More photos of the destroyed city of Aschaffenburg 1945 of Co A atchd 179th Inf; Co B atchd 180th Inf ; Co C atchd / 157th Inf 2nd Chemical Mortar Battalion.
---
Olga in baby carriage at 2 mos old in Jäger-Kaserne, with mom and sister.

---
Displaced Persons Camps There is a big difference between a slave labor camp and a displaced person's camp. Slavic & Baltic slaves in the slave work camps were found by the Allies and taken by rail to dp / refugee camps. From 1945 to 1950, the United Nations Relief organization fed, clothed, gave medical attention and dispersed refugees to all parts of the world for a new start in life - Australia, Venezuela, Belgium, England, and finally later, the United States.
There were 7-10 million (figures vary depends on who's report) citizens in Nazi Germany, working as slave laborers in factories all over Germany with OST (east) identification cards. Those without identification cards had numbers branded on the inside of their right arm. They were rounded up and hauled into DP camps, 1,000 at a time in cattle cars, their paperwork processed and then assigned a bed.
United Nations Relief & Rehabilitation Administration (UNRRA) Director Katherine Hulme recalls: "When this vast population of slaves was uncovered by the Allied armies in 1945, they had been OST [eastern] people for nearly six years." They came from Poland, Ukraine, Estonia, Latvia, White Russians, Lithuania, Hungarians, Czechs and Russian /Ukrainian captive soldier forced to fight for Germany. "The Jews numbered less than one fifth of our Zone's total DP population but they were an articulate minority that if you only read the newspapers. . ., you gained the impression that they were the whole of the DP problem. They made the headlines regularly. . .They would stage hunger strikes. . .and frighten the wits out of Army and IRO by their wailing. . ."
---
Katherine Hulme
Katherine Hulme was second in command in Camp Wildflecken (mostly Polish) and later became director (chief of care and maintenance) for all D.P. camps in Area Three of the U.S. Zone (Bavaria), which included Camp Aschaffenburg (mostly Ukrainian DPs).
For a detailed account of DP camp life, you must read "The Wild Place" by Kathryn Hulme, published by Little, Brown & Co. in 1953, 1960. Excerps quoted here are taken from her book.
Hulme says of Camp Aschaffenburg : "Rival camp newspapers fought out camp elections with impassioned fury. New businesses sprang into existence to undercut established concessions like barber and cobbler shops, synthetic lemonade stands and beer gardens. Just as in the outside world, men occasionally seduced each other's wives and the camp lawyers' briefcases bulged with marital troubles. Knives flashed in brawls over room space and camp doctors sewed up the losers. Even the clothing-distribution warehouses were set up like countered stores, with a men's, a women's and a children's department and a curtained dressing room where the garments of international charity could be tried on before acceptance. Visitors always stared with astonishment. They had not expected to find camp life so 'normal'."
Ukrainian literature and books proliferated in Camp Aschaffenburg. At long last, freed from the yokes of oppression, writers and scholars began to publish for as little as "two or three cartons of American cigarettes". The Artistic Ukrainian Movement (MUR) organized in Bavaria and held its first conference in Aschaffenburg in Dec. 1945. This literature helped preserve the refugees' identity and continued the homogenous cultural process. (Wyman p.166) Katherine Hulme collection at the Beineke Library, Yale University:
Boxes 43-45 have covers made by displaced persons and contain many pictures of residents and conditions at the Aschaffenburg and Wildflecken camps.
Box 43 folder 655 Wurzburg & Wildflecken camp 1945-46
Box 44 folder 656 Kleinheubach and Aschaffenburg camps 1945-47
Box 44 folder 657 Aschaffenburg camp 1947
---
Public Law 774 The Displaced Persons Act
Near the end of 1947, news had reached the camp that a US emigration bill would require every DP emigrant to have a sponsor in the US. When not enough sponsors were found, in June 25, 1948, Congress passed Public Law 774, the Displaced Persons Act which provided for more than 200,000 DPs to enter the US over the next two years.
85,000 were Ukrainians.
The USS General Le Roy Eltige
made five trips to pick up refugees. For many families, it was a new beginning. Suicides of those left behind often occurred shortly after one of the massive farewell parties. One Ukrainians who was required to have second X-ray, suspected he was illegible for emigration and hung himself (M. Wyman, p.203). Finally in December 1949, my family and I were fortunate to be able to come to Boston via this Navy ship. Olga Kaczmar
---
Aschaffenburg Today
Aschaffenburg is located near Frankfurt am Main in the region of Bavaria (equivalent to a state in the USA). Frankfurt is an economic and banking center where people from the region will often travel for financial services such as military loans and mortgages. Besides being a hub for services such as military loans, Frankfurt has important German history. In Frankfurt's cathedral, German emperors had been elected since 1152 and crowned since 1562. In Grosser Hirschgraben you can visit the fully furnished house of Johann Wolfgang von Goethe who was born here and spent his childhood within its walls. South of Frankfurt are the wooded hills of the Odenwald, alongside is the Bergstrasse, a scenic road originally built by the Romans. North of Frankfurt are found the once volcanic Vogelsberg mountain and the Nordhessische Bergland, the hilly tract of northern Hesse. The famous miniature water-castle 'Mespelbrunn' and the Castle Johannisburg (17th Century), in Aschaffenburg are definitely worth a visit. For nature enthusiasts, both forests offer excellent hiking on beautiful nature trails.
Einschlägige Archivalien vorhanden: Ja (yes)
Bestandsbeschreibung:
UNRRA -Akten, Arbeitsbücher (worker's ID book), Meldekarteien, keine Angaben, zusammen ca. 1.500.
Abdeckungsgrad der Überlieferung (ca.): 60%
Besondere Benutzungsbedingungen: Ja
Verweisadressen: Staatsarchiv Würzburg, Residenz, 97070 Würzburg (Unterfranken).
---
Aschaffenburg A-Z website in German http://www.info-aschaffenburg.de
Landkreis (Districts) -Aschaffenburg http://www.landkreis-aschaffenburg.de
12 photos of Aschaffenburg http://www.meinestadt.de
Aschaffenburg-Schweinheim West Local Training Area, Aschaffenburg Military Community, Germany http://www.globalsecurity.org
Books on Aschaffenburg in German: http://www.alibri.de
Verfolgung und Widerstand 1933 bis 1945 am bayerischen Untermain by Monika Schmittner, 400 pages, 60 Abbildungen, with names and Ortsregister, kartoniert, ca. Euro 18.- ISBN 3-932710-71-1
Blickwinkel Aschaffenburg by Albrecht Sylla, Martin Hahn und Roland Ebert: Ein Gang durch die Stadt und ihre Geschichte 208 pages, 39 photos, gebunden, Euro 15. ISBN 3-804386-4-3
Article: Genet. "Letter from Aschaffenburg." see New Yorker 24 (30 October 1948): 86-91.
---
Zbirnyk Ukrains'koi himnazii v Ashaffenburzi.( Collaction of Articles About the Ukrainian Gymnazium in Ashaffenburg.
Compiler Bohdan Boychuk. Kyiv, Published by the Commettee of Former Students of the Ashaffenburg Gymnazium, 1993. 207 p., avail. at Shevchenko Scientific Society Library. This book is written in Ukrainian. It contains articles about Aschaffenburg student life, organizations, teachers and history of this institution which existed in post-war Germany. Includes many photographs.
---
Aschaffenburgh Orphanage:
8/1/06 Hello Olga,
I stumbled on this web site in hopes of locating the orphanage in Aschaffenburg. I was born in 1959 to an unwed mother. At the time, she was unable to care for me and put me in the orphanage until she was able to take care of me. I have my German birth certificate but no mention of a father is on it. My mother's maiden name was Rita Amelia Kuhner; at my birth I became Monika Kuhner. I want to know what I can do to try and find my birth father. I currently live in the US. My natural mother and her US husband took me back from the orphanage after I believe was 1 year time there. I never knew I was adopted until much later in life and my mother has since passed away. I don't have any information on my birth father. I do know that my mother had a sister in Wiesbaden but do not know her name. Any information you could provide to help me in my search would be most appreciated. thank you Monika (Kuhner) Grove
Olga - I was born in Aschaffenburg in 1953. I was placed in an Orphanage and adopted by Americans in 1953. Can you tell me the name of the Orphanage in Aschaffenburg? Was there only one orphanage? Thanks, Pam Long Texas
Aschaffenburgh Orphanage: You probably already have the answer, but just in case you do not, the Aschaffenburg orphanage (Kinderheim) was at Kochstrasse 8 at that time and was moved to the Bessenbacherweg in 1982. The old orphanage now houses a music school. The second picture is from a 1953 article about adoptions by Americans. These pictures are from a booklet to the 150th anniversary of the "Kinderheim" and were pinned to a Pinterest board by a Carmella Hammond.
The following article talks about Americans adopting refugee children.
https://s-media-cache-ak0.pinimg.com
Address of the new "Kinderheim": http://www.kinderheim-aschaffenburg.de/
Perhaps they know where the old records are kept. Germans are very thorough and don't throw away documents.
Dear Olga, Thanks so much for your web site on Aschaffenburg which is so interesting. I am searching for 2 persons of my family who were in the Ukrainian refugee camp of Aschaffenburg in 1947 or 1948. They were called : Galina PULCHINSKY and her daughter Ariadna MAIKOVSKY. We know that they went to Australia. Do you have an idea where I can find a list of all those refugees in Aschaffenburg camp? Or a list of the persons who went from Aschaffenburg to Australia? I thank you very much in advance, Best regards, Catherine Peyronnet, France
Hi: I was stationed in Aschaffenburg; I was in Company D 9th engineer......I miss it all.. I am only looking for pictures from when I was in the army from 1967 to 1969 mostly of the barricks I stayed in..I believe it was called Jaeger (Yaeger)... Can you help me please....Thanks Bobby Deibert, Allentown, PA
My husband was also born in Aschaffenburg. He and his parents must have been moved to Wildflecken where they lived until late 1950. Susan Wojtowicz New York
Hello,
Camp Wildflecken became installed in the former army barracks near the village of Wildflecken. Camp Aschaffenburg became installed in former army barracks near the city of Aschaffenburg. The distance between these two cities is about 70 miles. There is no direct connection between these two camps. Hope this helps :-) Bye, Heinz Leitsch Germany
Dear Olga,
Oh, my God!! Never in a million years would I have ever dreamed of locating someone from my childhood through the internet. I have thought about your family . . . often through the years. . . I did a search for Pysanky and of course got quite a list of related sites. I clicked on the first one that looked promising . . . It caught my eye because of the reference to Aschaffenburg. I read through it and of course the name Kaczmar just hit me like a ton of bricks... She looked them up and picked up the friendship that had been established back in the DP Camp. Wildflecken is north of Frankfurt. It is near Marburg since I was born there while my parents lived in Wildflecken. Aschaffenburg is southeast of Frankfurt. It it about 2 hour driving distance. Aschaffenburg is a city. The reason that they may have been considered as one is that a Polish priest was assigned to that area. Usually, a Polish priest lived in a camp that had the most Poles and then he travelled to the other camps. Irene
The pastor at Camp Aschaffenburg and Wildflecken was Demetrius (Mytro) Szul graeco-cathol. parochus: His last known whereabouts would have been Franciscan monestary, Rhode Island Avenue N.E. Washington DC. If anyone has any information, contact okaczmar@gmail.com Olga
Olga,
Thank you for the website. Both my parents were at the camp in 1948. Is there an archive of camp pictures or list of displaced persons anywhere? Thank You Art Czabaniuk
Dear Olga,
My parents lived in camp Aschaffenburg after WWII, mom and dad were slave laborers, with dad having also survived a concentration camp. Is there a site where I can get further information? Would also like to hear from any children of holocaust survivors. My parents were originally from Poland, non-jewish, and just celebrated their 58th wedding anniversary this past January 2004. They were married in the DP camp, so I am very interested in obtaining as much information as I can. Thank you for such a wonderful site! Krysia
Olga:
My mother (Maria Bodnar) spent some time in this camp and has a number of pictures relating to the camp. One in particular is a picture of a soccer team for which she was some sort of nurse.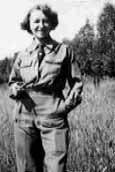 She has passed away now, but I am wondering if you would be interested in scanned copies and secondly where there might be some additional information on this camp or records. Michael Reshitnyk / Ottawa, Canada MARIE-LOUISE HABET, Nurse and former nun, served with the British First Aid Auxiliary, giving aid to soldiers wounded in the Battle of the Bulge. After the war, she signed up with the UNRRA (United Nations Relief and Rehabilitation Administration), and continued her nursing career at CampWildflecken, and Camp Aschaffenburg. The IRO (International Refugee Organization) promoted her to Area Chief Nurse and transferred her to Wurzburg. During her years with the Relief Agencies, she accompanied several transports of displaced persons to their new homes, including Poland, England and Australia.(Photo: Beinecke Library-Yale University)
Any one with information regarding Ms. Habet and her humanitarian deeds is asked to contact: antony.boast@pandora.be or nicky.langley@skynet.be to help in making a documentary about Marie-Louise Habets.
10/30/04 Dear Olga,
Thank you for your site and it's pics. I too was a child resident with my family in Ascheffenburg. We where originally from Rohatyn. Over the years the memories have faded, and one begins to wonder if any of it was real. It was. It is important to pass on our history to the the next generation. Few are doing it now. Who will do it after we're gone? Oleh Dzera
Hi Olga:
Thank you for your site on Aschaffenburg. I was born in Aschaffenburg. Would you know how I can obtain the original birth certificate? I enjoyed reading about your family and appreciate the hard work you did in researching your geneology. Samantha Krettler Thank you for the link to a most amazing, wonderful website! I assume you are the one responsible for this beautifully researched and organized compilation on dp camps. I had searched the Internet before, several years ago, and there was so little. Your efforts are truly a work of art.
I was born in Aschaffenburg, the Ukrainian camp because they had a hospital or clinic there, and doctors, but my parents and I lived in the Polish camps.
Thank you again, on behalf of all of us! Best wishes, Maryann Wojciechowski
---
Aug. 6, 2019 Dear Olga
My grandmother and family are from Ascheffenburg. But I don't know how to get information about them. My Grandmother's name is Ericka Bruckner. Her mother's name was Anna Geis her Step father's name was Edward Bruckner. I believe she had 3 brothers. I am just looking for any information about my family. So I will know where I came from. Thank You
Nathan Holmes
delilahsucks@gmail.com
---
Nov. 1, 2019 Hello Olga,
Thanks for your prompt response, Let me send you once again the pictures, I found them on cousin's Instagram, I do not know very much about this story, but here I go...
My great grandfather(Meodij Dondyk) was born in Ukraine and he married my great grandmother (Lidmila Tumova) and she was born in Prague, they both were on that DC Camp 713 in Aschaffenburg, I do know why and when exactly they were like transferred to Venezuela (I think it was maybe 1945, not sure about it), They came first, and later on they brought his two sons, my uncle, and my grandfather, they both were born in Prague, my grandpa got married my german grandmother, and they all were in the same Camp, and also they all were moved to Venezuela, where they became Venezuelan citizens, and they lived happily till dying, well actually, my uncle I guess is still alive, my german grandma died in Boston, and they other 3 lefting, died in Venezuela, a while ago.
I am gonna attach the pictures again, these are their identifications as stateless people.
You please see the pictures, and any information you posses might be helpful, and can you tell me please why you got related to that Camp too?
Regards and hugs.
Jonathan Rodriguez jrodriguez1119@gmail.com
11/1/2019
What wonderful historical documents for your family...I am sure you treasure them, very touching. Now that my parents are gone, the old photos and papers just bring tears to my eyes.
I can recommend a very good book on DP camps, but maybe there are more current studies out there. This book is:
DP - Europe's Displaced Persons 1945-1951 by Mark Wyman. I think it was published in 1989, so there may be more current books or studies or research.
In fact, I was born in the Ukrainian clinic in Aschaffenburg, even though both my parents were from Poland. If I find any more current research, I will let you know. The general index in the book shows much information about the Ukrainians on various topics. Maybe you could find this book in your library?
Maryann in USA poniecka@aol.com