Ingolstadt - Sub area 7
City archives:
http://www.ingolstadt.de
Stadtarchiv Ingolstadt
Auf der Schanz 45
85049 Ingolstadt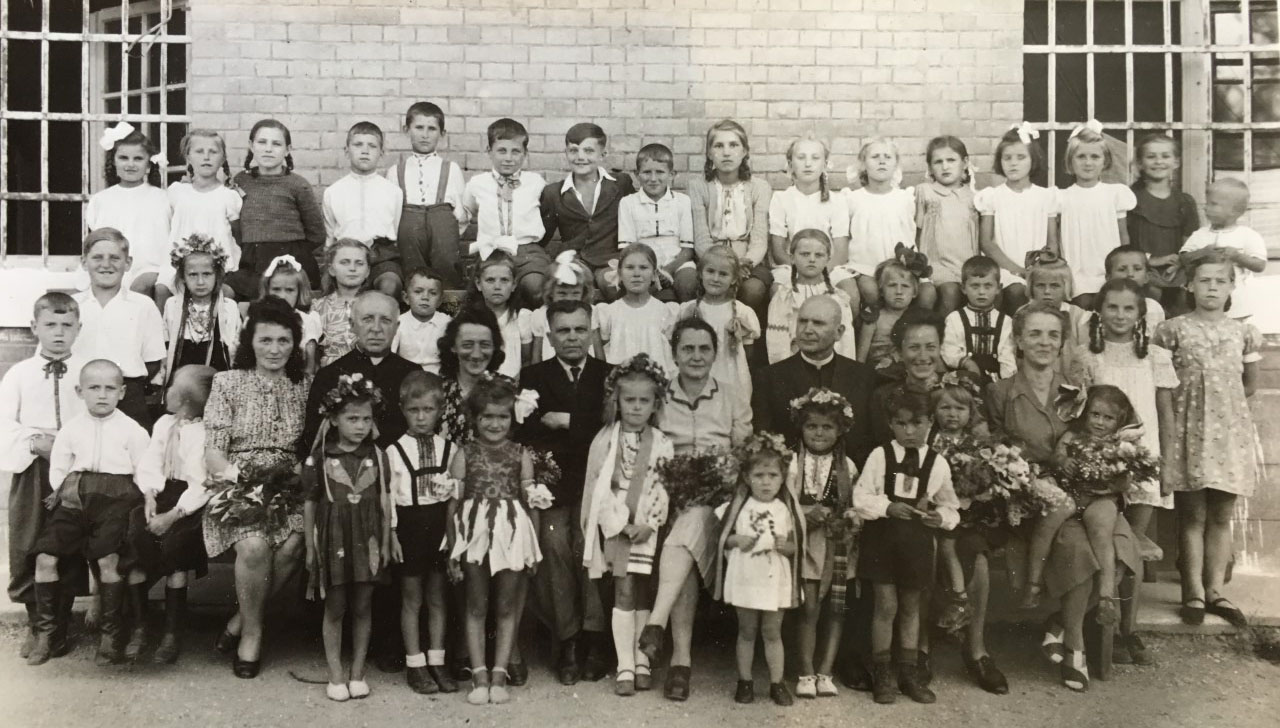 Ingolstadt Class of 1947 submitted by Dianne Melnyk diannamelnyk@hotmail.com 4/18/2019
---
1/5/07 Hello Olga
I was just looking threw your site I found it very interesting. I am looking for information on my grandparents who were in Altenstadt. Any suggestions where to look would be much appreciated.They immigrated to the US in 1955 there names were Stefania Korkus. Her maiden names Chomin. She was born in Cholodowka Kr. sadowa Wisnica Polen; married in Altenstadt I believe. I do not know her husband's name. She married in the US to a Bronislaw Mazur whom I believe was at the same camp. On her papers, it says her address is Ingolstadt / Donau Spretistr.33. Any help with this problem would be appreciated. Thank you so much for taking the time to look at this.
Cheryl Ward Radical351@aol.com
---
On 9/23/09
Mother, Genowefa Dworczynska was sent to a forced labor camp, to a German chocolate factory. I was born in 1945. Unknown to my Mother the Germans poisoned the milk and I was one of many that drank it as an infant. Many died, my Mother was advised by a doctor to leave me as I was not going to live.

My Mother didn't give up on me. She continually force-fed me to try and get the poison out of my system. My Mother's friends many times told the story of my Mother's endless determination that I was to live to the point that they finally told her to leave the child already, it's hopeless. My Mother would not stop doing all she knew to keep me alive. My Mother married Stefan Chochol in Germany (he was a survivor of Auschwitz for five years). We came to the U.S. via airplane as DP's, sponsored by a farmer in Louisiana.
Both parents were from Poland.
Father: Joseph Tomczyk
Stepfather: Stefan Chochol - Poland
I'd like to know much more!
Donna Morris dmorris@wvi.com
Follow up from Donna 10/29/09
Thank You for your reply.
Just today I looked at my birth certificate which is a translation reads as follows:
I was born in 1945, my Mom Genowefa Chochol, nee Dworzynska was living in the DP Camp at Manching. I also found I spelled my Mom's maiden name incorrectly, it should be Dworzynska
The certificate is dated: Ingolstadt 2.2.1951, Sub Unit Ingolstadt, Legal Counsellor Doc. Mrg. M. Sobolski, Legal Counsellor. A stamp reads: IRO, sub area team 7, Ingolstadt, Legal Counsellor. Thank You in advance for any information you can glean for me.
These great photos are from Ulana M Babiuk, maiden name Laika -- She wrote: "My family spent 4 years in the DP Camp in Ingolstadt, Bavaria, which was fully Ukrainian." submitted by Dianne Melnyk diannamelnyk@hotmail.com 5/1/2019
Photos below, left to right.
City of Inglstadt in Bavaria cathedral in background.
Kreuzlor mit Blick zum Dom
Ulana and her father, Mykhailo Laika, was scoutmaster and she was Novachka (newest member) in PLAST.
PLAST - Ukrainian Scouting in Ingolstadt. The road went under the fortress.
Photos below, left to right:
Ingolstadt PLAST Novachky The little girls were the novachky (the newest young girl members.) First Holy Communion - Ulana in short dress on the left. The wall in background is behind the fortress.